The Independent's journalism is supported by our readers. When you purchase through links on our site, we may earn commission.
10 things to do in Vilnius
Explore inner-city republics, subversive street art and great craft beer in this bohemian Baltic capital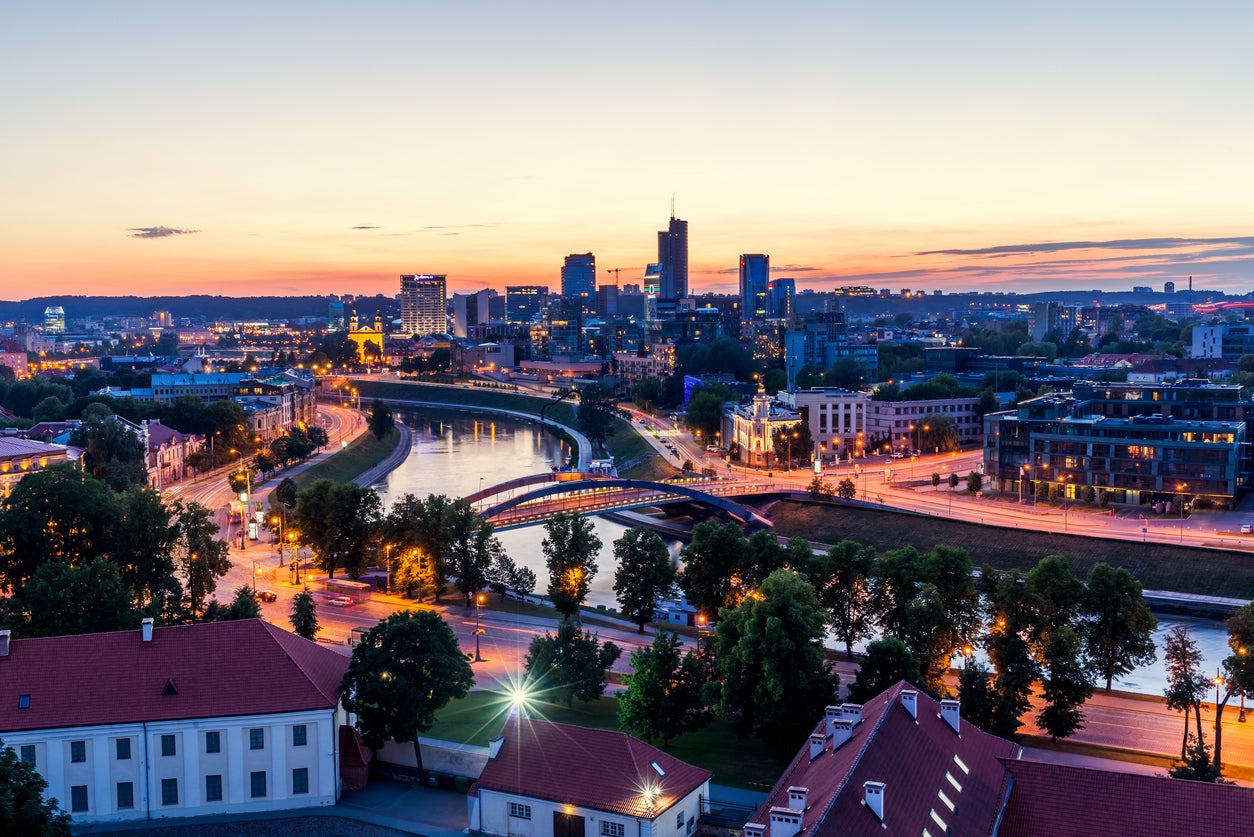 Vilnius is a city best known for its historical charm, particularly its Unesco-listed Old Town. Yet there are few European capitals modernising quite so rapidly. Today, for every preserved baroque church there's an achingly hip café; for every old cobbled street, a modernist work of art.
This fascinating contrast of the time-honoured and the on-trend make Lithuania's capital a refreshing and rewarding weekend break. Here are 10 of the best things to see and do during a visit.
Enjoy the view
A sea of red-tiled roofs and lush green parkland, punctuated by dozens of church spires: Vilnius looks spectacular from on high. The loveliest panorama in the city – particularly at sunset – is from the Three Crosses, a monument set atop the cheerily-named Bleak Hill, but it's a steep walk. Gediminas' Tower offers an almost-equally striking view, and is easily reached by funicular, or else take a lift up to the stylish rooftop Skybar (radissonblu.com) to gaze out over the city with a cocktail in hand.
Tour a breakaway republic
Užupis, which means "the other side of the river", is a neighbourhood that sits apart from the rest of Vilnius – both physically and politically. In 1997, Užupis declared itself an independent republic, with its own flag, anthem and president, and two decades on it retains its distinctive vibe. This bohemian district has some great riverside pubs and cafes, alternative artists' workshops and a prominent, wall-mounted constitution featuring idiosyncratic articles such as "People have the right to have no rights".
Try a local delicacy
Two dishes dominate dining here: cepelinai and kibinai. The first are filling, zeppelin-shaped dumplings of grated potato, stuffed with mince or curd, slathered in sour cream and served on huge plates. The latter are traditional pastries – not dissimilar to Cornish pasties – typically filled with mutton and onion and sold in every Vilnius bakery (though the best ones are in Trakai, a great day trip from the capital).
See the city's street art
Vilnius has many fine contemporary art galleries, but to really see how artists here express themselves, simply step outside. There are quirky al fresco works of art across Vilnius, from a bronze bust of Frank Zappa to a street lined with hundreds of tiny paintings, prints and ceramics, but it's the colourful, often political street corner graffiti that really stands out, including a mural of Trump and Putin locking lips.
Make a wish
In August 1989, an extraordinary thing happened: two million people formed a human chain stretching 420 miles from Tallinn to Vilnius, in protest of Soviet occupation. Within seven months, Lithuania was independent. To commemorate this event, a stone tile marked stebuklas (miracle) was laid in Vilnius' main Cathedral Square. Today, it's a lucky charm, so stand on the tile, spin clockwise and make a wish.
Step back in time
Not just under the radar, but out of sight, there's a concealed corner of Vilnius that belongs to another era. Situated in the up-and-coming Šnipiškės district, it's a 19th century community of pretty, wooden homes with wood-burning stoves, outhouses and communal water pumps, all linked by unpaved streets. It is under constant threat from developers, with many houses burning down in suspicious circumstances, but you can see what remains on the Alternative Tour from Vilnius Free Tour (vilniusfreetour.lt).
Sip a craft beer
Vilnius has a proud farmhouse brewing tradition, and has fully embraced the craft beer boom. Popular brewpubs include Alaus Namai (alausnamai.lt), home of Širvenos ale – brewed using peas – and Šnekutis (facebook.com/BaraiSnekutis), known for its cloudy amber Jovaru Alus. Many pubs also serve surprisingly tasty non-alcoholic wheat beers and stouts brewed by Švyturys (svyturys.lt).
Dig into Lithuania's history
Lithuania has a long and tumultuous history, from the wealth and prosperity of the Middle Ages to the devastating occupations of the 20th century. You can uncover it all with visits to the Palace of the Grand Dukes of Lithuania (valdovurumai.lt) and the Museum of Genocide Victims (genocid.lt).
Stroll along the river
Vilnius is a great strolling city, but forego the cobbled streets and winding alleys for one day in favour of the riverbank. A walk alongside the river Vilnelė offers a mix of thriving nature and major city sights, like the atmospheric Bernardine Cemetery, the trumpeting Angel of Užupis and the leafy Kalnai Park.
Shop for traditional food
Foodies shouldn't miss the covered Hales Market (halesturgaviete.lt). This beautiful historic building, opened in 1906, has stallholders selling everything you could possibly desire, from smoked meat, fresh fish and organic vegetables to clothes, flowers and gifts. There's also a lovely bakery-café.
Join our commenting forum
Join thought-provoking conversations, follow other Independent readers and see their replies