The Independent's journalism is supported by our readers. When you purchase through links on our site, we may earn commission.
Why the Vipava Valley should be top of your Slovenian travel bucket list
As travel to Slovenia becomes possible again, Helen Coffey recalls taking on the Vipava triathlon: wine tasting, hiking and paragliding (well, two out of three...)
Thursday 06 August 2020 15:25 BST
Comments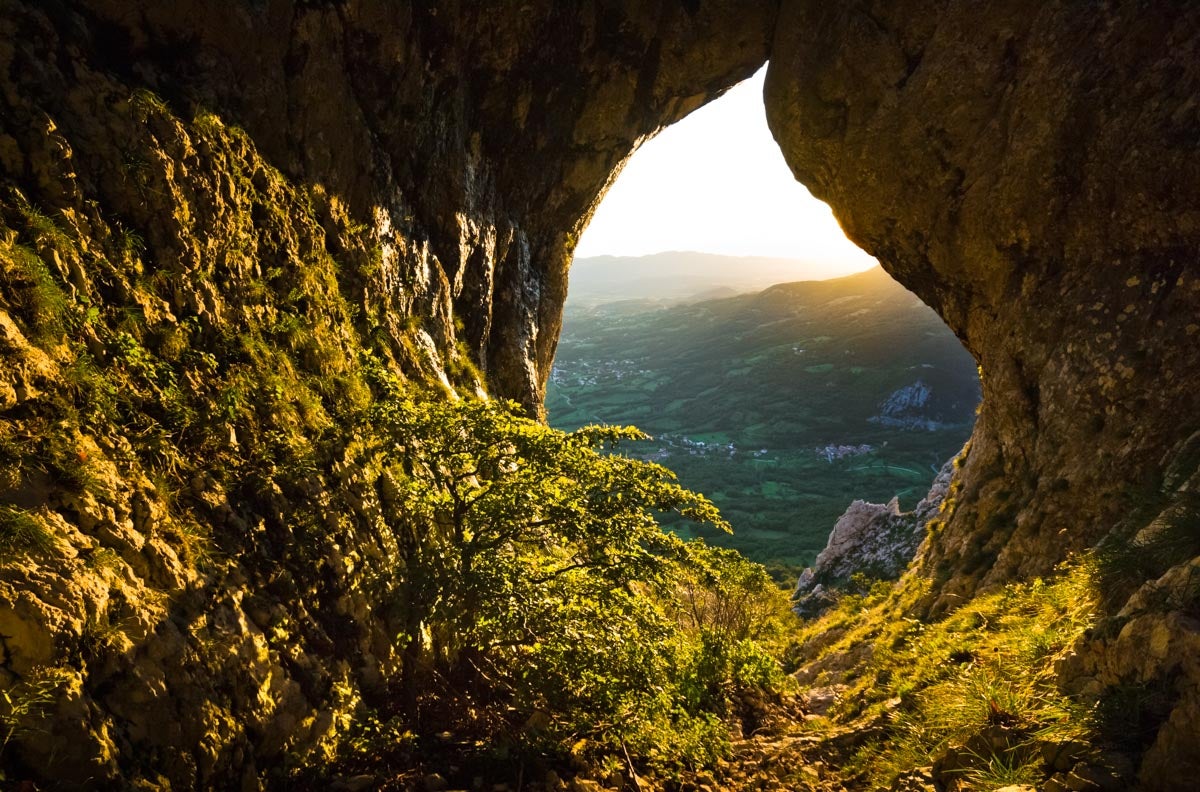 Edging my way down the slope towards a giant hole in the limestone rock face, through which the Vipava Valley looks back in all its verdant loveliness, I stop and sigh with something akin to longing.
A 15-minute walk brought us to Otlisko okno, nicknamed the Otlica window, a naturally occurring phenomenon atop the Trnovo Forest plateau that, myth has it, was created by the devil's horn when he tripped and fell down the mountain.
It's a sublime example of why this idyllic region of Slovenia, 50 minutes from the capital Ljubljana, is making a name in the world of tourism. Although the real treat is the bizarre dearth of visitors at an attraction that, elsewhere, would be teeming with camera-toting travellers, all queueing to get their turn at a selfie with the elegant, teardrop-shaped gap and accompanying view.
My guide Jani, of local tour company Wajdusna, comments that "it's busy today" – I crane my neck, but all I can see are four other people, all of whom leave pretty sharpish after we arrive to stare hungrily at the lush valley from on high.
"Busy?"
"Yeah, when I come in the mornings, there's normally no one here."
Slovenia as a whole has experienced a huge upsurge in tourism over the last five years: it's gone from somewhere relatively unknown to a perfectly legitimate destination for a city break (Ljubljana), ski holiday (Kranjska Gora) or hiking trip (just about everywhere). Bordered by four neighbouring countries – Italy, Croatia, Hungary and Austria – and boasting its own tiny enclave of coastline on the Adriatic Sea – complete with Venetian-style architecture – this pocket-sized nation is incredibly diverse, in terms of cultural influences as well as climate and terrain.
The Vipava Valley, voted one of Lonely Planet's top regions in 2018, has its own weird yet wonderful microclimate – it's like a miniature Mediterranean outpost, boasting hot, lazy days that are sometimes 10 degrees warmer than if you head just 20 minutes further north.
Among other things, it makes for a region capable of producing some fabulous wines, as I discover when we stop off at Tourist Farm Lisjak in the tiny village of Zalosce. This family vineyard and simple restaurant serve up dishes typical of the area – prosciutto-wrapped asparagus, courgette carpaccio dressed in rich balsamic, gnocchi with wild garlic pesto – along with hand-picked wines from its 16-strong collection for "tasting" (I don't make much use of the spittoon).
Zelen and pinela are two of the most popular local wine varieties: crisp and light, they perfectly accompany the spin on Italianate grub (Trieste is just 50 minutes away).
I'm then taken down to the wine cellar where owner Peter Lisjak is just as keen to show off his best vintages as I am to sample them. The tastiest is the latest crack at a dessert wine; it's gloriously amber, the skins having been left on during part of the fermentation process.
"It's not ready yet," Peter responds in answer to my question of whether I can buy a bottle (or six). Damn.
Guide Jani reveals that wine tasting is part of the unofficial Vipava Valley triathlon: "wine tasting, hiking and paragliding". It beats the regular sort, I think, as I sway up the stairs to tackle the next element – the walk up to the aforementioned natural window. We reach it after a scenic, winding drive up the hill, overtaking cyclists sweating under the afternoon sun who I declare to be, not to put too fine a point on it, stark raving mad.
From the top, we hike through wild meadows, bright flashes of yellow and purple flowers winking out from the abundance of chlorophyll green that covers the landscape thanks to Slovenia's generous annual rainfall. Cows seem more numerous than people in these parts, tinkling the bronze bells tied about their necks as they graze.
There's no paragliding on the agenda for today, but I round off my "triathlon" with, ahem, more wine tasting. And more eating.
We head back down into the valley to Ajdovscina, Jani's hometown, which shows definite signs of retooling itself to accommodate the burgeoning tourist trade. The main square is being completely renovated, while one old building is being transformed into a space for baking workshops. The town is also home to 14 historic Roman towers, one of which houses Faladur. It's an intentionally small bistro-slash-delicatessen, offering up only local, artisanal products alongside wine pairings. The couple who own it are impossibly cool – Matej, sporting a baseball cap and trendy glasses, sits at the table to talk us through each course, from the homemade bread and Slovenian olive oil to the plate of local cow and sheep cheeses; from the full-bodied orange wine produced by a woman who buys up abandoned vineyards and gives them a new lease of life, to the traditional struklji rolls stuffed with sweet ricotta and topped with cinnamon.
Lonely Planet's best destinations 2020
Show all 40
It feels like we're dining al fresco in a delightful piazza in Italy or Spain, and as the sun loses some of its bite and late afternoon melts into evening, I can absolutely see what all the fuss is about. Jani is the best marketer for his home region – he used to be in a punk rock band before starting a local tour company as an excuse to return to the place he loves.
"Can you blame me?" he asks, as we tread the butter-coloured cobble-stone path back to the car. I look up to the emerald plateau, some of which we walked today; I feel the sun lightly grazing my skin; I pat my stomach contentedly after being plied with the region's finest food and wine.
You know what? I don't think I can.
Travel essentials
Getting there
There are currently no direct flights. However, Lufthansa, Lot and Air France are all offering flights from London to Ljubljana with a stop in Frankfurt, Warsaw and Paris respectively.
Staying there
Majerija is a farm-stay offering 10 fresh, contemporary rooms, unusually located under the property's herb garden and next to a 300-year-old farmhouse.
Visiting there
Local guiding outfit Wajdusna offers a "triathlon" package of hiking, wine tasting and paragliding for €195pp.
Join our commenting forum
Join thought-provoking conversations, follow other Independent readers and see their replies