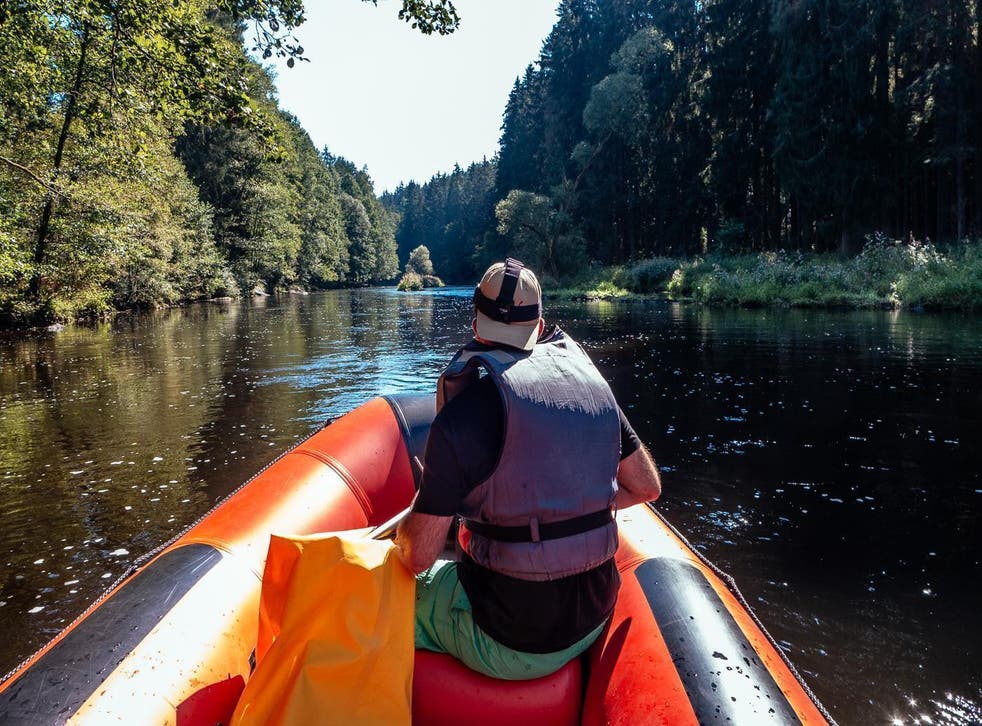 How to get a real Czech experience rafting down the Vltava River
From travel to beer, the Vltava means everything to Czechs. Nick Redmayne hops on a raft
Nick Redmayne
Tuesday 05 December 2017 11:31 Comments
At 270 miles, the Vltava is the Czech Republic's longest river, rising in the Bohemian Forest, bisecting Prague, and joining the Elbe at Melnik in Central Bohemia. Each year, some 250,000 Czechs, young and old, take to the river in canoes or aboard rafts, paddling varying stretches, as it passes through the Czech Republic's countryside and historic towns. This year, I decided to join their ranks, taking a 20-mile self-guided raft trip from Vyssi Brod, near the Austrian border, to Cesky Krumlov, at the heart of southern Bohemia.
Intrepid as it seems, "self-guided" on the Vltava is the done thing, but from the outset it is clear our expedition owes more to Jerome K Jerome's Three Men in a Boat than an adrenaline-infused white-water challenge. We aren't the only ones – rafting the Vltava seems to be an essential bonding activity for Czech men. As our team of five prepare for the off, a patrol of soldiers spring from a military truck, pull on sombreros, and loudly launch their raft downstream. Already on the water, two middle-aged men in a yellow canoe approach a slipway through a weir, before inevitably capsizing.
Thankfully, though slower, less stylish, and more difficult to direct, our raft proves more stable than their canoe, and the Vltava sweeps us along steadily. Other river traffic accompanies us – some rafts, some canoes, many trailing behind them unidentified bottles of liquor cooling in the water (not for nothing is the Budweiser Budvar brewery located halfway along the Vltava). The atmosphere is convivial, pure boys' own adventure. A loud "Ahooy!" is the accepted greeting as we pass each other.
The countryside here is bucolic: Gentle wooded riverbanks, branches reaching out across the water, with cattle-grazed pasture behind it. At its widest, the river is shallow enough to wade – handy, it turns out, for those of us with a tendency to run aground on rocks. The locals seem unfazed but we seem unable to avoid it, regularly hitting them or spinning around them to the amusement of other rafters. It is all they can do to "Ahooy!" without capsizing in mirth.
Rafting the Czech Republic's Vltava river

Show all 11
Some five miles into our inflatable odyssey we reach Rozmberk, one of many villages spawned by the Vltava's historic trade route, which links Linz in Austria with Cesky Krumlov and Ceske Budejovice – the Czech Republic's historic beer capital. We follow the rafts and canoes beached on the left bank, and join the queue at a café, Bistro U Baby. It is raining by now, but goulash and blueberry dumplings fortify our spirits.
Back on the river, raindrops dance on the water's surface and traffic has thinned. We let the current take us, drink beer and chat. The Vltava bestows an easy camaraderie – even the "guy talk" gets deep.
Over the next hour, the river widens and deepens, requiring more steady paddling. Seven miles on from Rozmberk, the welcome smell of wood smoke signals arrival at Kemp Branna – a riverside campground with cabins, and enormous teepees that sleep 15.
The Vltava is crucial to national identity, long-time member of camp staff Jakub Varadi tells us as we check in. Under Communism, the Czechs took to the river for staycations while they were unable to travel. Later, as we cook sausages over an open fire, he returns with a guitar and plays us a dark song about a husband's suffocating love for a wife who secretly wanted him dead.
By the morning, it has stopped raining and the Vltava seems like a different river beneath blue sky. Fish jump out of the water; damselflies flit above it. Czechs still shout "Ahooy!" but even more loudly. Approaching Cesky Krumlov, even we slip down the last weir with a yell. We had made it.
Krumlov has benefited from substantial restoration since the collapse of Communism. Pastel-coloured Renaissance buildings, bars and restaurants line the banks as we glide past; a group of 20 foreign tourists take out their phones and video our arrival. In the shadow of a 13th century castle, we navigate assuredly under the spans of the 15th-century Lazebnicky Bridge. Finally, near Krumlov's former brewery (it's now a restaurant), we beach the raft and hop on a bus to Ceske Budejovice for a boozy celebration at the oldest brewery in the Holy Roman Empire's capital of brewing.
The Vltava isn't only a journey measured by distance. It spans the generations; while enduring Communist dictatorship, the Velvet Revolution and the Velvet divorce, people came to the river to escape their worries.
Today, Czechs continue to be drawn by the Vltava's relaxed familiarity and perhaps its echoes of a simpler time. They may have a point. Ahooy!
Travel essentials
Getting there
The writer flew with Jet2, which offers flights from Newcastle to Prague from £73 return. Other airlines with regional departures include easyJet, Wizz Air and Ryanair. From Prague, trains run every two hours to Krumlov – the journey takes about two hours. Rafting companies will meet you at Krumlov and take you to the start of the route.
Staying there
Kemp Branna has tepees from 550 koruna (£20), plus 80 koruna per person, per night.
More information
Rafting Krumlov operates on various stretches of the Vltava and hires canoes and rafts from 200 koruna and 800 koruna per day respectively, including life jackets and a pick-up at the end of the tour. River guides are available from 2,000 koruna per day. The company will deliver to popular departure points and assist in booking overnight stays, too.
Register for free to continue reading
Registration is a free and easy way to support our truly independent journalism
By registering, you will also enjoy limited access to Premium articles, exclusive newsletters, commenting, and virtual events with our leading journalists
Already have an account? sign in
Join our new commenting forum
Join thought-provoking conversations, follow other Independent readers and see their replies