The Independent's journalism is supported by our readers. When you purchase through links on our site, we may earn commission.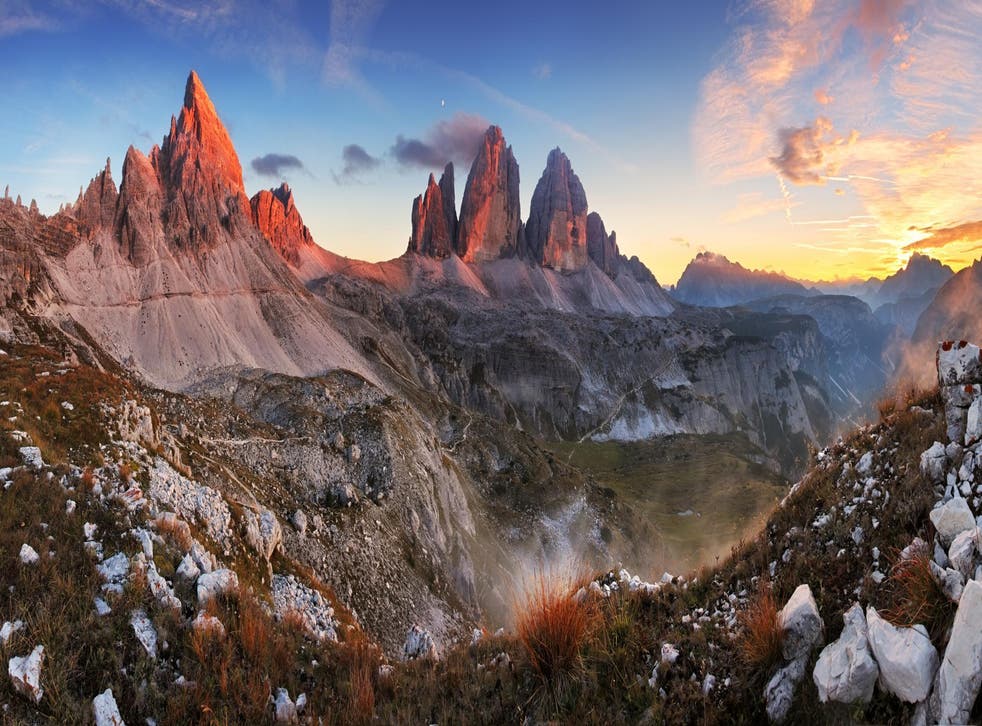 Walking in the Dolomites: escape the crowds in the mountains of northern Italy
Soak up the spectacular landscape on a multi-day Three Peaks hike
"Won't it be too hot?" That was the question asked of us before we headed for a walking holiday in the Dolomites at the end of July, these mountainous peaks being in Italy where the heat can be stifling. I returned with a definitive answer.
Although we flew to a baking hot Verona crammed with sightseers, as we travelled north-east on gloriously efficient air conditioned trains, the heat-bleached terrain soon gave way to a cooler, greener landscape reminiscent of the very best of an English summer. Heat is not a problem. It does rain - mostly at night in our experience - which is why the fields and meadows in this part of the Dolomites remain lush and green. But it is hot enough by day for a bit of sunbathing and some outdoor swimming in the mountain lakes and natural ponds.
As the heat dispersed, so did the crowds. I began to think about what I wanted from this or any holiday. As the last leg of our journey on a tiny local railway line got underway and the views started to include fawn coloured cows with bells around their necks and goats and chickens foraging around wooden barns and farmsteads, I had my answer. I was looking for a bit of a tan and to get fit, but also something more intangible; some peaceful time for reflection, some good food and wine, a sense of freedom and big spaces impossible to find back in London.
So we walked unimpeded by any considerations of intimidating heat or crowded streets and the walks were spectacular, like the Lake District stretched out. A constant presence wherever we walked, and for however long we walked, the jagged peaks were as beguiling as a wild sea and seemed to change with the play of light through the day. Indeed the mountainous pinnacle, the Tre Cime di Lavaredo, near the mountain ski-centre village of Sesto is also known as the "Sextner Sundial", because the sun moves from summit to summit, touching and illuminating the next one every hour.
This mountain range is the most spectacular in Italy partly because of the striking, pale-coloured dolomitic limestone, eroded into towers and steep-sided valleys by rain, ice, sun and wind. We walked through the Pusteria valley, a route that combined trails into the high mountains and more gentle walks through meadows and forest. There was a pattern to the week. One day we climbed high, the next we stayed relatively low, walking and looking up at the mountains. On the final day a cable car assisted us up to Mount Elmo from where it was possible to explore the panoramic crest of the Carniche Alps, hills that form the border of Austria.
On another ascent a bus journey took us to the starting point of a mountain refuge from where we hiked around the challenging Three Peaks (the Tre Cime) the highest of which is 2,999 metres. Together they look like three sets of jagged armour or the plates on a dinosaur's back. This was the only route where we met many other walkers or tourists.
Most days we walked around 16km, decent work outs for those of us with city-polluted lungs. The long walks and occasionally demanding ascents meant that towards the end of each walk we looked forward with childlike excitement to a rest and food.
Our strenuous hikes became an excuse for high-level indulgence. Most of those who live in the South Tyrol region of Italy speak German as their main language, and Austria is just over the mountainous border. The food combines the best of both the Italian flair and the Teutonic emphasis on freshness and wholesomeness. The local wine is a delight. On arrival after a long hike we enjoyed four or five courses including local salads and herbs, mountain honey and fruits, cheeses and locally foraged mushrooms rolled into ravioli or served with tagliatelli.
We stayed at four hotels, starting with the Gasthof Saalerwirt in Sares, a converted 13th-century farmhouse which exemplified the German concept of gemütlichkeit - an aura of absolute comfort and wellbeing. The combination of a sauna followed by a dip in its natural swimming pond, with dragonflies above our heads and newts in the clear alpine water set us up nicely for the next day's ascent of rocky Kuhwiesenkopf.
At the top we were rewarded with a panorama reminiscent of the Canadian Rockies in which limestone mountains shelter the iridescent turquoise waters of Lake Braies far below. By the time we got to the lake we needed some more pampering and relaxed for one night at the Hotel Pragser Wildsee. The room overlooked the lake, the largest in the Dolomites. The hotel is a historical gem which used to attract the highest echelons of the Austro Hungarian aristocracy, including Archduke Franz Ferdinand, very shortly before his assassination, which marked the beginning of the First World War.
Our immediate fate was far more pleasant than the Archduke's, walking to the next lake, Dobbiaco. We were there on the last day of the annual Mahler Festival. Mahler spent some of his last summer holidays in the area, writing The Song of the Earth and the Ninth Symphony here; it is not difficult to see what must have inspired these works.
Hotel Baur am See is situated directly on the lake – another fine, historical hotel with an emphasis on fresh, regional cooking and old-fashioned hospitality. We were offered tickets for the final night of the festival, but opted for another five-course meal instead, a decision I have to confess we did not regret at the time or retrospectively.
By then I was starting to feel like Christopher Columbus albeit an explorer who had hit upon hotels serving up fabulous feasts and traditional charm. We had met only two other walkers from the UK, although the area is perfect for those who enjoy walking, a stretched-out Lake District with more reliable weather.
We moved on to our final destination, a 20km excursion that took us winding through forests and valleys to Moso, a tiny village in the Val di Sesto, the eastern-most valley in South Tyrol, set between the Carnic Alps and Sesto Dolomites. On arrival we leapt into the Hotel Drei Zinnen's outdoor pool, seeing the mountains from yet another perspective.
Then a sauna and finally another multi-course meal: cream of white wine soup with a tiny parmesan toast floating on top, soufflé of dumplings on a chive foam, and homemade cheese and spinach ravioli (a rack of crusted lamb cutlets for my meat-eating companion). Pudding was the best tiramisu I have ever tasted and so light it barely registered as more than a glorious fleeting taste in the mouth. I was pleased we had walked those 20km in advance. In this area where Italy, Germany and Austria blend together in one near-autonomous state we became fitter, more mindful, more rested, and left with a new determination to incorporate regular strenuous walking - and dumplings - into our daily lives.
Travel essentials
Getting there
Verona is served from the UK by British Airways (ba.com), easyJet (easyjet.com), Ryanair (ryanair.com), Monarch (monarch.co.uk), Flybe (flybe.co.uk) and Jet2 (jet2.com).
Staying there
Steve Richards travelled with Inntravel (01653 617000; inntravel.co.uk), which offers a one-week The Dolomites' Three Peaks self-guided itinerary from £835pp, including half board at four hotels, three picnics, luggage transfers, and route notes and maps. Available until 2 October.
More information
Register for free to continue reading
Registration is a free and easy way to support our truly independent journalism
By registering, you will also enjoy limited access to Premium articles, exclusive newsletters, commenting, and virtual events with our leading journalists
Already have an account? sign in
Register for free to continue reading
Registration is a free and easy way to support our truly independent journalism
By registering, you will also enjoy limited access to Premium articles, exclusive newsletters, commenting, and virtual events with our leading journalists
Already have an account? sign in
Join our new commenting forum
Join thought-provoking conversations, follow other Independent readers and see their replies