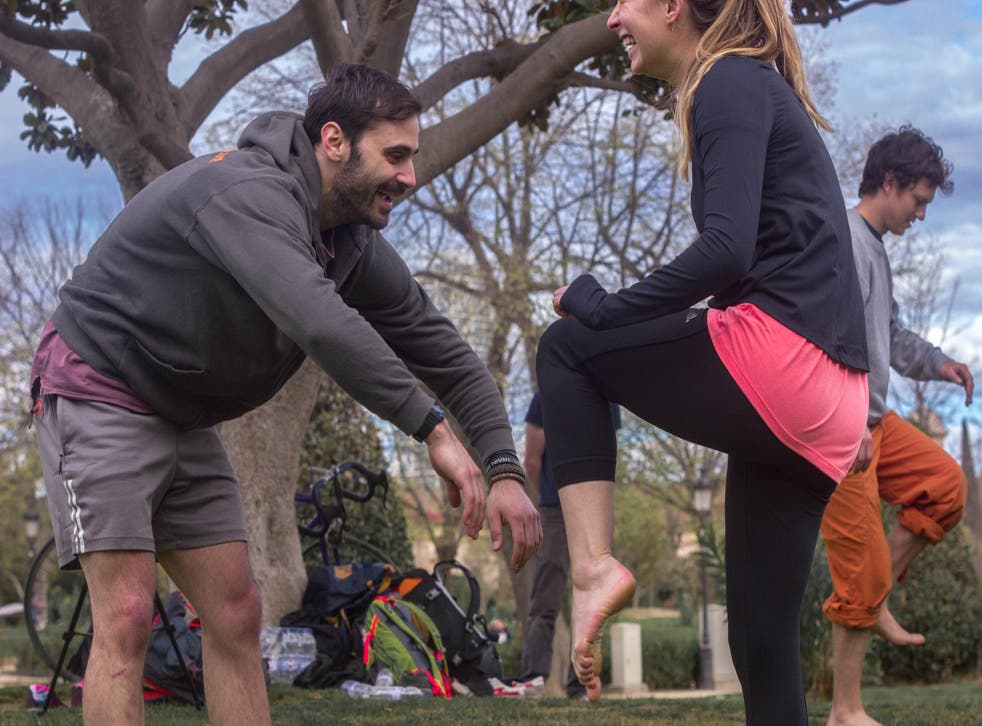 The Berlin 'urban retreat' featuring parkour and freezing lakes
Forget boring wellness breaks, says Clare Vooght. What you want to reset yourself is a weekend in Berlin learning parkour and leaping into frozen lakes
Sun, sand and superfoods have, for the past couple of years, been my go-to for restoring body and mind, but as great as lying on the beach, drinking from a coconut is, wellness and relaxation holidays have become a bit, well, dull.
Enter Wildfitness – which runs retreats in locations from Zanzibar to Croatia, Barcelona, Scotland that aim to "reprogramme bad habits, postures and movement patterns and remind you just how strong and capable the human body really is".
It's less beach yoga, more jumping on to fire hydrants and climbing trees, with contemporary dance, bouldering, parkour and other forms of natural movement. At the Berlin Urban Wildfitness retreat, coaches Uju and Paul work with local trainers to get you moving less like a desk-bound drone and more like a real-life human.
The three-day programme – mostly in parks across the city, from Gürlitzer to Treptower to Freidrichshain Volkspark – is about going back to how we're meant to move. "We're not built to push a machine back and forth or look at a TV screen," says Paul.
"We were built to move in irregular patterns – it makes us more resilient. It's important to get outside and make us more adaptable, because natural movements allowed us to evolve."
There's bouldering (climbing without ropes or harnesses), and plenty of stretching and games where we play-fight and dodge make-believe arrows. Some of the exercises involve sitting and walking in squat positions – the most natural position for a human to be in, I'm told – and honing your core balance by crawling in the downward-dog position while someone tries to push you over.
It gets a little cringeworthy at times, especially the play-fighting-in-public aspect. We may look like slow-mo breakdancing nutters, but any form of exercise that makes you laugh is a winner, I say. And a lot of the natural movements target the hips – a problem area for serial sitters.
Learning the parkour moves (that's when fire hydrants come in, along with wooden structures and logs to clamber on and jump over) are a million times more fun and brain-engaging than repetitive exercise classes.
The only indoor session we do is with dance instructor Eva. It's a flurry of both choreographed and improvised contemporary moves, with the help of some French electro and dubby dance interspersed with "Human" by Rag'n'Bone Man and Skee-Lo's "I Wish".
Keeping your reactions sharp is very much the focus of an outdoor meditation and combat session in Treptower park with martial arts expert Benjamin Joon. "If you only do one thing over and over, you lose the ability to do other things," says Benjamin. "Play-fighting stimulates your mind."
Rebalancing the body, put out of whack by tech habits, is the focus. "You lose your range if you're just looking at your smartphone – change the distance you're holding it away from your face," he advises.
We drop leaves for each other to chase and catch – "Imagine it's your baby falling from a skyscraper," shouts Benjamin. "Imagine you're a sniper and there are five kids, two terrorists," he says as we play a game that mirrors the movements of a partner.
Luckily, Wildfitness coaches understand the importance of rest and recovery. After a morning with Benjamin, we spend the afternoon in the thermal pools, hot tubs, steam rooms and saunas at Vabali Spa. We should point out that this is Germany, so it's a naked spa. If you're too British for public nudity, coaches will arrange massages at or near your hotel.
Of course, it can't be too cushy, so next up is an "immune boost": AKA a bracing dip in a cold lake in Treptower Park.
Local coach Roland is on hand to teach us some conscious breathing techniques he learned from daredevil and biohacker Wim Hof. Hof, known as the Ice Man, likes to hang out in frozen pools and devised this breathing and meditation technique before successfully climbing Everest in shorts. It's meant to activate your sympathetic nervous system, before you expose yourself to the cold. Subjects trained in the Wim Hof method were, when tested, strong enough to resist a strand of E coli bacteria. Take that, cold and flu season.
Wildfitness's food philosophy is all about the "evolutionary diet": fruit, veg, meat, fish, nuts, seeds and a small amount of grains and pulses – so basically lots of fresh, seasonal, unprocessed food. It's not as strict as paleo, but close.
We picnic on hearty salads of chicken, nuts, leaves and asparagus on one day, raw red cabbage, avocado and salmon on another. A particularly great dinner at hip Peruvian restaurant Chicha is of fresh ceviche tuna and epic beef hearts with chimichurri. Brunch is at Café Mugrabi in Kreuzberg, which does a mean shakshuka. Booze and coffee is allowed, too.
There is fasting, which you're encouraged to partake in, but – full disclosure – I opt out of a 16-hour fast on one day, because hotel breakfasts are there to be enjoyed. But I do join the fast another day: we skip breakfast and exercise all morning, as our ancestors would have had to while finding their food, and I'm pleased to say – spoiler alert – I live to tell the tale.
The retreat has veered between fun and tough, satisfying and painful – but by the end, I feel supple, energised, and know my body is a lot more robust than I'd ever realised. How's that for wellness?
Travel essentials
Getting there
British Airways offer flights from London Heathrow airport to Berlin Tegel from £79.
Staying there
Andel's by Vienna House, on the edge of trendy Friedrichshain, has sleek, modern rooms and great views of the city. The focus here is on sustainability, with the hotel using green energy and local suppliers. Doubles from £76, B&B.
More information
Three-night urban retreats to Berlin cost £500 per person, including fitness sessions, spa experience and all meals. The next runs from 5-8 October 2017. Other Wildfitness retreats take place everywhere from Barcelona to Zanzibar.
Register for free to continue reading
Registration is a free and easy way to support our truly independent journalism
By registering, you will also enjoy limited access to Premium articles, exclusive newsletters, commenting, and virtual events with our leading journalists
Already have an account? sign in
Register for free to continue reading
Registration is a free and easy way to support our truly independent journalism
By registering, you will also enjoy limited access to Premium articles, exclusive newsletters, commenting, and virtual events with our leading journalists
Already have an account? sign in
Join our new commenting forum
Join thought-provoking conversations, follow other Independent readers and see their replies