Winter swims and woodland spirits in Finland
Myth and magic hang in the air of North Karelia, a region of enchanted forests and ice-cold lakes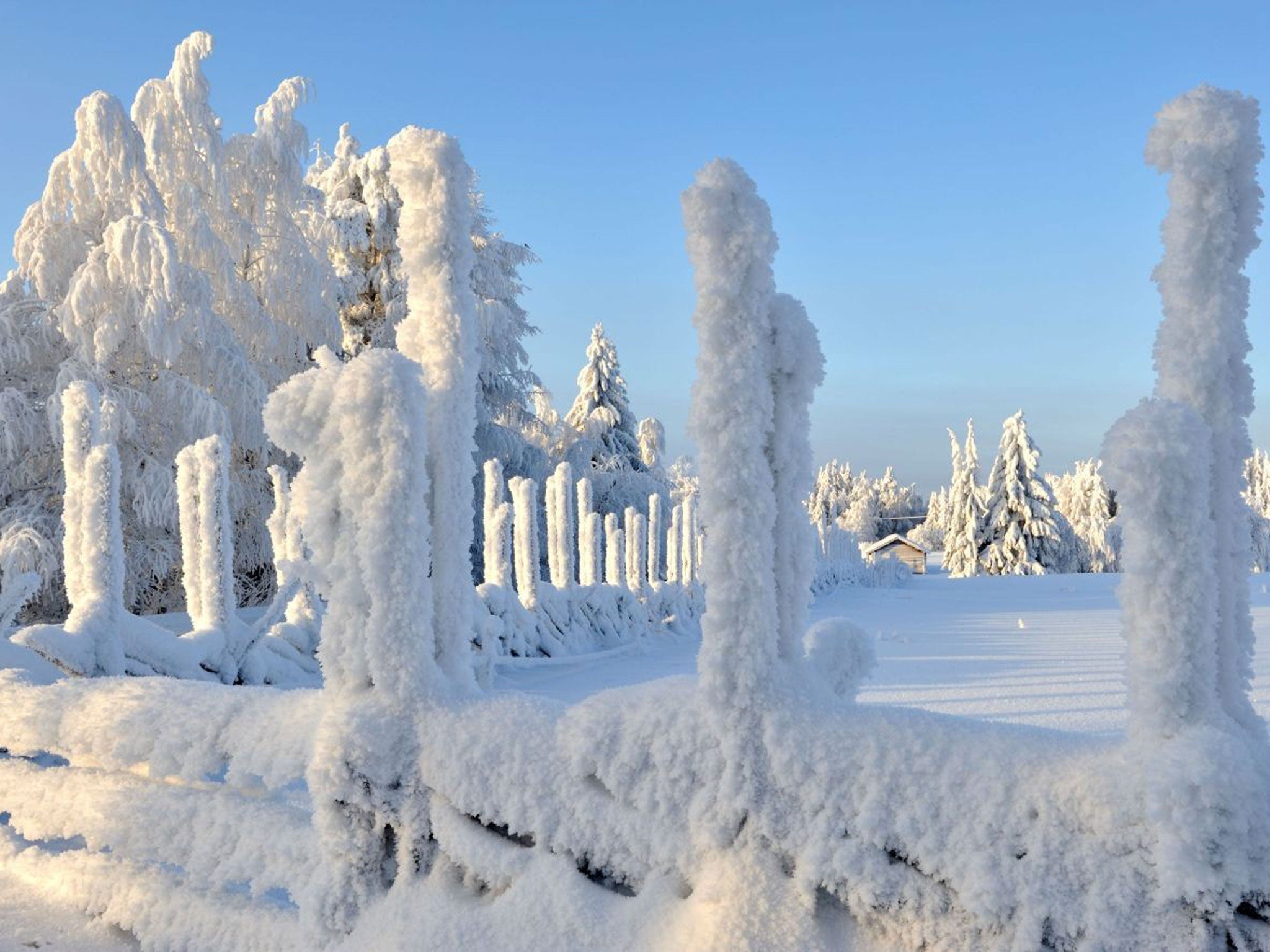 "North Karelia is home to the largest population of bears, wolves and lynxes in Finland," explains my guide, Katariina Pennanen, as we tramp through the snowy pine forest. After this tantalising yet alarming statement, she then hurriedly reassures me that the chances of running into one of these toothy creatures while snowshoeing through the woods is very low. I'm apparently much more likely to find evidence of trolls. No, really.
Pointing out a tree with a trunk so distorted that it bulges out just above the snowline, Katariina explains that a troll is hidden just out of sight. It is said that these mythical beasts dislike humans so much that they hide from us among the trees. But they struggle to fit their large behinds within the trunk, leaving telltale bulbous growths as evidence of their presence. Fairytales are part of the scenery in Finland: nowhere more so than in the dense woodlands of this remote eastern region which hugs the border with Russia.
Koli National Park is one of the country's most important landscapes and its two craggy peaks are named after Ukko, the "Old Man" god of the sky, harvest and weather, and his wife Akka, the "Old Woman". Locals talk of a Z-shaped cave through which children can disappear into the world of the trolls; the pine trees resemble stooped ogres under the weight of a solid icy casing known as tykkylumi, caused by the damp atmosphere which affects the area immediately surrounding great Lake Pielinen, one of the largest expanses of water in a country known for large expanses of water. We sip hot blackcurrant juice as we look out over the frozen lagoon, which becomes a playground for sledging, snowmobiling and an important 11km-long ice road joining communities on each side of the water, every winter.
The dense forests and liberal sprinkling of pine-covered islands that make up Koli National Park, spanning 30 square kilometres on the western shore of the lake, are celebrated in Finland as the inspiration for artists, writers and composers during the "Golden Age" of the 1890s. After centuries of Swedish control and 80 years as an autonomous Russian region, a brand of romantic nationalism emerged in Finland ahead of independence in 1917 which became known as Karelianism.
As a result, although international tourists haven't yet discovered North Karelia in large numbers – the only way to reach Joensuu airport from the UK is via Helsinki – city-dwelling Finns have long come here to rejuvenate with peaceful vistas and country pursuits. The two ski resorts, Loma-Koli and Ukko-Koli, are not expansive enough to rival the traditional European favourites, but adventurous visitors can enjoy some more unusual winter activities.
At Laitalan Lomat, an organic farm which also rents out rustic log cabins, I meet boisterous reindeer who whisk visitors on a tour of the extensive property in traditional sleighs.
Later – and several hours after the 4pm sunset – I find myself trussed up in a hooded, fluorescent orange suit zipped over my ski jacket and trousers and being guided towards a borehole in Lake Pielinen by a woman known as "Lady Rambo". This fearsome Finn earnt her nickname from the fearsome lake and river trips she runs through her company in the nearby wilds of Ruunaa. Nevertheless, she is all friendliness and jocular humour as she instructs me to slide into the floodlit water and lie on my back like a basking seal.
This is winter swimming Finnish-style. The chill immediately cuts through my four base layers, ski outfit and immersion suit, but I'm told that plenty of locals throw themselves into this borehole completely naked to cool down following a traditional sauna. After 20 minutes in the water, I admit defeat. Poor Lady Rambo is forced to help relieve me of my immersion suit as my blue fingers slowly throb back into life – she reassures me it's something she has had to do many times before.
Entrepreneurial women seem to be a feature of North Karelia. Driving north along the lake for an hour I reach the town of Nurmes and a guesthouse run by two friends in the nearby village of Salmenkyla. The yellow, wooden slatted building is owned by Minna Murtonen and Sirke Katajala, who have set themeselves the task of giving visitors a traditional Karelian welcome.
This eastern region still gazes across the border to its other half – Russian Karelia – the lake-strewn landmass lost in the wars fought with Finland's powerful neighbour in the 1940s. Following brutal battles, Finland ceded half of Karelia to Russia – and despite its assimilation, the Finnish half feels a strong tie with its lost sibling through their shared dialect, food and identity.
Putting on a pair of elf-like huopatossut – felt house shoes – Minna and Sirke lead me into the light and airy reception room where they teach guests how to prepare traditional Karelian dishes.
"We call our company Aksyt Ammat, which means 'the angry women'." says Sirke. "This building used to be a schoolhouse until we turned it into a B&B in 2000. Now the company has grown and we teach cookery to foreign visitors and local children as well as organising an annual cross-country ski route stopping at local guesthouses."
The key local dish that I learn to make is the Karelian pasty, a necessarily stodgy snack to keep out the chill of the winter months. Made with rye flour wrapped around rice porridge and smothered with a butter and boiled egg topping, the pasties make for rich food parcels. Indeed, having devoured six in one sitting, I feel I can tackle the 5km cross-country skiing trip we have planned. If I manage to glide along quietly enough on my rail-thin skis, I may even spot a troll before it disappears into a tree.
Travel essentials
Getting there
Sarah Gordon travelled as a guest of Finnair (0870 241 4411; finnair.com) which offers flights to Joensuu from Heathrow (from £189) and Manchester (from £203) via Helsinki.
Staying there
Sokos Hotel Koli (00 358 20 1234 662; sokoshotels.fi) has double rooms from €132 (£111).
More information
Join our commenting forum
Join thought-provoking conversations, follow other Independent readers and see their replies