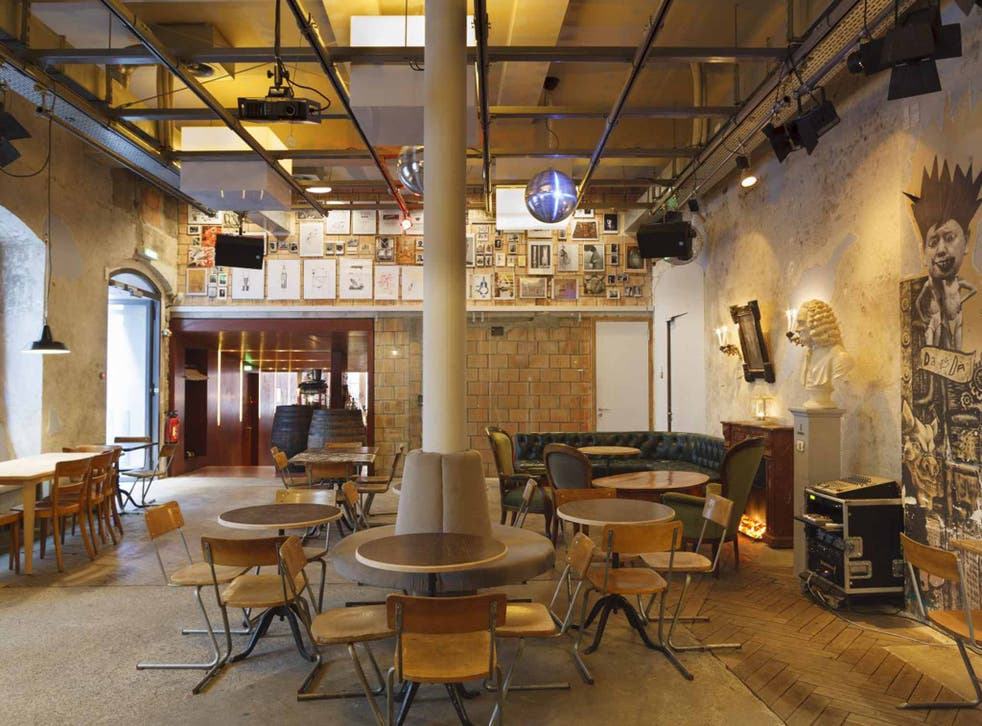 Zurich celebrates a century since the birth of Dadaism and is still at the cutting edge of contemporary art
As a refuge for artists during the Great War, this staid city was revolutionary
William Cook
Saturday 30 January 2016 12:55 Comments
In a cobbled backstreet in the heart of Zurich's medieval Old Town, a bunch of beatniks is celebrating the centenary of a club which changed the course of modern art. On 5 February 1916, Cabaret Voltaire introduced Dada to an unsuspecting Swiss public. A hundred years later, the cosy nightclub where this revolutionary movement was born is still up and running.
Absurdist and anarchic, Dada was a form of expression like no other. It revolutionised every art form, from painting to poetry, music to dance. Its subversive attitude spread beyond Switzerland, to Paris, Berlin, and New York – but this is where it started. So, how did this staid city become the centre of Europe's avant-garde?
During the First World War, neutral Switzerland was a safe haven for artists and intellectuals who were desperate to escape the carnage of the trenches. Lenin, Einstein and James Joyce all ended up in Zurich, amid a ragbag of artistic refugees from France, Germany and beyond. One of these bohemian émigrés was German performance artist Hugo Ball, who wrote the Dada manifesto (a surreal stream of consciousness) and founded Cabaret Voltaire.
So, what was Dada? Well, that's rather hard to say. "Not even the Dadaists know what Dada is," declared the Dadaist writer and artist Johannes Baader, enigmatically. "Only the Chief Dada does, and he tells no one." It's probably easier to say what it wasn't. It wasn't overtly political (it mocked both conservatives and socialists). It abhorred pretension. It defied good taste. In a way, it was a lot like punk. After Dada, anything seemed possible, and every conventional art form suddenly seemed terribly old-fashioned.
Like punk, Dada didn't last – Cabaret Voltaire closed in July 1916 and its members dispersed a few months later. Yet like punk, its influence was immense. In Paris it spawned Surrealism. In Berlin it fuelled the satire boom. Its pioneering use of collage anticipated Abstract Expressionism and Pop Art.
The building where Cabaret Voltaire began was a nightclub until the 1990s, and when it finally shut down, a group of local artists moved in as squatters and revived the old Cabaret Voltaire. Since 2002, it's been an experimental space for all sorts of art happenings, and it has retained an edgy, speakeasy vibe. Artists and students flirt and gossip in the bar, sightseers browse in the quirky boutique below, and the stage still features all sorts of quirky performances.
Throughout this year, Cabaret Voltaire is toasting its 100th birthday with a special Dada season, and there are other events all over Zurich, including Dada exhibitions at the Landesmuseum, Switzerland's national historical museum, and the Kunsthaus, Switzerland's leading art gallery (its Dada costume ball on 16 February should be an exhibition in itself).
The best way to get your bearings is on one of the guided Dada tours, during February and March. They start at the Hauptbahnhof (central station), and head down Bahnhofstrasse, Zurich's most expensive shopping street. Here, above the Sprungli chocolate shop at No 21 was the Galerie Dada, where these iconoclastic artists first exhibited. At No 70, the Grand Café des Banques, another popular Dada hangout, is now the premises of Orell & Fussli, Zurich's biggest English language bookshop.
Dadaists invaded venues all over town, and some of the places they played were a lot smarter than Cabaret Voltaire. The first Dada soirée was at the Zunfthaus zur Waag, a handsome guild house built in the 17th century. It was here that Hugo Ball recited his Dada manifesto (with his back to the audience), but today it's one of the city's most exclusive restaurants.
I'd been to Zurich a few times before and always found it a bit standoffish. Sure, the location is stunning, beside a vast and lovely lake, but the city centre always seemed rather sedate. Yet, on returning to explore the Dada trail, I saw another side of Zurich: narrow sidestreets crowded with eccentric antique shops; respectable restaurants such as Hiltl (the world's oldest vegetarian restaurant, apparently) that become hip nightclubs after hours.
Zurich was remarkably tolerant of Dada's mischief-makers, and today the city still has a thriving arts scene. The Kunsthaus is one of Europe's most important galleries, including the biggest Edvard Munch collection outside the artist's native Norway. Switzerland's neutrality in both world wars made it a refuge for paintings as well as painters. Nazi Germany's crusade against "degenerate" art became Switzerland's artistic gain.
However, it's in the grungy district of Zurich West that the spirit of Dada lives on. This old industrial quarter has become the core of the city's alternative arts scene. The Schiffbau, an old shipyard, is now a theatre, a jazz club and a buzzy nightspot. The trendy accessories label, Freitag, has its flagship store around the corner. Built from a stack of old ship containers, it's an artwork in itself.
The hub of this creative enclave is the Lowenbrau Areal, an old brewery that has been converted into a cluster of dynamic galleries – not just public museums such as the Kunsthalle, but first-class commercial enterprises such as Galerie Bob van Orsouw and Hauser & Wirth. The Swiss supermarket chain, Migros, has its own art museum in the Lowenbrau, with Martin Creed murals in the foyer.
Back at Cabaret Voltaire, the bar is filling up. There's a gift shop in the lobby, but this little club is more than a museum. It still feels like a place where anything could happen. Jake and Dinos Chapman have exhibited here. Russian controversialist Alexander Brener has performed here too. "Kunst ohne Grenze" (Art without Frontiers) reads a sign in the stairwell. A century since that historic first night, prim and proper Zurich is still at the cutting edge of contemporary art.
Getting there
William Cook travelled with Swiss (0345 601 0956; swiss.com), which flies to Zurich from Heathrow, London City, Birmingham, and Manchester.
Staying there
Hotel Atlantis (00 41 44 456 55 55; atlantisbygiardino.ch). Doubles from 560 Swiss francs (£388), B&B.
Visiting there
Zurich Tourism (00 41 44 215 40 10; zuerich.com) organises two-hour guided Dada walking tours, in English, on Wednesdays, Saturdays, and Sundays; 25 francs (£17)pp, children aged 6-15 are half price.
More information
Switzerland Tourism (00800 100 200 29; myswitzerland.com)
Register for free to continue reading
Registration is a free and easy way to support our truly independent journalism
By registering, you will also enjoy limited access to Premium articles, exclusive newsletters, commenting, and virtual events with our leading journalists
Already have an account? sign in
Join our new commenting forum
Join thought-provoking conversations, follow other Independent readers and see their replies