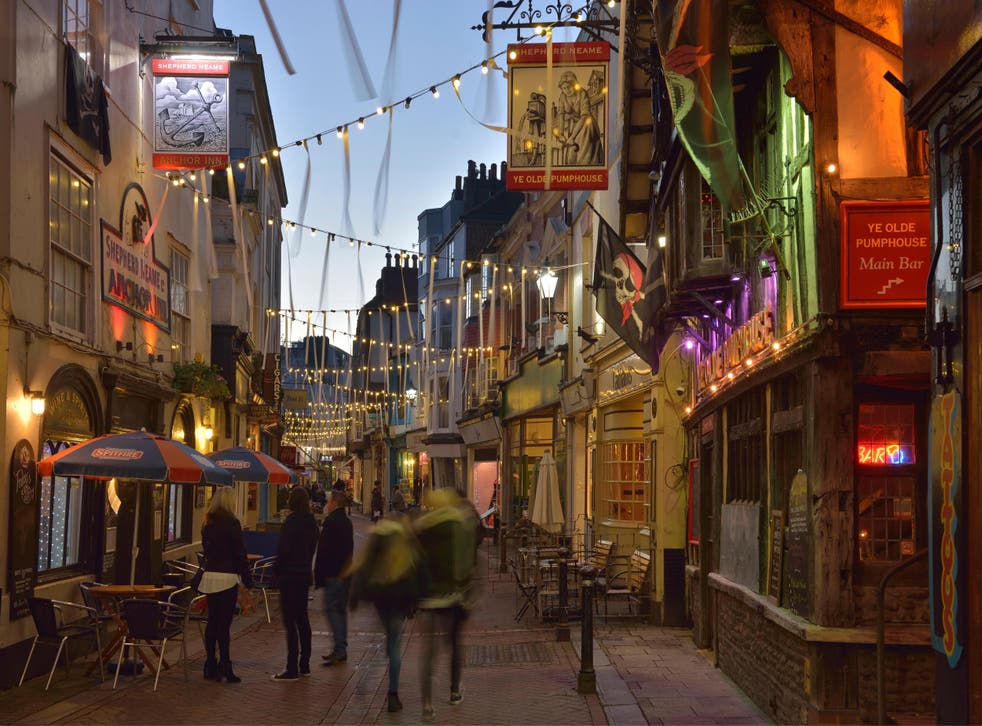 What to discover in vibrant Hastings
Visit this historic coastal town where old-world charm meets contemporary cool
Thursday 29 November 2018 15:24
Hastings is a strong contender for the UK's quintessential seaside town. Forever associated with the Norman invasion of 1066, it enjoyed a golden age as a fashionable Victorian seaside resort.
Today, the town is a must for lovers of art and culture, and a thriving community of Independent shops and restaurants have transformed this historic coastal spot.
Beyond the historical riches, it's this growing optimism and energy that makes Hastings such vibrant mini-break material right now. So why not check out some of its hidden gems for yourself? All these are within easy walking distance of the station.
Click on the map below to reveal Hastings' hidden gems
What to see
The gleaming £4 million Jerwood​ Gallery opened in 2012 and helped kickstart the coastal town's cultural renaissance. Built among the medieval​ hotchpotch of Hastings Old Town — and surrounded by traditional fishermen's huts — this award-winning space is home to an enviable collection of contemporary British art.
The funicular at East Hill is also a must: this railway lift will take you up to Hastings Country Park for superb views of the Old Town and Stade beach.
Where to eat and drink
George Street is the main thoroughfare between the seafront and Hastings Old Town, and it's lined with hip cafés, old-fashioned sweet shops, vintage boutiques and some great restaurants. A longtime favourite is the Thai café at Boulevard Bookshop. Elsewhere, Di Pola's on Marine Parade is your port of call for ice cream, and Penbuckles​ Delicatessen on High Street serves Monmouth coffee, and tuck into the freshest fish and chips from Maggie's on Fishmarket Road.
Places to explore
Iconic landmark Hastings Pier has lived a dramatic life. It was built in 1872, suffered storm damage throughout the 20th century and was near-destroyed by a fire in 2010. A painstaking restoration, which won the RIBA Stirling Prize for Architecture, led to its reopening in 2016.
From here, it's a nine-minute walk to the fascinating Hastings Museum & Art Gallery, filled with nearly 100,000 objects of local history, fine and decorative arts and natural science.
Where to stay
If you're after stylish digs in a historic building, award-winning high-end B&B Swan House is just a five-minute stroll from the Jerwood Gallery and a 11-minute walk to the impressive ruins of Hastings Castle. Four luxurious en-suite bedrooms — with design flourishes spanning everything from French farmhouse furniture to Tudor oak-beamed ceilings — sit within a building that dates back to 1490. Bedrooms start from £120 per night, with breakfast.
To discover hidden gems in the South East, and book your train tickets, visit southeasternrailway.co.uk/winter
And share your hidden gems on Twitter and Instagram using #SEhiddengems
*This content was commissioned and approved by Southeastern
Register for free to continue reading
Registration is a free and easy way to support our truly independent journalism
By registering, you will also enjoy limited access to Premium articles, exclusive newsletters, commenting, and virtual events with our leading journalists
Already have an account? sign in
Register for free to continue reading
Registration is a free and easy way to support our truly independent journalism
By registering, you will also enjoy limited access to Premium articles, exclusive newsletters, commenting, and virtual events with our leading journalists
Already have an account? sign in