Fast track: Europe's rail revolution

Show all 2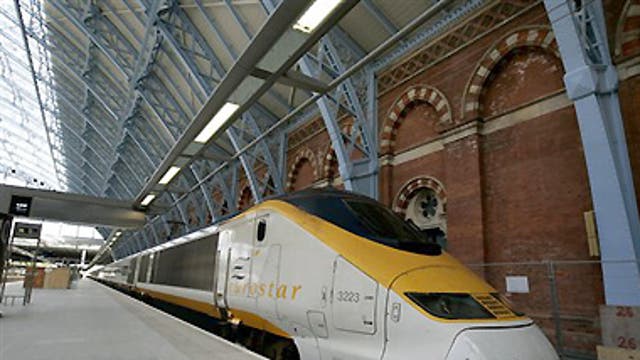 Fast track: Europe's rail revolution
Breakfast in Brussels, lunch in Lyon, a quick day-trip to Paris... As the high-speed rail revolution arrives in Britain, Simon Calder welcomes Lille to London's commuter belt, and introduces 20 destinations where travellers can now let the train take the strain
Also in this article:
How booking can be hell
20 top new rail destinations
Glory, pride, triumph: these accolades will be used in abundance at today's ceremony in London to mark the re-opening of the most beautiful railway terminus in the world. The Queen will formally open St Pancras International, which has gained the extra-territorial suffix after an £800m makeover. But, in other parts of the UK, a different word could be associated with the new home of trains to France and Belgium: resentment.
From 15 November, the first full day of the new Eurostar timetable, the journey-time map of Europe changes dramatically. A French port, Calais, will join Tunbridge Wells, Oxford and Winchester in the elite club of civilised communities within an hour by train of London. Lille, the revitalised capital of French Flanders, will enjoy faster rail links with the British capital than Salisbury, Harwich or Canterbury. And, in the time it takes the quickest train on the UK's fastest domestic line to travel from London to York, you could instead have traversed northern France and arrived in Brussels.
The impressive, if tardy, achievement of the UK in finally joining the European club of high-speed rail will therefore be tempered by the fact that the only place you can reach from London at 186mph is... Abroad.
This marks a kind of betrayal. When, 21 years ago, François Mitterrand and Margaret Thatcher signed an agreement to build a rail tunnel between the UK and France, the benefits for South-east England were to be shared with the rest of Britain by virtue of a range of regional services. Plymouth would enjoy an overnight link with Brussels, while travellers from Cardiff could catch a train direct to Paris.
Over the years, this pretence was maintained at vast expense: rolling stock for Eurostar Regional was built; a catering shed was constructed at Manchester Piccadilly; and timetables at Edinburgh Waverley showed the schedules for a couple of seasons.
But the expected demand was dampened by two unpredicted developments. First, cross-Channel ferry companies confounded expectations by refusing to sail away into the sunset. Then, within a year of the first Eurostar train from London Waterloo to Paris, a tiny no-frills airline began flying from Luton. Today, easyJet is Britain's biggest airline in terms of passenger numbers and flies from a dozen UK airports to scores of overseas destinations far quicker and more cheaply than most terrestrial alternatives.
The result of this development will be clearer later this month, when the new high-speed Eurostar train service beds in. After an encouraging (but very brief) northbound start, it will swerve east, cross the East Coast main line and disappear into a hole in the ground. This, the "London Tunnel", emerges 11 miles later in the Labour-voting wastes of southern Essex – an eccentric route reached following a political decision by the last Conservative government, keen to avoid upsetting the voters in key Kentish constituencies.
All that the rest of the nation will see of the UK's only high-speed train is the rear end, with its tail lights disappearing in the direction of Europe. From this month, then, the Continent gets a whole lot closer – but only if you have the good fortune to start in London or South-east England.
****
Today's opening will, nonetheless, spark a revolution. Extensive research by The Independent, illustrated opposite, shows how the "time-map" of Europe will be transformed by the opening of High Speed One, as the link to the Channel Tunnel is known.
Hundreds of continental towns and cities will be within easier reach of London. Italy and Spain will be under 10 hours from the capital by rail, and travellers can even be in Austria less than 12 hours after leaving St Pancras.
But the converse of this new Europe is that many parts of Britain become relatively further away. With trains to Brussels taking only 111 minutes, Norwich, Cardiff and Exeter share the ignominy of longer journey times. While the fastest trains to Leeds and Manchester narrowly beat those to Paris, the cities of Sheffield and Liverpool take longer to reach than the French capital.
Once you look beyond the core lines of Eurostar, the extent of the transformation becomes even more evident. Hull will suffer the ignominy of taking exactly the same length of time to reach from St Pancras as Disneyland Paris (and being considerably less fun when you get there).
The key to the new rail map of Europe, though, lies in Belgium, not France. With same-station connections at Brussels Midi, travellers can easily access destinations throughout Belgium, as well as Holland and Germany. Antwerp, Liege and Maastricht are well under four hours away, making them closer than Carmarthen and Edinburgh. Cologne, Amsterdam and Lyon are all under five hours, beating British locations such as Penzance and Dundee.
If you head further south and east, even with generous allowances for changing trains, the Continent will become even closer in relation to the UK. Switzerland's second city, Basle, is closer than Montrose, while the Med at Marseilles is more accessible than the Irish Sea at Pwllheli.
Extend the radius of the time-line to eight hours, and the London-based skier can reach the French Alps quicker than Aviemore; in the A to Z of business cities, Zurich is on a par with Aberdeen.
Two locations are tantalisingly just three minutes over 10 hours away: Fort William in the West Highlands of Scotland, and Berlin. Given the investment pouring into rail at the heart of Europe, Germany's capital will beat the 10-hour barrier well before the western end of the Caledonian Canal – which relies on rail infrastructure almost as old as the inland waterway.
Across Britain, there is some light at the end of the Channel Tunnel, though. First, much more of the British population will have one-stop access to the Continent. If Scottish travellers can bear the interminable journeys south to London King's Cross, they find themselves within a couple of minutes' walk of the Eurostar terminal.
****
Anyone travelling from the vast arc of stations, from Aberystwyth to Carlisle, that funnel into Euston will be a 10-minute walk or one (criminally overpriced) stop on the Tube from St Pancras. And passengers on the East Midlands corridor from Leicester, Derby and Sheffield will find their trains gliding into the same spectacular station as Eurostar, albeit separated by glass and a labyrinthine subterranean route to trains standing at platforms 5 to 10 inclusive.
Second, if we can reach Abroad so easily, foreigners can come here on business, for holidays or as commuters – all positives for our economy and our reputation as an open, tolerant island on Europe's fringes.
Third, perhaps the nation that brought passenger rail travel to the world in the 19th century will finally gain a taste for 21st-century rail travel – and provide politicians with the appetite for pushing through plans to revitalise the most appropriate form of transport for our small, crowded island.
The nonsense that sees dozens of flights shuttling between Manchester and London would end if trains took just an hour, and South-west England, Wales and Scotland could move in from the margins of Europe were they to win fast rail links.
Meanwhile, estate agents of the Pas de Calais, ski instructors in the Alps and taxi drivers at Köln Hauptbahnhof will salute today's glorious event – even if their English, Welsh and Scots counterparts aren't quite so triumphant.


Tickets, please: How booking can be hell


Getting there by train may be half the fun – but booking your trip can be a frustrating experience, devouring time and money in equal measure.

The website Eurostar.com is excellent for all the 77 destinations it specifies – ranging from Aachen in western Germany to Vannes in southern Brittany, with the vast majority in France – but it is inflexible. Ask for a late Friday morning departure to Marseilles, for example, and it'll insist on allowing more than an hour-and-a-half to go just two stops on the RER train across Paris (a journey scheduled to take eight minutes). The result: instead of a comfortable 33-minute connection and non-stop train to the Med, you hang around at Gare de Lyon and arrive in Marseilles, by slower train, nearly 80 minutes after the first available connection.

In addition, many popular destinations, such as resorts on the coast of Picardie or much of the Côte d'Azur, are not available; the same applies to places just beyond the French borders such as Luxembourg and Basle, and key cities in Holland and Germany.

The obvious alternative is the French Railways' owned company, Rail Europe (www.raileurope. co.uk), which offers a temptingly wide range of options. But selecting an apparently straightforward journey such as London to Salzburg proves infuriatingly difficult: when I tried to make a booking, I was instructed to book a Paris-Salzburg trip first, then return and make a second reservation for the London-Paris sectors. I started on this path but found myself in a closed online loop and gave up.

Yesterday, Ryanair.com sold me a flight to Mozart's birthplace (departing 4 December for a week) in three minutes, for an inclusive £20 return.

Where to get off: 20 top new rail destinations


Destinations chosen by Simon Calder. Profiles by Miranda Bryant

Calais
Time: 58 minutes (direct).

The gateway to France may not be the most glamorous destination, but you can now reach it in the time it takes most people to get round their local supermarket - which is curiously appropriate, given the town's famously formidable array of booze-cruise-friendly hypermarkets.
Equivalent UK trip: Oxford 54 minutes

Lille
Time: 1h 19 (direct).
Fed up with being shoehorned into London's overstretched tubes, busses and trains? Try moving home to Lille. Winner of European City of Culture 2004, it also boasts reasonable house prices, and makes an ideal stopping off point for journeys into nearby Belgium. The Christmas market is also worth a visit.
Equivalent UK trips: Canterbury East 1h 25, Birmingham New Street 1h 29.

Brussels

Time: 1h 51 (direct).
One of Europe's most under-rated tourist destinations, with first class cuisine – not least the famous moules frites, strong beers and chocolates - dozens of leading museums, and fantastic squares and momuments. Brussels is the perfect city for a weekend break, and its also the home of the European Parliament.
Equivalent UK trips: York 1h 51, Norwich 1h 52, Bristol Temple Meads 1h 40

Paris Nord
Time: 2h 15 (direct).

All of the iconic attractions of one of World's great romantic cities – think Eiffel Tower, Louvre and Arc de Triomphe – are now but a couple of hours away. It's all so easy, you could pop over for lunch, and be back home in time for tea.
Equivalent UK trips: Leeds City 2h 13, Cardiff 2h 02

Disneyland Paris
Time: 2h 35
The home of Mickey Mouse (on this side of the Atlantic, at least) boasts enough rides to put most of its British counterparts to shame. Because the resort offers a variety of packages, it can be a lot cheaper than our theme parks, too.
Equivalent UK trips: Newcastle 2h 30, Llandudno Junction 2h 55

Antwerp
Time: 3h 05
Holland's closest major city is famed for its lace, designer fashion shops and stunning location on the banks of the river Scheldt. Elegant architecture, squares and cafes will bring it firmly onto the A-List of European weekend destination.
Equivalent UK trips: Windermere 3h 16, Carlisle 3h 14.

Reims
Time: 3h 42
The capital of Champagne is home to the headquarters (or Chateau) of almost every brand of fashionable fizz. It also houses a thirteenth century cathedral and plenty of rustic villages in pretty valleys. Arrive there by train, and you won't even have to worry about staying sober for the journey home.
Equivalent UK trips: Carmarthen 3h 55, Hereford 3h 01.

Cologne
Time: 4h 40
As you arrive in this ancient city from the train station, you'll come face-to-face with one of its greatest sights: Germany's largest cathedral. In addition to its weighty cultural and historical background, Cologne boasts plenty of shopping facilities, theatres and night life. The perfect place to enjoy the cultural, and the less so.

Equivalent UK trip: Aberystwyth 4h 36.

Lyon
Time: 4h 50
By winter, well positioned for skiing; by summer an escape from crowded Mediterranean beaches, offering stunning mountain walks on its doorstep. Lyon itself boasts Renaissance architecture and Roman amphitheatres, not to mention some of France's finest cuisine.
Equivalent UK trip: Glasgow 4h 29.

Amsterdam
Time: 4h 59
One of Europe's top destinations, with a stunning array of Museums and galleries, vibrant nightlife, and genuinely beautiful canal-side setting. Easy to explore by foot, and/or the ubiquitous bicycles.

Equivalent UK trip: Newquay 4h 45.

Luxembourg
Time: 5h 31
Luxembourg's population is under half a million and its capital city dates back to a fortress built over 1000 years ago. Today it remains relatively unspoilt, and is surrounded by valleys, chateaus, rivers and pine forests (many of which hold wild boar).
Equivalent UK trip: Penzance 5h 05

Nantes
Time: 5h 39
Set on the Loire, less than half an hour's drive from the coast Nantes was described by Time magazine as "the most liveable city in all of Europe". It's also a fine destination for the bon viveur: Brasserie La Cigale is among France's trendiest restaurants.
Equivalent UK trips: Dundee 5h 48
Avignon
Time: 6h 12
Set in beautiful Provence, the walled city of Avignon houses a Medieval fortress and a bridge made famous in the ubiquitous French nursery rhyme. Sixty-odd miles from the Mediterranean coast, its summer temperatures are suitably hot, and during July the city is also home to a well-regarded performing arts festival.
Equivalent UK trip: Montrose 6h 21

Zurich
Time: 7h 26
Not only is the home of Swiss banking and skiing, it has also, in the past decade, attained a hip status thanks to its growing abundance of clubs and bars. As host to Euro 2008 it will also now possible to travel to the tournament by train – provided England actually qualify, of course.
Equivalent UK trip: Aberdeen 7h 07

Bourg St Maurice
Time: 7h 20
Between November to April, trains to Bourg St Maurice make the slopes of the Alps accessible without the package-crowd misery of local airports. Resorts such as Les Arcs, Tignes and Val d'Isere are all 30 minutes or less by train.
Equivalent UK trip: Aviemore 7h 27

Stuttgart
Time: 7h 23
Stuttgart is one of Europe's most environmentally-friendly cities, and travelling there by train will only increase your virtuosity. The railway station even has a 10 story "viewing platform," for the trainspotter crowd. The German city best assets, however, are its green parks and open spaces, together with (ironically) the Mercedes-Benz museum.
Equivalent UK trip: Stranraer 7h 26

Hanover
Time: 8h18
Hanover is famed for its imitation medieval quarter and Baroque-style gardens. The Kestner society is worth a visit as in the past they have exhibited seminal artists such as Kandinsky and Klee.
Equivalent UK trip: Inverness 8h 07

Toulouse
Time: 8h 58
A vibrant, University city, positioned between the Pyrenees and the Mediterranean in South West France. From bike rides along the Canal du Midi to tours of the Airbus factory, it makes an excellent centre to explore a much under-rated region.
Equivalent UK trip: Oban 8h 57

Turin
Time: 9h 11
Famed for its eponymous shroud, and as an industrial centre (Fiat originated there), Turin is often dismissed as a non-destination. But its close proximity to the Alps means that there are some stunning views east of the river Po, and a lot of green expanses for the active visitor.
Equivalent UK trip: Elgin 9h 14

Irun
Time: 9h 44
Situated in the Basque country on the Spanish-French border, Irun makes a good base to explore its surroundings such as San Juan de Luz and Biarritz. It's the closest Spanish destination, and one where you are more than likely to experience hot, or at least mild, weather.
Equivalent UK trips: Elgin 9h 14

Berlin
Time: 10h 03
Arguably the centre of modern Europe, Berlin is worth visiting for everything from business, to leisure, to hedonistic partying. The city's cultural life is incredibly rich with a huge array plenty of theatre, art and musical performances; inevitably the city boasts plenty of historical attractions, too.
Equivalent UK trip: Fort William 10h 03
Salzburg
Time: 11h 46
Spires, plazas, fountains and everything Mozart will greet you as you enter Salzburg. Austria's closest rail destination boasts a beautiful location and jaunty ambience – the Sound of Music was set here, and tour guides will show you the iconic locations where the greatest musical of all time was filmed.

Equivalent UK trip: Thurso
Times are from London, using fastest trains on 15 November (first day of full service of Eurostar), with GB National Rail Enquiries, Eurostar and German Rail website providing timings. UK times are for direct trains wherever possible, although (in a few cases) a quicker journey may be possible by changing en route. Overseas times include a built-in connection time (eg 18 minutes at Brussels); quicker journeys are theoretically possible for fast movers. The timing for Bourg St Maurice is for January.


Join our new commenting forum
Join thought-provoking conversations, follow other Independent readers and see their replies