24-hour Room Service: Areias do Seixo, Portugal

Show all 2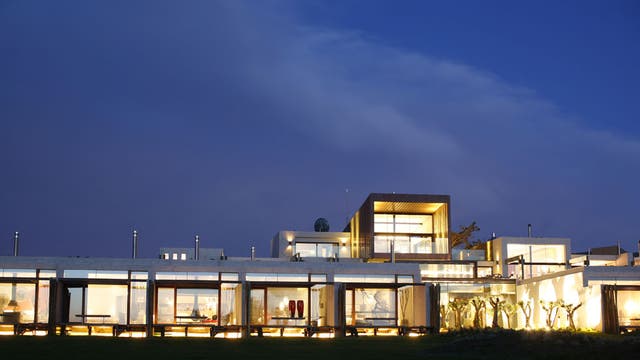 24-hour Room Service: Areias do Seixo, Portugal
The name Areias do Seixo roughly translates as "pebble beach", and the property plays to its rugged, coastal location with a motif of purity and nature. But Areias do Seixo's curveball is that it is a modernist glass and concrete construction on a protected patch of Portugal's Costa de Prata ("silver coast"), between Lisbon and Porto.
Equally as contrary is the fact that Marta Alves, its earth-mother-channelling co-owner, had been working for Pricewaterhouse-Coopers prior to opening the hotel in 2010.
But everything falls into place during the Circle of Fire when, most evenings, guests are invited by Marta and her husband, Goncalo, to join them on the cliff-top sand dunes in front of the hotel for a glass of wine and a sing-song around the campfire. If that sort of carry-on alarms you, bear with me, because Areias do Seixo is a place that challenges clichés.
Rather than have you running for the cliff edge, the Circle of Fire is a curiously charming experience. Between folk songs (Marta on guitar, Goncalo on vocals, guests encouraged to join in), the young couple explained how this personal project took eight years to bear fruit, from choosing the location – a derelict chicken factory near where they both grew up – to the three-year construction which was blighted by a tornado that ripped steel from the girders and uprooted dozens of surrounding pine trees.
The remains of those trees now stand upside down in a circle around the fire, their crooked roots encircling the scene like a Tim Burton film set.
Recycling doesn't stop there. An "eco clock" greets you at reception, charting water and electricity consumption in the hotel, while wood salvaged from the storm forms a makeshift addition to a piano and a gnarled piece of driftwood makes a fitting addition to the outside terrace. At dinner, you eat at chunky wooden tables surrounded by antique dressers and vases filled with dried verbena and corn husks. This is likely to be a moreish combination of traditional dishes (migas – a bubble and squeak-like concoction of bread, turnip and garlic) and contemporary creations (a tapas selection of scrambled eggs with chorizo, salted mushrooms and cheese-filled pastries with honey), served with an impressive list of Portuguese wines.
It all serves to create a narrative for a sharp-lined assemblage of concrete and glass that might otherwise feel too starkly new. Add to the picture colourful West African fabric upholstery, antique clocks and scales, chandeliers, felt heart mobiles and "Love" signs, plus a fairy-tale farm shop of sorts selling seasonal vegetables, antique glass jars, quilted cushions and home-made jams, and it won't be long before you're singing its praises.
Location
The hotel is an hour's drive north west of Lisbon. The nearest town, Santa Cruz, is of interest only to surfboard-wielding tourists; the beaches that run south down from here to Ericeira promise some of the best surfing in Europe. As such, the beach at the foot of the cliff-top on which Areias do Seixo stands is wild and the waves very often too big and rough to brave without a board. This does mean that you often have it entirely to yourself.
If you want more than to sit on the sand, the dune-topped cliff is vibrant with herbaceous foliage, wild grasses and darting rabbits and is lovely for late afternoon walks. The hotel hosts guided dune walks, as well as mussel-foraging trips, tours of its vegetable garden and excursions to villages.
Comfort
I was staying in "Three Wishes", one of eight Land-category rooms. There are also two suite-like Gold Rooms and, set apart from the hotel, a collection of villas intended for longer stays. Each has its own motif ("Timeless" recalls North Africa; "Prata" is done out in silver and gold tones) but all have floor-to-ceiling windows opening on to a private terrace that looks out on the dunes.
The aesthetic in Three Wishes was soothing and sleek, created against a backdrop of concrete – rough rendered on the walls and varnished on the floor. A steel four-poster bed was softened by a quilt with a trim of fabric leaves, while a suspended stove and Starck-style Perspex chairs were chic, contemporary additions. Continuing the recycled theme, the bedside tables were fashioned from old branches, topped with granite. In the absence of TV or a sound system, a thoughtfully selected soundtrack of Louis Armstrong, Gilberto Gil and the Buena Vista Social Club was piped into the room and seemed more fitting than my iPod's library. At turn down, rose-scented candles were lit – a welcome alternative to chocolates on the pillow.
The polished concrete bathroom was as big as the bedroom, with one wall entirely covered with pebbles and a big sunken bath, open monsoon shower, and a carved wooden tree sculpture that twinkled with tea lights at night.
If all that isn't restful enough, two antique timber doors off reception open to reveal the entrance to the spa, lit by a huge Egyptian copper lamp and scented by soothing essential oils.
Areias do Seixo, Praceta do Atlantico, Povoa de Penafirme, A-dos-Cunhados, Torres Vedras, Portugal (00 351 261 936 340; areiasdoseixo.com).
Rooms *****
Value ****
Service ****
Double rooms start at €265, including breakfast
Register for free to continue reading
Registration is a free and easy way to support our truly independent journalism
By registering, you will also enjoy limited access to Premium articles, exclusive newsletters, commenting, and virtual events with our leading journalists
Already have an account? sign in
Register for free to continue reading
Registration is a free and easy way to support our truly independent journalism
By registering, you will also enjoy limited access to Premium articles, exclusive newsletters, commenting, and virtual events with our leading journalists
Already have an account? sign in
Join our new commenting forum
Join thought-provoking conversations, follow other Independent readers and see their replies