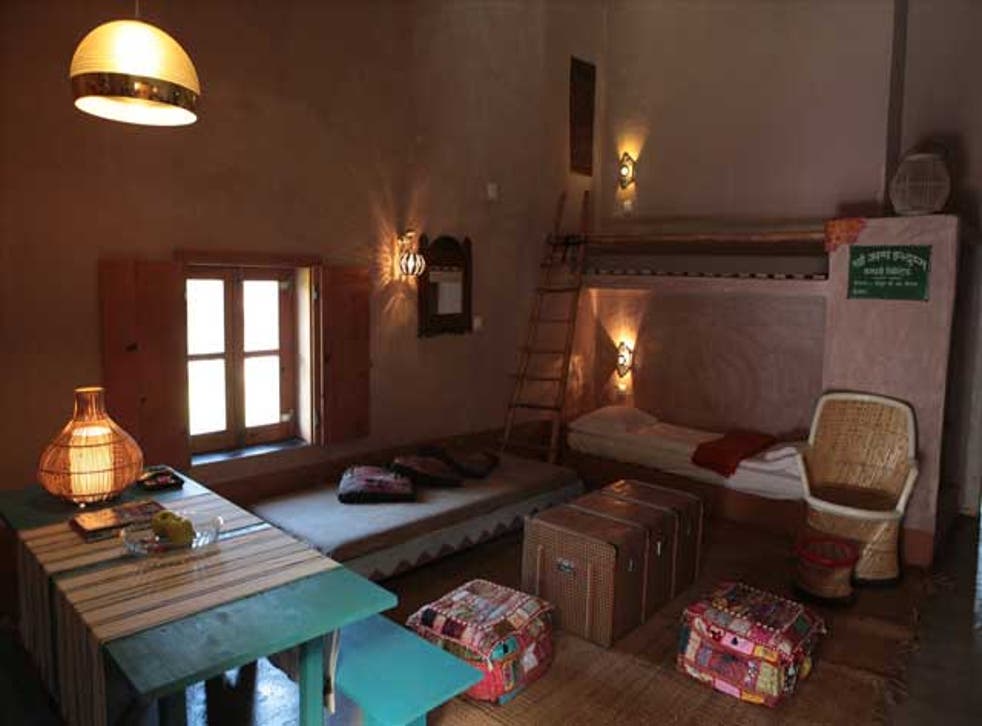 24-hour room service: Muxima, Algarve, Portugal
Wild at heart in the 'Alengarve'
Muxima was the perfect journey's end when I arrived in this patch of Portuguese countryside after a long journey. At this single storey farmstead-turned-guesthouse, surrounded by lavender, eucalyptus, rock roses and jasmine, relaxing is pretty much compulsory. There isn't much to do, except cool off in the reed-filtered swimming pool, have a massage or sprawl on a daybed on a shady terrace, watching swallows and dragonflies dip and soar, and the wind tug at the trees.
The people responsible are Jorge and his wife, Sofia. The former aid worker and television producer left Lisbon for this part of south-west Portugal in 2005 looking for a new life in the country. The arrival of sons Vicente and Balthazar had led them to seek an alternative lifestyle that would satisfy their nomadic souls.
When they found this farmstead, they named it Muxima – "heart" in the Angolan dialect of Kimbundu. They then set about spending the next 10 months turning the ramshackle building at its core, and the neglected pasture and forest that surrounded it into an environmentally sensitive retreat. "From the beginning, we decided the house should operate with as low energy as possible," explained Jorge, adding that, with the sun shining on nine days out of 10 here, it's a great place to benefit from solar energy.
Principled it may be, but Muxima is indulgent, too. Take the breakfasts. Eaten in a little open-sided terrace just below the main building, the food is laid out each morning so you can help yourself without the intrusion of waiter service.
Pick a seat at one of the colourfully painted tables, looking out over the garden, and tuck into freshly made bread (served in a pretty patchwork bag), plum and fig jam, flasks of coffee and hot milk, a jug of freshly squeezed orange juice and, on the day I was there, home-made cake made with a variety of sweet potato that grows only in the surrounding area.
For dinner, you have to head out. Take a gentlehalf-hour stroll into the local village, Aljezur, and order fresh, grilled fish and a bottle of local wine at Restaurante Pont'a Pe, by the river, before walking home in the moonlight. Or buy a picnic from the shop by the bridge and eat on the terrace outside your room at Muxima with candles to help you see and crickets for company.
LOCATION
Around an hour's drive north-west of Faro, slightly south-east of Aljezur, Muxima is in "the only part of Portugal that remains quite wild", according to Jorge. "It is technically in the Algarve but the lifestyle here is more like that in the Alentejo, so we call it the 'Alengarve'".
Most guests hire a car from Faro airport, but you can take a (four-hour) bus straight to Aljezur from Lisbon, and they'll come and pick you up. Borrow a Muxima bike for free while you're there, and you can pedal to two of Portugal's best beaches in under an hour. At Amoreira you can watch the river Aljezur tumble into the ocean while tucking into a plate of garlicky prawns at a rustic cliff-top restaurant. Or, for surfing, carry on slightly farther to Arrifana.
If you're interested in birds rather than beaches, take a hike in the neighbouring Southwest Alentejo and Vicentine Coast natural park. A 40km drive east into the region's green hills brings you to the pretty spa village of Caldas de Monchique, with ornate 18th- and 19th-century buildings, restaurants and spa resorts.
COMFORT
The stylish décor was inspired by the couple's travels. "We had both travelled and brought things we loved back with us over the years. At the time, I didn't know why I was buying all these things but when we came here it was obvious. We started unpacking and I thought 'wow', we have to use these in our guest rooms," explained Sofia.
The result might have looked like a student house after an exotic gap year, but, with Sofia's design skills coming into play, it's anything but. Wooden floors, brightly painted walls and polished concrete shower rooms form a simple backdrop on to which the carefully collected souvenirs – from intricately woven rugs to punched metal lanterns – have been subtly displayed.
Each room comes with complimentary Wi-Fi, Portuguese chocolates, olive oil toiletries and fresh fruit but, freebies aside, they're all very different. In the main building are three doubles – Krabi, Zammour and Citrana and a suite named Mangalore – named and styled after places close to Jorge and Sofia's hearts. Similarly, five minutes' walk away at the top of a small hill, there are three family-friendly suites, each with kitchenettes – Chaouen, Coba and Sotouboua.
Muxima, Montes Ferreiros, Aljezur, Algarve, Portugal (00 351 91 601 28 30; muxima-montesferreiros.com).
Rooms
Value
Service
Double rooms start at €100, including breakfast. Suites, sleeping four, start at €125.
Register for free to continue reading
Registration is a free and easy way to support our truly independent journalism
By registering, you will also enjoy limited access to Premium articles, exclusive newsletters, commenting, and virtual events with our leading journalists
Already have an account? sign in
Register for free to continue reading
Registration is a free and easy way to support our truly independent journalism
By registering, you will also enjoy limited access to Premium articles, exclusive newsletters, commenting, and virtual events with our leading journalists
Already have an account? sign in
Join our new commenting forum
Join thought-provoking conversations, follow other Independent readers and see their replies