24-hour Room Service: Taj Falaknuma Palace, Hyderabad, India

Show all 2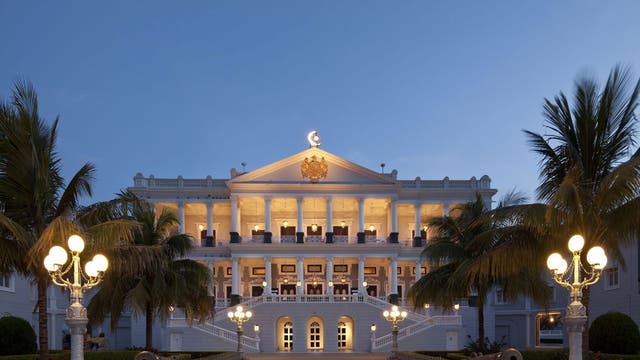 24-hour Room Service: Taj Falaknuma Palace, Hyderabad, India
Hyderabad's heavenly palace shines again.
Sophie Lam
Friday 09 March 2012 13:00 Comments
To appreciate fully the majesty of Falaknuma Palace, you have to remove yourself from the present. As such, I was whisked from airport to entrance just as the inky sky started to lighten and a muezzin's call stirred the sleepy streets of Hyderabad. My driver pointed up a hill – lording it over the ramshackle whitewashed buildings around us was fairy-tale Falaknuma. We wound upwards past strutting peacocks to reach its gatehouse. Here, I was decanted from the car to a vintage mustard-yellow carriage, complete with liveried coachmen in feathered hats.
The heady scent of frangipani drifted past as the horses trotted towards the palace. It felt like a dream. As I ascended the left staircase up into the palace, a shower of rose petals rained down. "Just as the Nizams would have done," the hotel's manager Reekshit Siddhanta explained. "They were very superstitious – up the left staircase, down on the right – bad luck, otherwise."
A dynasty of seven Nizams ruled Hyderabad for two centuries. You might say that superstition paid off: the last Nizam, Osman Ali Khan, was the world's richest man, with a fortune of around US$2bn.
His profligacy is quite remarkable. Here was a man who once bought the entire contents of a shoe shop in Madras so that he could pick a pair at his leisure; and who used a 187-carat diamond as a paperweight on his desk at Falaknuma.
The marble palace was built in 1893 by the prime minister of Hyderabad in the shape of a scorpion to reflect his star sign. (As I said, they were a superstitious bunch.) The project bankrupted him, so he invited the incumbent Nizam – Osman Ali Khan's father – to visit. As intended, he fell in love with the palace and bought it. It became the seat of the Nizams, until the end of their dynasty in 1948.
The palace reopened as the fifth of Taj Hotels' Grand Palaces just over a year ago, after a 10-year restoration of what had become a sad spectre of its former self. The rebirth was overseen by Princess Esra, once married to Osman Ali Khan's grandson. "She had the exterior repainted 15 times," I was told by the hotel's historian, Prabhakar Mahindrakar; Falaknuma's name means "mirror of the sky" in Urdu and the exact shade of blue-grey had to be harmonious with the heavens.
Today, Falaknuma's modern concessions are a sensitive counterpoint to its rich history. The princess's hand is evident in the decor, chosen to reflect the celestial theme – pastel colours and delicate chandeliers, a serene spa painted with cranes and rose bushes. Meanwhile, the library groans with 5,970 books in Urdu, Arabic and English.
At dusk, parakeets dart around while flautists play in alcoves. In such an evocative scene, I soon felt quite at home in the extraordinary world of the Nizams.
Location
Falaknuma looks down on Hyderabad, 600m below. A short drive north are the four grand arches of the 16th-century Charminar, surrounded by the frenetic bazaar; and Chowmahalla Palace, also restored by Princess Esra. About 7km north-west are the remarkable domed tombs of the Qutb Shahi kings.
Comfort
I was in a spacious Grand Royal Suite, whose windows – set high in tall walls – provide little natural light, but once served to keep the Nizam's concubines out of sight. However, the feminine decor – silk curtains and pelmets, hues of dusky pink and apple and daintily embroidered bed linens compensated (though a leopard-print pouffe was a personal touch too much). Teak beams, oak floors, Turkish rugs and old photos of Hyderabad served as historical prompts.
The smallest rooms are brighter, with French doors opening on to an arcade lining a long and lush courtyard. The white palette is simpler, though furnishings no less luxurious.
Cox and Kings (0845 154 8941; coxandkings.co.uk) has a six-night tour of India from £2,495 pp, including three nights' B&B at Taj Falaknuma Palace, flights and transfers.
Taj Falaknuma Palace, Engine Bowli, Falaknuma, Hyderabad, Andhra Pradesh, India (00 91 40 6629 8585; tajhotels.com).
Rooms ****
Value ****
Service *****
Double rooms start at R21,679 (£274), room only.
Register for free to continue reading
Registration is a free and easy way to support our truly independent journalism
By registering, you will also enjoy limited access to Premium articles, exclusive newsletters, commenting, and virtual events with our leading journalists
Already have an account? sign in
Register for free to continue reading
Registration is a free and easy way to support our truly independent journalism
By registering, you will also enjoy limited access to Premium articles, exclusive newsletters, commenting, and virtual events with our leading journalists
Already have an account? sign in
Join our new commenting forum
Join thought-provoking conversations, follow other Independent readers and see their replies