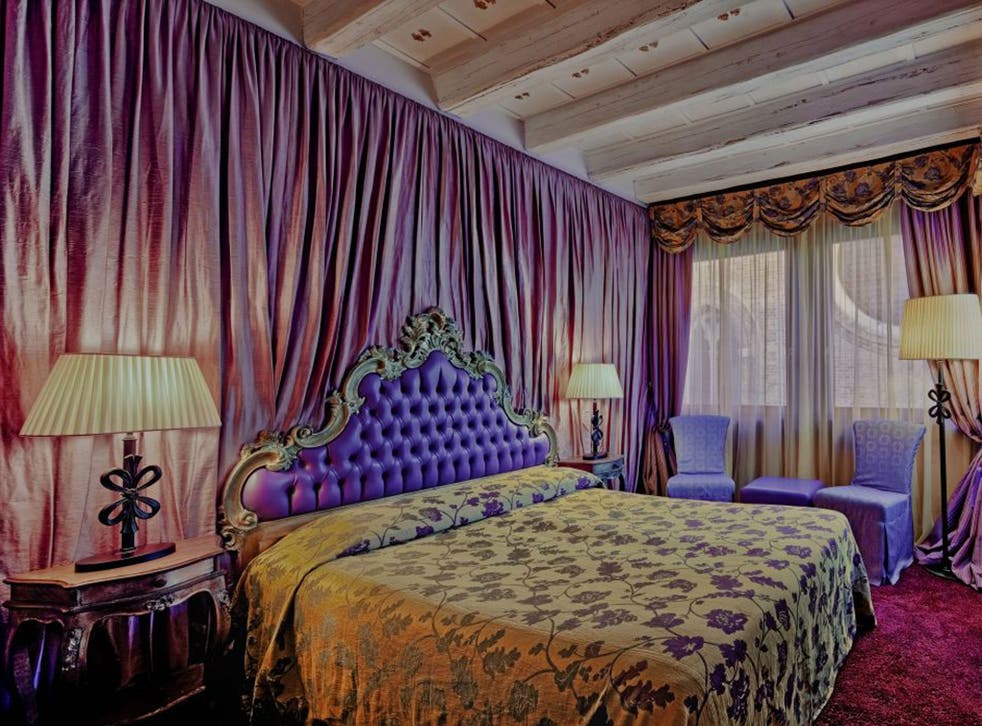 B&B and Beyond: Bloom, Venice
A short walk from St Mark's Square, a 13th-century mercantile building is now an intimate guesthouse
It can be hard to find somewhere decent to stay in Venice without paying exorbitant prices. So a six-bedroom B&B that is both charming and affordable seems like a rare find. Situated on the upper floors of a private house that dates back to the 13th century, when it was a wool merchant's trading post, this is actually two B&Bs – Bloom and Settimo Cielo (settimo cielo-venice.com). They belong to separate owners and have separate websites but are run as one enterprise. The style is unified with elegant furniture, exposed beams, open brickwork and wooden floors. All brought to life by the explosions of colour in the Baroque-like wallpaper, curtains and bed linen. It's grand, but on an intimate scale.
The crowning glory is the library at the top, with its comfortable armchairs, deep red animal-print rugs and shelves of books. There's a fridge full of prosecco and glass flutes, and doors leading out to a fabulous roof terrace overlooking the square. With its rattan chairs, lanterns and billowing white curtains, an evening drink here is like having a private members' club all to yourself.
The bed
The six en-suite bedrooms – each completely different from the next – are divided between two floors and split into two categories: charm and superior. The charm bathrooms have baths while the superior options, despite being slightly bigger, only have showers; none of them would look out of place in a five-star hotel.
My charm room was the smallest but what it lacked in space, it made up for in flair, with luxurious fabric-covered walls, thick velvet curtains, chic lamps and French-style painted furniture. Views over the rooftops of Venice and Gothic exterior of Santo Stefano church leave you in no doubt as to where you are.
The breakfast
Each floor has its own breakfast room where the decor is no less imaginative. Striking claret wallpaper stands out against a white ceiling in one; traditional Venetian ironmongery, dark wood beams and exposed brick walls provide a backdrop to purple lacquered tables and colourful armchairs in the other.
Croissants, pastries, cheese, prosciutto, cereal, fresh fruit and yoghurts are piled up on the sideboard; tea, Italian coffee and fresh orange juice are served at your table.
The hosts
The two Venetian owners, Paolo Battistetti and Alessandra Vazzoler (Paolo owns Settimo Cielo, Alessandra Bloom), worked with a local architect to ensure they adhered to Venice's strict building controls, but designed the B&Bs themselves. With a popular hotel nearby (locanda fiorita.com), they realised there was a gap in the market for an upmarket, boutique guesthouse.
The weekend
The beauty of this location in the San Marco sestiere (district) is that while the square of Santo Stefano is bustling with locals going about their everyday life, Venice's major tourist draws are all within walking distance. The Accademia bridge is on the doorstep, taking you straight over the Grand Canal to the Accademia gallery (00 39 041 520 0345; gallerieaccademia.org), the Peggy Guggenheim Museum (00 39 041 240 5411; guggenheim-venice.it) and Palazzo Grassi (00 39 041 271 9031; www.palazzograssi.it).
Saint Mark's square, the Teatro La Fenice opera house and Rialto Bridge are all under 10 minutes away. Across the square from Santo Stefano is the deconsecrated church of San Vidal, which hosts a Vivaldi concert every evening (you can buy tickets for around €30/£26 on the day).
Meanwhile, the city is in the throes of the 55th Biennale (labiennale.org), which runs at the Giardini, Arsenale and various smaller venues until 24 November. The Venice Film Festival (labiennale.org/en/cinema) runs from 28 August to 7 September, but a room during this period should be booked months in advance.
The pit stop
Just around the corner is Trattoria da Fiore (3461 Calle De Le Botteghe; 00 39 041 523 5310; dafiore.it) a traditional Venetian bacaro where you sip a glass of wine, poured from a barrel and sample cicchetti, Italian tapas. It is small and scruffy but hugely popular with locals jostling for a seat at the bar or at one of the handful of tables on the street. The speciality polpette meatballs cost €2 (£1.70) each. There are four pasta dishes for around €15 (£12.50) on a blackboard if you fancy something more substantial.
There is a choice of three restaurants on Santo Stefano square: a pizzeria called Ristorante Santo Stefano (00 39 041 523 2467; ristorantesantostefano.org); Le Café (00 39 041 523 7201; lecafevenezia.com) for morning coffee or an aperitif; and A Beccafico (00 39 041 527 4879; abeccafico.com), which is small but sophisticated with tables outside and a cosy, chatty atmosphere. Expect to pay €11 (£9) for a pizza, €15 (£12.50) for pasta and €25 (£21) for a main.
The essentials
Bloom, Calle Santo Stefano, San Marco 3470, Venice, Italy (00 39 340 149 8872; bloom-venice.com). Doubles from €110 (£92), including breakfast.
Register for free to continue reading
Registration is a free and easy way to support our truly independent journalism
By registering, you will also enjoy limited access to Premium articles, exclusive newsletters, commenting, and virtual events with our leading journalists
Already have an account? sign in
Register for free to continue reading
Registration is a free and easy way to support our truly independent journalism
By registering, you will also enjoy limited access to Premium articles, exclusive newsletters, commenting, and virtual events with our leading journalists
Already have an account? sign in
Join our new commenting forum
Join thought-provoking conversations, follow other Independent readers and see their replies