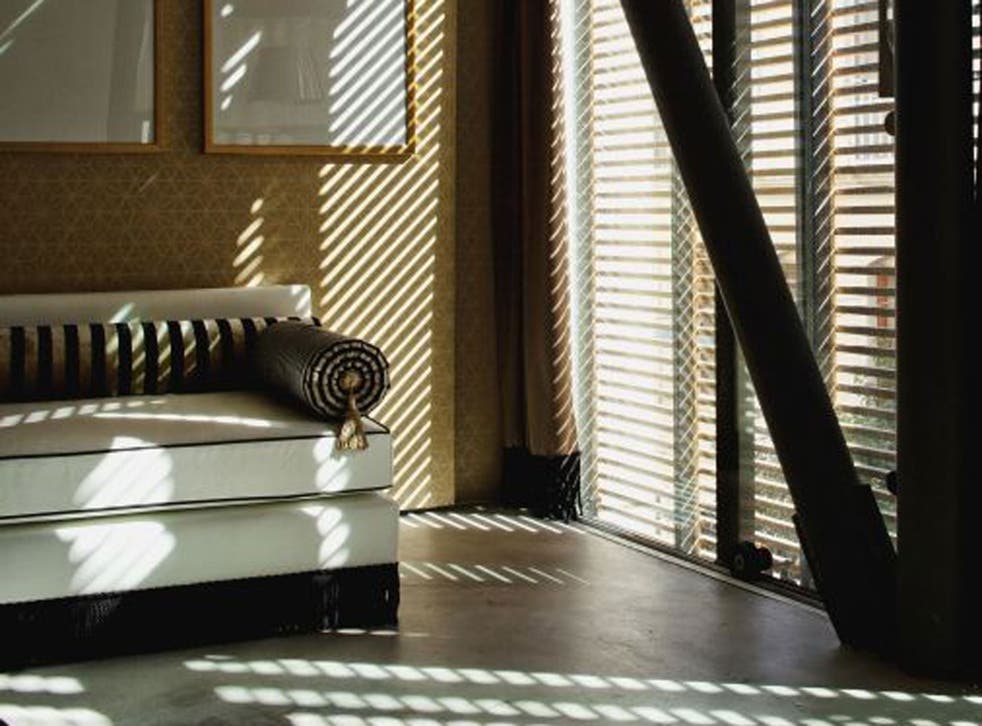 B&B and Beyond: Istanbullux Suites, Turkey
Galata is a thriving area with a sleek collection of suites in a building that's cool ... in every way. Sarah Gilbert checks in
Often referred to as the Soho of Istanbul, the rapidly gentrifying area of Galata is emblematic of the city as a whole – a heady mix of old and new, with cutting-edge boutiques and modern art galleries thrown into the mix of a whirling dervish monastery and 15th-century hammam. Istanbullux opened last year in a show-stopping, contemporary construction. It is flanked by time-worn 19th-century townhouses, its concrete walls and façade made entirely of glass covered by a wooden slatted shell that acts like a giant Venetian blind in stark contrast to its neighbours.
It gives you the best of both worlds – the freedom and space of an apartment, combined with breakfast, concierge services and airport transfers. You'll feel less like a hotel guest and more like the owner of a stylish pied-a-terre. And it's just a short walk from the restaurants and bars of buzzy Beyoglu and a tram ride from the must-see sights of Sultanahmet.
The Bed
The six suites are spread over three levels, all with concrete floors and exposed metal, with splashes of colour, Asian artwork and rich fabrics. The large open-plan living area has two long sofas and a small kitchenette stocked with complimentary Nespresso coffee, tea and water. All the furniture comes from the owners' shop, Hic Design Store, and everything – from the sofas to the cushions – is available to buy. The floor-to-ceiling windows are shaded by the building's outer slatted shell, while a touchscreen panel operates the temperature, lights and shutters. A giant bookshelf separates the living space from the bedroom at the back of the building, away from street noise. The bathroom is built into the bedroom, with a large concrete sink, Molton Brown lotions and potions, and walk-in rain shower.
The Breakfast
Breakfast is served at a communal table on the ground floor, which doubles as a lobby and lounge. You can help yourself from an array of sweet Turkish pastries, yogurt, honey, olives, a selection of cheeses, cucumber, tomatoes and local breads, including the Turkish take on a bagel, sesame-coated simit, while the staff serve fresh squeezed orange juice, coffee (Turkish or Nespresso) and tea.
The Hosts
Istanbullux is a new project from the family behind the Hotel Ibrahim Pasha in Sultanahmet. Tuna Mersinli is the hands-on manager and her parents live on the top floor of the building. Guests are given an access code but the young and friendly staff are around 24/7. The team are happy to give out tips on what to see and where to go, or make reservations.
The Weekend
Take in 360-degree views of the city and the Golden Horn estuary from Galata's 14th-century tower, to the trendy boutiques and cool cafés down Serdar-i Ekrem. Nearby, the steep, winding streets of Cukurcuma are lined with vintage and antique shops.
Istanbul's contemporary art scene is booming and its 13th Arts Biennial (bienal.iksv.org/en) is currently on, until 20 October – entrance to exhibition venues, including SALT Beyoglu (saltonline.org), is free of charge. Istanbul Modern (istanbulmodern.org), set in a former warehouse on the banks of the Bosphorus is nearby, or take a tailored tour of small, up-and-coming galleries with locals-in-the-know, Locally Istanbul (00 90 538 064 9400; locallyistanbul.com).
After a day's sightseeing, head to the beautifully restored Kilic Ali Pasa Hamami (00 90 212 393 8001; kilicalipasahamami.com; women from 8am to 4pm, men from 4pm to 11.30pm; from TL130/£41). It dates from 1580 and was designed by the Ottoman architect Sinan. Once soaped, steamed and scrubbed, you'll emerge with baby-soft skin.
The Pit-stop
The stylish, Autobahn-designed Munferit (00 90 212 252 5067; munferit.com.tr) serves modern meze, such as fried aubergines with tahini, black couscous with calamari and white cheese baked with porcini and truffle oil (from around TL25/£7.80). Wash it down with some thrice-distilled Beylerbeyi raki.
At the newly opened Yeni Lokanta (00 90 212 292 2550; lokantayeni.com) – a stylish bistro with Turkish touches – chef Civan Er gives traditional Turkish fare a contemporary twist. Try his own recipe, sukuk sausage (specially made in south-eastern Turkey), dried aubergine-stuffed manti dumplings with Antiochian yoghurt sauce (TL33/£10.45), and Turkish coffee with mastic.
For something more informal, head to the Galata Bridge for a straight-off-the-grill fish sandwich or a plate of deep-fried hamsi (Black Sea anchovies) from one of the small stalls.
The Essentials
Istanbullux, Tatar Beyi Sokak, Ipera 25, Galata, Istanbul, Turkey (00 90 212 293 2141; istanbullux.com). Doubles start at €145 (£122), including breakfast.
Join our new commenting forum
Join thought-provoking conversations, follow other Independent readers and see their replies