B&B and Beyond: La Forge d'Hauterives, France
With views of the Côte d'Azur, this graceful guesthouse offers an intimate retreat in any season, says Lucy Gillmore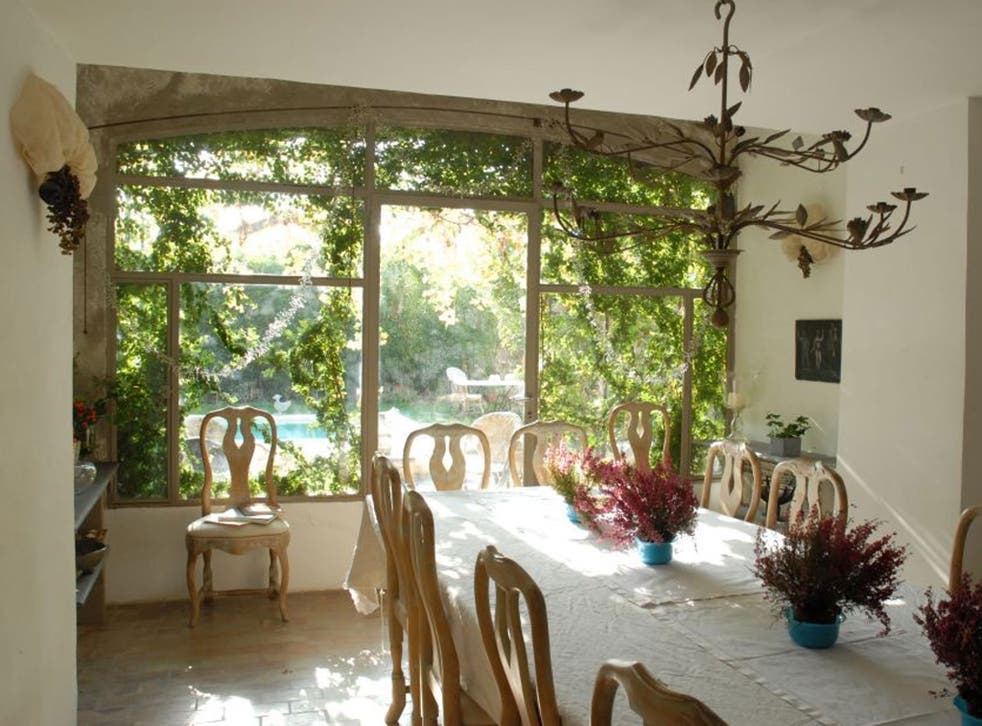 The French Riviera: so chic, so glamorous – and in summer, so crowded. However, edging out of Nice airport on to the Promenade des Anglais, bear left towards Cagnes-sur-Mer and then hang a right and head for the hills. In just 20 minutes you can be in the honey-hued village of La Colle-sur-Loup, a relatively sleepy backwater – even more so in winter.
Unlike neighbouring St-Paul-de-Vence, a hilltop hamlet preserved in aspic, La Colle-sur-Loup feels like a real, living village. At dusk, children play on scooters and dogs scrap in the pretty square, pricked with plane trees. There's a smattering of restaurants and brocantes to rummage through while the French painter, Yves Klein is buried in a little graveyard here. You can dip in and out of the Riviera, retreating each evening to the log-fired tranquillity of La Forge d'Hauterives, a romantically rambling B&B owned by a French interior designer.
The bed
Squeaky iron gates open on to a tiny cobbled courtyard shaded by an arbor of vines. Inside the sprawling old stone house, the hallway leads into the sitting room, all rough hewn walls, elegant faded linen sofa and chairs, piles of coffee table books, a piano and open fire.
There are four charming rooms and one suite – up a ramshackle wooden staircase with a rope railing – decorated eclectically and named, earthily, after trees: Bois de Charme (hornbeam), Bois d'Amarante (a tropical hardwood), Bois de Buis (boxwood) and Bois d'Amourette (snakewood).
Our room, Bois de Palissandre (rosewood) was on the top floor with a glorious view of St-Paul-de-Vence, perched on a hilltop far away. There were rough terracotta tiles on the floor, distressed lamps, a carved wooden wardrobe, a rustic embroidered cream bedspread and matching curtains, offset by striking modern artworks. The bathroom, behind a curtain, had a sleek tub with a shower attachment and two sinks.
If you prefer a door with your shower, Bois de Charme, opposite, has an old stone balcony with a view over the garden to the hills beyond, reams of gold silk draped over poles for curtains – and a rain showerhead and stylish pebble-floored bathroom. Bois d'Amarante directly below, also has a gorgeous private terrace – the bathroom separated by a glass wall.
The breakfast
Breakfast is at a civilised 9am. During the summer you eat in the garden at a big round table by the stylish stone pool. In the winter, it's served at the long wooden table in the airy dining room. Your host bustles around making coffee then joins the communal table, chatting about guests' plans for the day and advising on itineraries over fresh fruit, crusty bread and croissants, homemade melon jams and marmalade.
The host
Anne d'Hauterives is the heart and soul of the guesthouse. Whether gardening in her bikini or sweeping past you on her way to a gallery opening in a fragrant flurry, she is bubbly and charming, fizzing with enthusiasm and humour. She had a successful interiors shop, La Treille Muscade, in Nice for years but fell in love with La Forge, the old building swathed in a tangle of greenery, and spent a year renovating the house to create a haven of French style. It's a real labour of love.
The weekend
If you don't want to stray far, you can mooch around the galleries of St-Paul-de-Vence, visiting Chagall's grave and then head to the sculpture gardens and modern and contemporary art exhibitions of the nearby Fondation Maeght (00 33 4 93 32 81 63; www.fondation-maeght.com).
However, La Colle-sur-Loup is the perfect base for exploring the coast in one direction, the mountains in the other. We spent a day weaving our way through the dramatic Vesubie gorge to the pretty little Alpine village of Saint-Martin-Vesubie, looping back via one of France's prettiest villages, Coaraze – and some hair-raising single-track roads.
The next day, we swapped empty mountain roads for the clogged coastline, motoring to Monaco along the Basse Corniche to visit the Picasso exhibition at the Grimaldi Forum (00 37 7 99 99 2000; grimaldiforum.com).
The pit-stop
Anne provides a list of recommended local eateries, from tapas bars to gourmet restaurants. L'Ateliers des Saveurs (00 33 4 93 59 75 71; restaurantscordel .com) is Francis Scordel's chic and sleek gastronomic gem with a fixed tasting menu for €36 (£30) per person: crustacean cappuccino with lobster eggs and black pearls, for example. La Vie est belle (00 33 4 93 32 19 40; restoviebelle.com), meanwhile, does a mean steak: two courses cost €26 (£21).
Anne also offers a table d'hôtes, creating a private candlelit feast with house specialities such as veal tagine and lamb with honey and pine nuts.
The essentials
La Forge d'Hauterives, 44 rue Yves Klein, La Colle-sur-Loup, Provence-Alpes-Cote-d'Azur, France (00 33 6 82 82 84 45; laforgedhauterives.com). Double rooms start at €100 (£83), including breakfast.
Register for free to continue reading
Registration is a free and easy way to support our truly independent journalism
By registering, you will also enjoy limited access to Premium articles, exclusive newsletters, commenting, and virtual events with our leading journalists
Already have an account? sign in
Register for free to continue reading
Registration is a free and easy way to support our truly independent journalism
By registering, you will also enjoy limited access to Premium articles, exclusive newsletters, commenting, and virtual events with our leading journalists
Already have an account? sign in
Join our new commenting forum
Join thought-provoking conversations, follow other Independent readers and see their replies