The Independent's journalism is supported by our readers. When you purchase through links on our site, we may earn commission.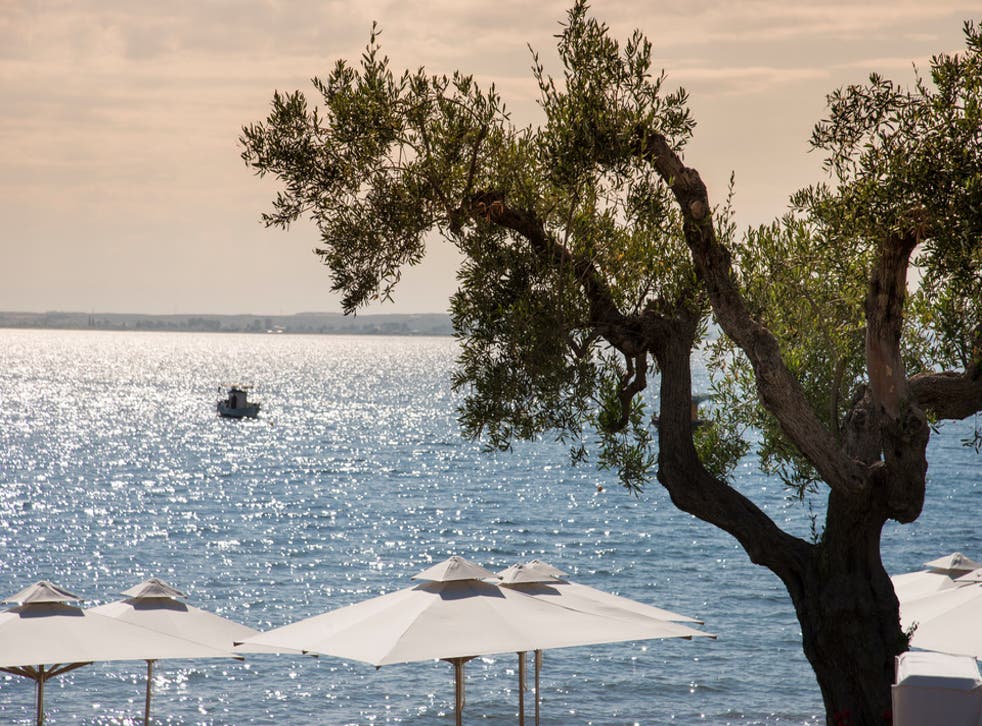 Hotel review: Ikos Olivia, a Greek resort that you don't have to leave the children at home for
How big a deal are Ikos resorts in Halkidiki? Well, put it this way, the most prominent sign on the motorway outside Nea Moudania isn't for the surrounding villages and beach resorts, but for the all-inclusive summer valhalla that is the Ikos Oceania, the first in what's likely to be at least a handful of luxury all-inclusive venues in northern Greece.
The Oceania opened in 2005 and though it's taken a decade for a sister venue to arrive, you suspect it will be less before they add more (Greece's economic system notwithstanding). The Olivia, which opened last May, a few miles east of Nea Moudania, in the village of Gerakini follows the same model as the Oceania. And it's a relatively simple one: pretty much everything is included in the price and all of that everything is really rather nice. It's a million miles away from the archetype of mediocre Mediterranean all-inclusive. And while it's possibly the least adventurous holiday you might ever have, if you've got children, it could be one of the easiest.
Its closest cousin is probably – and Ikos might not like the comparison – a high-end cruise liner. I kept thinking of the Olivia as a ship which had crashed onto the beach with its amenities intact.
Like a big ship, the Ikos resorts sell themselves on a mix of gastronomy (a good buffet and four very decent restaurants: Greek, Italian, French and pan-Asian), good service, big rooms and four pools (one is reserved for those in deluxe bungalows, slightly annoyingly) and – the one thing a liner can't have – a huge beach.
And it just works, particularly if you have kids. The complex offers babysitters, a kids' club that has the children marching around like a well-drilled fun machines; plus football, tennis, basketball, watersports (with very helpful instructors) you name it... All included with the exception of motorised watersports.
Once you've deposited said kids at the club, you can do all of the above plus a gym, spa (treatments not free, alas) and beachfront yoga. Then over in the main hotel complex there's a centrifugal marble lobby with a cocktail bar with drinks at Copacabana prices.
We went as a young family without a tremendous amount of spending money and came back with euros to spare. To put in another way, I'm pretty sure you would spend less on a week in full fatted-calf comfort at Ikos than you would in a two-to-three-star hotel eating out and renting sun loungers.
So yes, it's not very adventurous – but we went with a six-month-old and that's a long way from being a deal-breaker.
Location
As far as the surrounding beach of Peralia (about 45 minutes from Thessaloniki airport) goes, well, there's nothing to write home about. The idea is obviously for you to stay inside the complex - which makes you feel for the slightly depressed run of stores and restaurants just outside the giant Ikos spaceship. Pleasingly, the resort hasn't descended completely oblivious to its surroundings. As part of the hotel's restaurant booking scheme, you can instead choose to head outside to a local taverna, which does a set menu for Ikos residents (inclusive, naturally) - a gentle reminder that you're actually in Greece. There's also a regular free taxi into the nearby resort village of Psakoudia but - again - you're slightly spoiled by where you've come from to be too smitten.
Comfort
Rooms vary from doubles at the main hotel to a series of bungalows - the most expensive of which come with private pools or are right on the beach, and sleep six.
Due to having a baby with us, we spent slightly more time in the room then we'd have strictly desired (though babysitting services are available) and so it was a very minor shame that we hadn't opted for a sea view as we sat (quietly) drinking cocktails on the balcony. Of course, the minibar is free (though why you'd do that when you can call a Manhattan to your room for the price of a tip...).
And while the food really was excellent - with menus designed on licence by chefs of some renown (the Michelin-starred Pourcel brothers created the card for French restaurant Provence, for example) - after a meal or two at each, things can soon feel rather familiar. There was also some weirdness when we hadn't booked at Anaya (the pan-Asian option) and tried to walk in, even though it was barely full all night. But it's hard to gripe about that when, for the most part, you're drinking a beer that's been brought to you at the pool for no extra cost.
Travel Essentials
Ikos Olivia, Gerakini, Halkidiki Greece (0808 111 0131; ikosresorts.com).
Rooms: ****
Value: *****
Service: *****
Superior double sea view rooms start at €524 per person per week, all-inclusive. Standard doubles start at €126 per night.
Register for free to continue reading
Registration is a free and easy way to support our truly independent journalism
By registering, you will also enjoy limited access to Premium articles, exclusive newsletters, commenting, and virtual events with our leading journalists
Already have an account? sign in
Register for free to continue reading
Registration is a free and easy way to support our truly independent journalism
By registering, you will also enjoy limited access to Premium articles, exclusive newsletters, commenting, and virtual events with our leading journalists
Already have an account? sign in
Join our new commenting forum
Join thought-provoking conversations, follow other Independent readers and see their replies