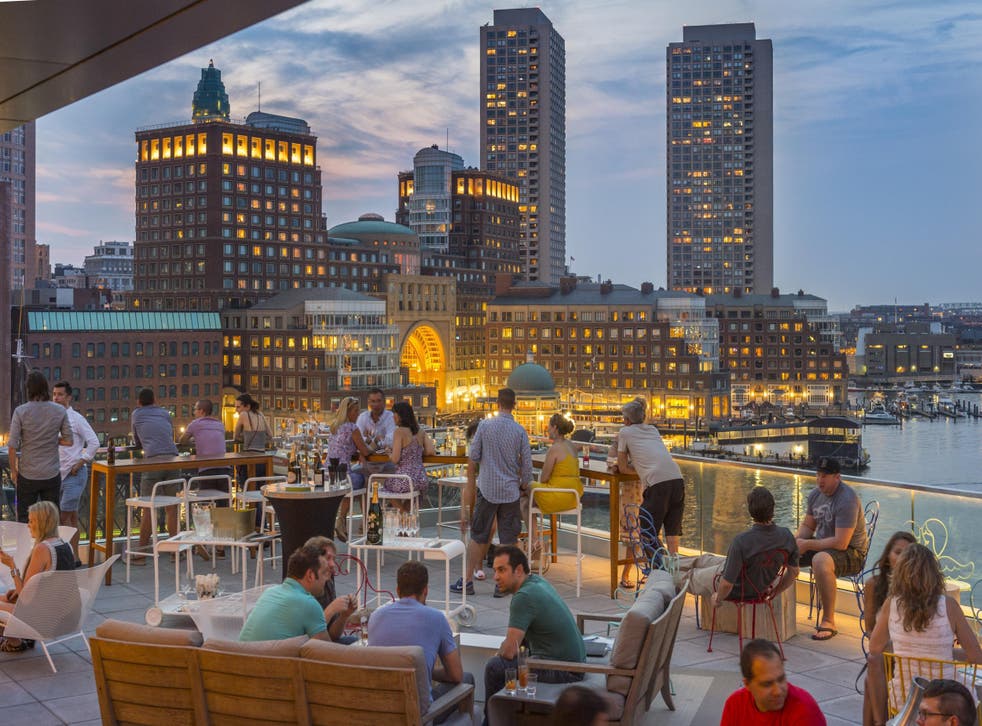 The Envoy hotel review: join the IT crowd in Boston's Innovation District
Inventive rooms and a bar with a view in the up-and-coming Seaport area
If you looked across the water from downtown Boston to the Seaport District, you'd be forgiven for thinking there was no reason to cross the bridge. At least, not yet. Bland office buildings, cranes and half-finished construction projects dot the skyline, and rusty old infrastructure lurks off shore.
But this is Boston's "Innovation District", where hidden behind the scenes are dozens of tech start-ups – and those new buildings will eventually cater to them. Among the first on the scene was The Envoy, a waterfront hotel that's part of Marriott's Autograph Collection – a growing group of individually designed and run properties.
Opened last year, The Envoy has already become the go-to after-work spot for the tech crowd, thanks to its rooftop Lookout bar, which serves cocktails accompanied by banging tunes and views across the water.
Down on the ground floor, the lobby has a work/play vibe: hot desks with power outlets, motivational slogans on the walls and an arcade machine disguised as a pool table (who needs real pool when you can play it on a giant tablet?) – but there are also comfy couches, and, come evening, an inevitable queue for the lift up to the Lookout.
Location
Beyond the confines of the hotel and a couple of pretty waterfront parks, you're unlikely to spend much time in the Seaport District, but you're just a five-minute walk across the Fort Point Channel from downtown.
Here you can follow the Freedom Trail (thefreedomtrail.org), a two-and-a-half-mile walk between the city's historic sights (often complete with tour guides in American Revolution costume), or take a stroll along the Rose Fitzgerald Kennedy Greenway (rosekennedygreenway.org) a long strip of parkland on the site of an old six-lane freeway. Launched in 2008, it hosts a regularly changing roster of markets, events and art installations.
Want to strike out further afield? Make the journey the picturesque Harvard University campus in Cambridge.
Comfort
Given its location, you might expect The Envoy to go one of two ways – super corporate or hipster chic – when in fact it manages to blend the two. White walls are livened up with splashes of colour in the curtains, and fun furniture such as ladder-like shelving, television stands made from bicycles, and mid-century-style leather chairs.
The 136 rooms come in various categories: at the lower end are Classics, which offer city or "partial water" views; while at top end are Coveted Corner Rooms and Suites.
My Deluxe Larger King Room was spacious enough to have a free-standing bed right in the centre, complete with a headboard that had inbuilt electrical sockets – ideal for business guests who want to use the desk behind, or for anyone else, like me, who hates to be too far from their phone while it charges overnight.
The shower room was compact but clean, with nautical touches including glass panels decorated with maps, and lights that looked like telescopes.
Instead of a minibar, rooms come with a box of goodies including a carton (yes, carton) of water and healthy snacks (coconut-crusted macadamia's anyone?), while hanging by the inbuilt clothes rail are a tote bag and umbrella, which guests can use during their stay, or take home at extra cost.
The Outlook restaurant, adjoining the lobby is well worth a visit, serving great wine and a menu centred around the three 'S's – seafood, salads and steaks – but in a much more modern way than that might suggest.
Essentials
The Envoy, an Autograph Collection Hotel, 70 Sleeper Street, Boston, Massachusetts, USA (001 617 338 3030; marriott.co.uk).
Double rooms start at $275 (£209), excluding breakfast.
Wifi: free
Parking: $46 (£35) a day
Access: four wheelchair-accessible rooms
Rooms: ****
Service: ****
Value: ****
Join our new commenting forum
Join thought-provoking conversations, follow other Independent readers and see their replies