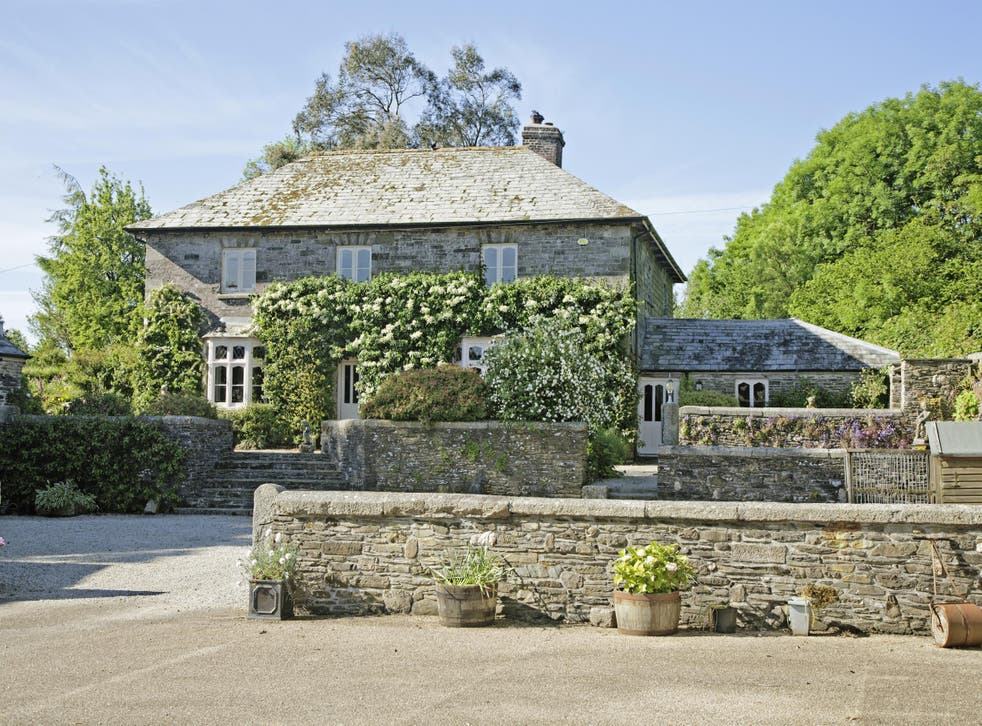 Dinner and a sleepover with a top London chef: Coombeshead Farm reviewed
Tom Adams is the brilliant barbecue boffin behind cult London restaurant Pitt Cue. Now he's inviting you to his farmhouse for a feed. We tried it out 
Imagine how cool it would be if you could have dinner round a top London chef's house. Well, at new gastro-stay Coombeshead Farm, you don't have to imagine.
First, the backstory. April Bloomfield might be best known for her celeb-studded Manhattan gastropub The Spotted Pig but it was at her hip restaurant, The Breslin, at the nearby Ace Hotel, that she ran into Tom Adams, the twentysomething, tattooed owner-chef at London's celebrated barbecue joint Pitt Cue (now transplanted from its five-table Soho spot to a 100-cover behemoth just off Bishopsgate). The pair became fast friends, based on mutual fastidiousness about sourcing, and the happy upshot is this – a farmhouse retreat in remotest Cornwall, where the two chefs cook up feasts for paying guests using their own farm's produce and hyperlocal suppliers.
It's a cliché to say somewhere feels "more home than hotel" but at Coombeshead Farm, no other description will do. Adams and his girlfriend, Lottie Mew, live in a barn conversion across the yard from the 16th-century farmhouse – the latter offers five guest rooms (one with an adjoining bunk room). An evening here is spent very much in the couple's company: chatting with Adams as he prepares dinner, Mew pouring the wine and mixing the drinks, as though you've just casually popped to theirs for a dinner party.
That impression is compounded by the dining room set-up: one communal table that, as the night wears on, becomes littered with an obscene array of plates and wine glasses, the chatter between strangers growing louder and looser. (It's casual enough that my sister attended the dinner table in her socks.) There's no menu: dishes are served family style and depend on what's growing and ready from the smokehouse and pickling rooms. Plates proffered on my visit included pig skin dipped in plum ketchup, crispy oysters alongside smoky salad cream, and some truly lovely cured monkfish with pickled celery.
Indeed, if there were any doubt that pickling is still well and truly in, Coombeshead dispels it – every shelf I saw in the kitchen and dining room was stacked with jars stuffed full of things fermenting. In fact, one of my favourite tasters of the evening was an artsy array of pickled tomatoes, nasturtium capers, wild garlic and fermented parsnip – a wonderfully wince-worthy assault of almost boozy vinegariness. Appropriate for the guy who popularised the Pickleback – a shot of whiskey followed by a shot of pickle juice – in London.
As well as this feast of flavours, the wine cellar – Adams's personal collection – features everything from the usual suspects to biodynamic numbers and wild vintages from his brother's micro-vineyard, Les Clos Perdus, in the Corbière region of the South of France. Do try the house cocktails, priced at an eminently reasonable £8 each. The Rhubarb & Ginger is the perfect balance of sweet, spicy and herbal.
And while it all feels incredibly personal to Tom and Lottie, the chef tells me Bloomfield makes it back from the US now and then to join him in the kitchen, and plans to spend more time here next year.
Location
Five miles from Launceston, Coombeshead is out on a limb; the nearest train station is Liskeard, though the rail journey down from Paddington is a gorgeous romp across country and along coast. Dartmoor National Park, 20 miles away, tempts walkers, while Padstow is a 40-minute drive. Check-in times are a little stingy – in after 4pm and out by 11am – so plan a day out accordingly.
Comfort
For the kind of foodies who whisper names such as David Chang and David McMillan with religious reverence, this is Eden. But anyone expecting a slicker hotel experience may take some adjusting. Rooms are basic, lacking amenities such as phones, robes and TVs. Some of the en-suites, all clean lines and classic tiles from Heritage Bathrooms, are tiny and don't have tubs. True, you should really spend your stay waxing poetic about umpteen-hour-smoked pig jaw or enjoying a satisfying tramp around the farm's 66 acres. But when, already under the shower, I realised that the St Kitts Rosemary & Bergamot toiletries hadn't been refilled, I did wish I could call down for service.
Still, it seems churlish to fret too much when there's so much love and attention being lavished on the real reason people come here – the dining. And they are coming; despite having only opened in July, I met repeat guests on my visit.
And while the bedrooms aren't quite luxurious – though comfortable enough – the rest of the farmhouse is warm and welcoming in a manner you might call "country millennial". A boar's head overlooking the stairs has a cigar stuck between its lips; the library – where you'll find books with names like The World Atlas of Beer and Extraordinary Pigs – has an honesty bar stocked with craft gins and on-trend Fernet Branca. The cosy, lived-in feel comes courtesy of furnishings salvaged from reclamation yards; Adams and Mew don't like waste. Mew, in fact, gave up her job at an environmental agency to come here and hand-makes all the soap.
Coombeshead, then, is a world unto itself – a sort of locavore, gastro utopia that's quite unlike anything else. Want The Dorchester? By all means go to The Dorchester. But if you want something different, new and brilliant, this won't disappoint.
Essentials
Coombeshead Farm, Lewannick, Cornwall (01566 782 009; coombeshead farm.co.uk). Doubles from £175 per night, including breakfast; dinner is an extra £50 per person, excluding drinks.
Wifi: Free
Parking: Free
Pets: Welcome, though they are not permitted upstairs and into the rooms
Access: Not wheelchair accessible
Rooms: ***
Service: ****
Value: ****
Getting there
Advance single fares from Paddington to Liskeard from £21.50 each way (gwr.com). Then, it's a 25-minute taxi ride to Coombeshead Farm.
Join our new commenting forum
Join thought-provoking conversations, follow other Independent readers and see their replies