Four Seasons at the Surf Club: Old Miami glamour a stone's throw from South Beach
A world away from the hard partying of Miami's South Beach, Four Seasons Surfside offers a slice of la dolce vita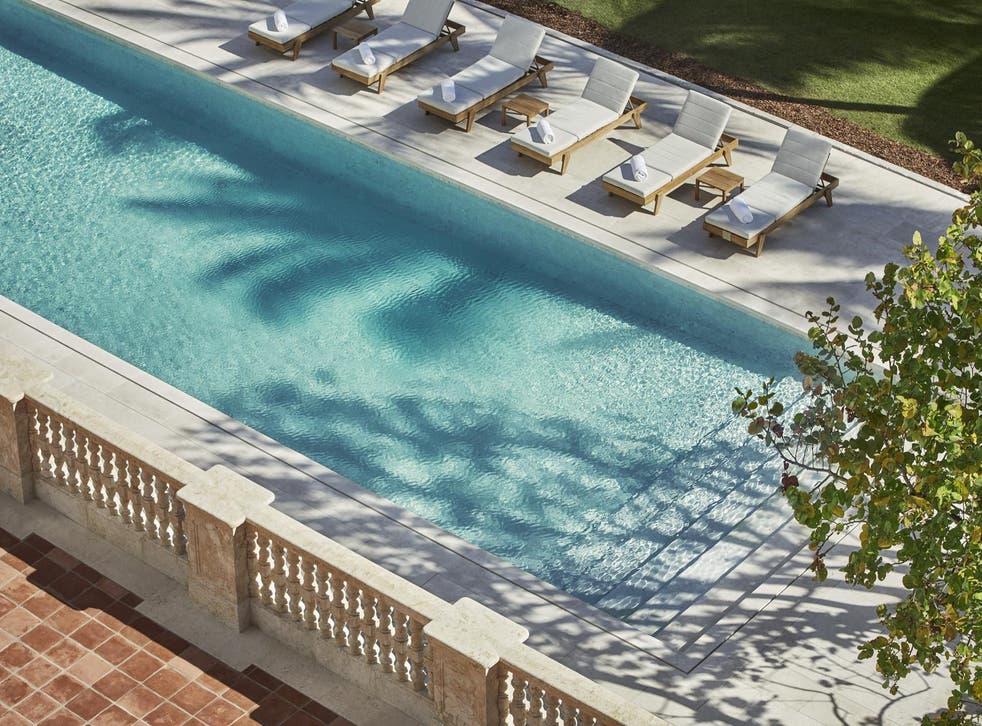 As my taxi pulls up outside the newly opened Four Seasons at the Surf Club, I look around, confused. The discreet frontage is all sand-coloured stone and softly curling vines, the arched entrance bookended by bloated terracotta pots. It strikes me as being more luxe Mediterranean than Floridian – you would never guess we're a stone's throw from Miami's pumping South Beach.
The dolce vita vibes continue as I am wafted inside, into a high-ceilinged lobby flanked by tall potted palms and huge archways, terracotta tiles under foot. Eastern-infused lamps hang overhead; black and white photographs pepper the clean white walls.
The only indications that I'm on the south Florida coast rather than, say, the Amalfi coast, are the big smiles and American accents at reception. Everyone seems overly keen to find out how my day is going.
There's more than a touch of old Hollywood glamour about the joint – unsurprising when you know a little about the hotel's history. In a previous life it was an exclusive members club, the high-class haunt to be seen at after it was founded in the 1930s by tycoon Harvey Firestone. In its heyday, the Surf Club was graced by the likes of Elizabeth Taylor, Winston Churchill, the Duke and Duchess of Windsor and Frank Sinatra. Some of that impressive lineage seems imbued in the bones of the place, courtesy of architect Richard Meier and designer Joseph Dirand's vision. The colour palette is stylishly muted, with white, taupe, sage green and a dull, matte gold that whispers, rather than screams, luxury.
That evening I wander further inside to find the hotel restaurant and champagne bar also have an affinity with the continent. Le Sirenuse is upscale Italian in both style and menu, with nouveau twists on classic dishes. A dark wood ceiling, art deco lamps, more huge potted palms and lazily circling ceiling fans all create the impression that I've hopped back in time to an age of all-night parties, gimlets and celebrity dalliances after dark. I wouldn't be at all surprised to clock Elizabeth Taylor at the next table.
On my overly-attentive waiter's recommendation, I plump for risotto with mozzarella and tomato jam followed by the octopus with tomato, potatoes and olives. Several amuse-bouche are included as a tasty surprise; mini bruschetta and gazpacho excite and cleanse the palate respectively, while a lemon and white chocolate "lollipop" makes an even sweeter end to an already sweet meal. The restaurant also serves up Italianate breakfast dishes, with eggs and mozzarella, tomato and basil on the menu.
Thankfully it's only a hop, skip and a waddle from the restaurant to the outdoor pool; 100 yards or so more brings me to a private gate accessing Surfside Beach. The Four Seasons literally backs onto its own little slice of the Atlantic – and while the beach isn't private, a small clutch of loungers and umbrellas is reserved for guests.
Unlike many new hotels, the Four Seasons actually feels finished. Not one cushion is out of place; there's no exposed wiring to mar the illusion of perfection. The only sign that it isn't 100 per cent done comes when I stumble down a back corridor to another set of lifts, none of which work, save one that opens ominously slowly and looks like a building site inside. I back away cautiously, back into the sun-drenched lobby, to resume my stay in a cocoon of untarnished glamour.
Location
The hotel is located in Surfside – a neighbourhood that's equidistant from Hollywood to the north (albeit the kind with zero movie stars), and Miami's South Beach to the south. The area itself isn't buzzing – there are a number of kosher restaurants a few blocks away, but little else. Of an evening, it's best to venture further afield and head down the coast to Miami's North Beach, a five-minute drive, or South Beach, a 20-minute drive.
I soon find that hiring a car or catching a cab is by far the easiest way of exploring Miami. This sprawling city is not a place for pedestrians. A 30-minute Uber ride costs around $15 (£12) to $20.
Comfort
Life doesn't get much more comfortable than the Surf Club's spacious, richly yet simply furnished rooms. The design is a mix of contemporary and old-fashioned luxury, with floor-to-ceiling white/grey marble in the bathroom, a sand-coloured marble chaise longue combined with in-built writing table and raffia-panelled wardrobes that light up when opened. Crisp sheets on the king-sized bed and cool, white walls add up to the classiest brand of beach chic.
It all harks back to the days when the place played host to moguls and movie stars, but the mod cons are as modern as they come. A panel by the bed lets me choose a lighting scheme to suit my mood, and the shades, drapes and privacy – an electronic "do not disturb" sign – can be controlled at the touch of a button. A complimentary iPad gives access to over 200 newspapers should one wish to keep up to date with what's happening in the real world – I decidedly do not – and snazzy bronze spherical speakers can be connected to your phone's music via Bluetooth. Again, I forgo the pleasure, preferring the sound of the waves lapping a stone's throw from my balcony. A giant flat-screen TV and Nespresso machine complete the effort to bring the Surf Club firmly into the 21st century.
For extra relaxation, a spa is discreetly tucked away at the back of the hotel, with hammam and sauna facilities free for guests' use. I indulge further with a 60-minute personalised facial using Biologique products, which smell reassuringly plant-based and have solid, scientific-sounding names.
The only fly in the face cream? Here, as with everywhere in the hotel, service is of the disconcertingly verbal American kind. I can't go through a door without being hounded about how my day is going, or read by the pool in peace without being asked if there's anything I'd like every five minutes. But I take a breath, shake off my uptight, English reserve and relax right into it. Well, it would be rude not to. Particularly as the staff are circling with free mango smoothie shots.
Essentials
Four Seasons Hotel at the Surf Club, Surfside, 9101 Collins Ave, Surfside, FL 33154, USA
001 305-381-3333; fourseasons.com/surfside
Doubles from £585 for a city-front room, room only.
Wifi: free
Accessibility: two accessible rooms and one accessible cabana studio
Rooms: *****
Service: ****
Value: ****
Register for free to continue reading
Registration is a free and easy way to support our truly independent journalism
By registering, you will also enjoy limited access to Premium articles, exclusive newsletters, commenting, and virtual events with our leading journalists
Already have an account? sign in
Register for free to continue reading
Registration is a free and easy way to support our truly independent journalism
By registering, you will also enjoy limited access to Premium articles, exclusive newsletters, commenting, and virtual events with our leading journalists
Already have an account? sign in
Join our new commenting forum
Join thought-provoking conversations, follow other Independent readers and see their replies