Hotel Clásico, Buenos Aires - hotel review: Hollywood charm, on location in Argentina
Purpose-built from the ground up, the hotel is assembled inside from salvaged features such as chandeliers, oak parquet floors and wrought-iron door frames
Friday 27 November 2015 12:35 GMT
Comments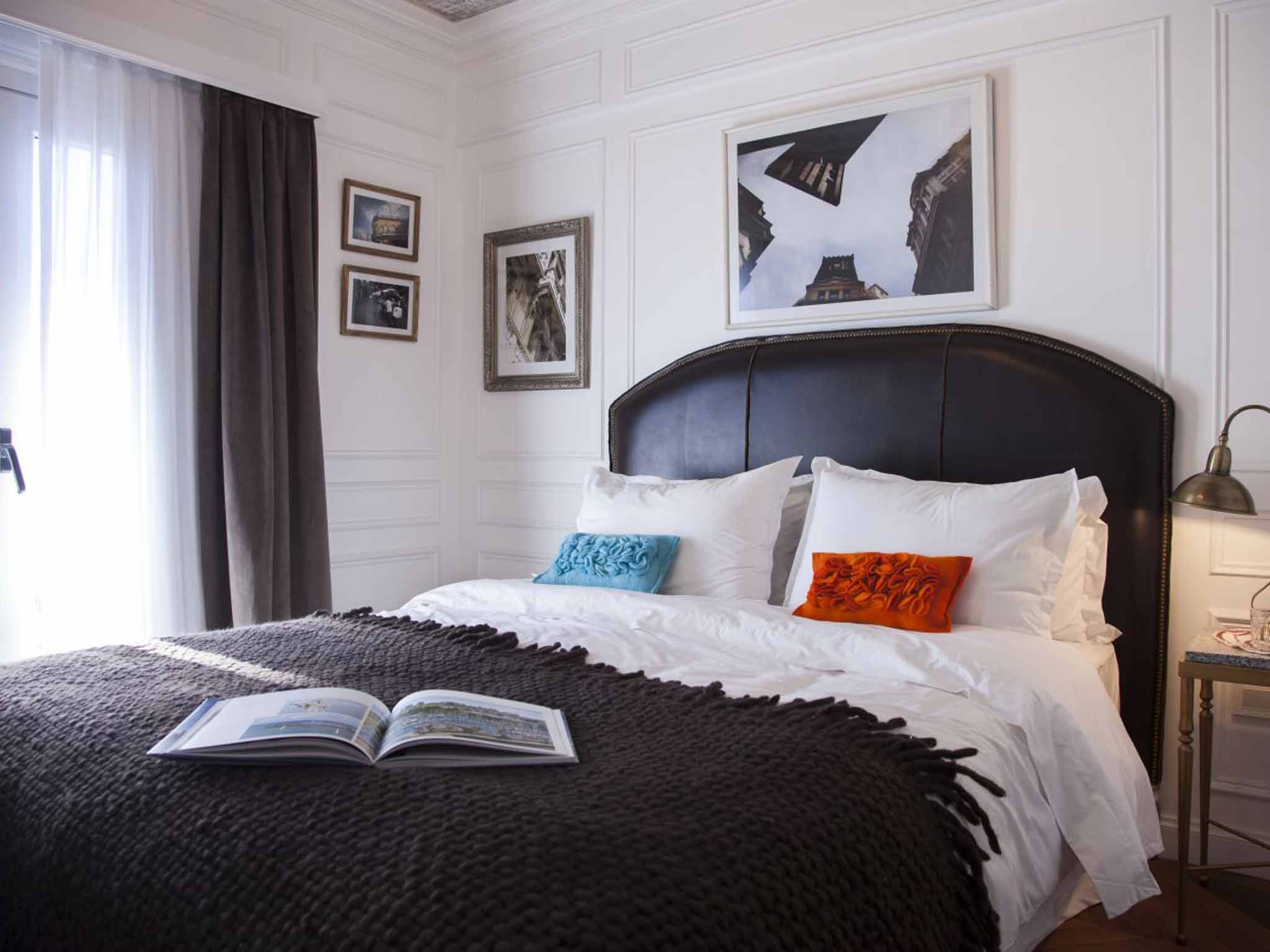 With a central location in Palermo Hollywood, one of Buenos Aires' hippest neighbourhoods, Hotel Clásico is a new build with a regenerated heart. This is the second project by Argentine-born, Los Angeles-based restaurateur and television presenter Adolfo Suaya. His hotel portfolio now spans both sides of the River Plate, taking in Uruguay's exclusive José Ignacio as well as the Argentine capital.
While its name suggests majesty and grace, the 33-room Clásico marries contemporary elegance with vintage style and, as a consequence, bursts with Argentine charisma. Purpose-built from the ground up, the hotel is an entirely different picture inside, assembled from salvaged features such as chandeliers, oak parquet floors and wrought-iron door frames. Restored artefacts, hints of leather and images depicting the bustling metropolis are also right at home. Porteño poise and Art Deco elements are incorporated to impressive effect.
Rather than checking in at the traditional open-plan lobby, guests might choose the mezzanine-level brandy bar or the seventh-floor sun deck to complete formalities. Breakfast is served à la carte at chic ground-floor restaurant MOOI, which curiously means "beautiful" in Dutch. The emphasis is on seasonal, casual food, such as generous salads or salmon bagels, best taken in the lush hanging garden. The basement is due to open as a cabaret club next year.
Location
An unofficial sub-district of Palermo, Buenos Aires' most populated neighbourhood, Palermo Hollywood adopted its moniker due to the cluster of TV and film studios that set up there over the past two decades. With demanding media types came the trendy bars, restaurants and boutiques that have turned Hollywood into a buzzing barrio and nightlife hotspot.
From beef specialists to ramen makers, caffeine purveyors and even beer-battered fish and chips, you'll find countless gastro options on Clásico's doorstep that span the culinary spectrum. For casual bites, Brac (00 54 11 4775 3066) and Brandon (00 54 11 4776 2014) are two chic new brunch spots, while LAB Tostadores de Café's (00 54 11 4843 1790; labcafe.com.ar) flat white is hands down the best in the capital. Tegui (00 54 11 4770 9500), named Argentina's best restaurant thanks to its eclectic tasting menu, has also made Hollywood its home. Wine fans will enjoy sampling Argentina's finest at specialists around Palermo Hollywood. Cosy Bar du Marché (00 54 11 4778 1050) is renowned for its cheese platter and by-the-glass selection, while Trova's (00 54 11 4774 6727) tapas and wine-store prices make it a popular spot.
Comfort
Queen- and king-size rooms are the backbone of Clásico's portfolio. Each floor sports a different hue to suit a mood, including dark green and scarlet, though rooms are clean and bright in white. With five queens to a floor, these en-suite rooms overlook bustling Costa Rica street and nearby Palermo Soho; terraces are compact, with just enough space for one person.
The interior deals in eclecticism, making use of Argentina's best materials, while adding a touch of fun: dark leather headboards and mirror frames, angular marble bed frames softened by vibrant hand-knitted textiles and chandeliers that nod to Buenos Aires' golden age. Ubiquitous images of tango, classic local cocktails and cityscapes brighten white walls. There are walk-in rainfall showers and organic toiletries in the bathrooms.
The crowning glory is the luminous two-bed penthouse, with French doors opening on to a large, sunny roof terrace that's perfect for parties. Even taking the glass-fronted lift is entertaining; the shaft is painted with local film stars such as Libertad Lamarque and Coca Sarli.
Travel essentials
Hotel Clásico, Costa Rica 5480, Palermo Hollywood, Buenos Aires, Argentina (00 54 11 4773 2353; hotelclasico.com).
Rooms: µµµµ
Value: µµµµ
Service: µµµµ
Double rooms start at US$190 (£126), including breakfast.
Join our commenting forum
Join thought-provoking conversations, follow other Independent readers and see their replies