The five best hotels for a picnic
It's national picnic week, so feast your eyes on the spreads these hotels have to offer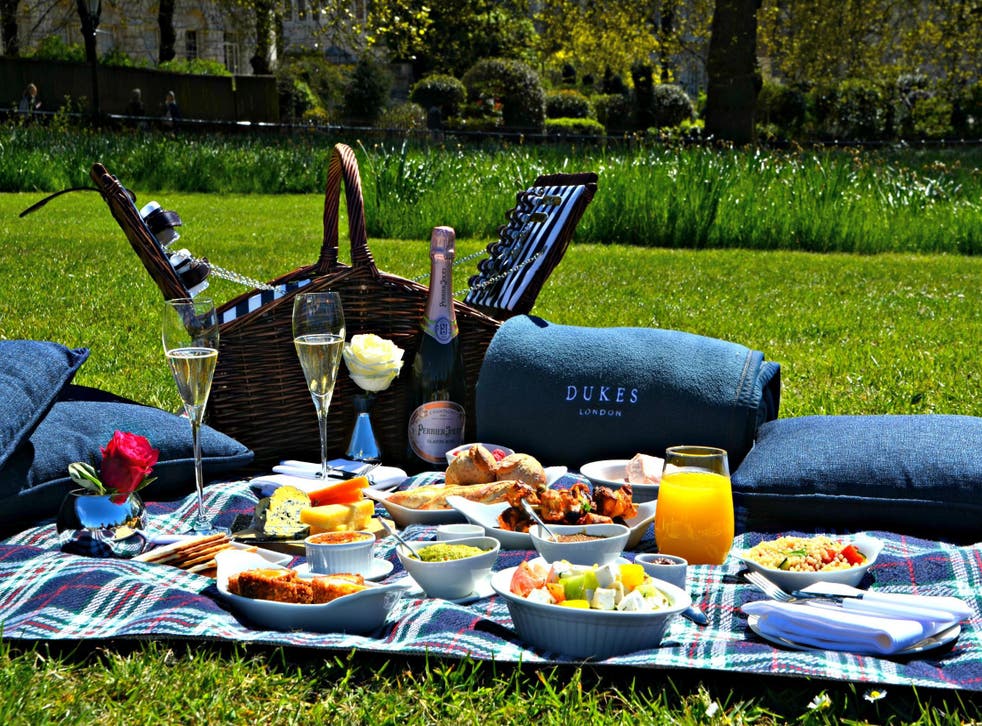 Dukes Hotel, London
Tucked down a quiet street in posh St. James, Dukes Hotel offers the quintessential British picnic experience. You won't even have to unfurl your own picnic blanket in the leafy surrounds of nearby Green Park, as there will be a butler on hand to do that for you. Choose from an array of savoury and sweet options from the specially devised picnic menu, including poached salmon with lemon mayonnaise, a British artisan cheese plate and chocolate mousse. This summer there's also a new children's option with pigs in blankets and strawberry trifle. Afterwards, retire to the bar for a post-picnic sharpener. You'll be in good company - James Bond author Ian Fleming was regular and used to order its expertly mixed martinis, shaken not stirred of course.
Dukes Hotel, St. James' Place, 35 St. James's Place, London SW1A 1NV (020-7491 4840; dukeshotel.com). Doubles from £311 b&b. Picnics start at £35 per person; children's' picnics cost £12.
Boschendal, South Africa
The Boschendal estate is in the heart of South Africa's wine-producing Stellenbosch region. Franschhoek was first settled by French Hugenots in the 17th century and the farm, now engaged in sustainable agriculture, dates back to the same period. At its heart is a chocolate-box pretty Cape-style homestead built in 1812 and set off by the stunning backdrop of the mountains and vineyards. There are farm-to-table restaurants, a farm shop and deli, a butcher's shop, the winery and lots of things to do like mountain biking trails as well as 23 cottages scattered on the estate including the stylishly decorated Werf cottages, Orchard Cottages and the historic Rhodes Cottage. Boschendal also has two picnic options; the full-service Rhone Classic and the more casual Werf picnic both featuring produce from the farm and nearby producers.
Boschendal, Pniel Road, Groot Drakenstein, Franschhoek, South Africa (00 27 21 870 4290; boschendal.com). Cottages start at R1,500 (£70) b&b. Picnics cost from R360 (£17) for two.
Four Seasons Hotel Scottsdale, US
Not all picnics need to be conducted in broad daylight. Pick out the heavenly bodies twinkling above your head in the darkness of Arizona's Sonoran Desert while munching your way through lobster salad sandwiches on one of the Four Seasons Scottsdale's Celestial picnics. Between March and October guests are supplied with a blanket, picnic basket with a choice of ingredients, a constellation chart, a telescope and even the services of a local astronomer if required.
Four Seasons Scottsdale, 10600 East Crescent Moon Drive, Scottsdale, Arizona, US (001 480 515 5700; fourseasons.com). Doubles from $179 room only. Picnics start at $80 for two.
Bastide de Moustiers, France
There can be few more summery pursuits than picnicking in a secluded spot in the lavender and olive tree dotted landscape of Provence. At super-star chef Alain Ducasse's 12-room inn, Bastide de Moustiers, guests are treated to a ride in a vintage 1950s Chevrolet before arriving to a beautifully laid table set in secluded spot near Moustiers-Sainte-Marie. There's a Mediterranean inspired menu created using vegetables from the hotel's market garden and as produce from local markets.
Bastide de Moustiers, Chemin de Quinson, Moustiers-Sainte-Marie, Provence, France (00 33 4 927 047 47; bastide-moustiers.com). Double rooms start at €215 b&b. Picnics cost from €290 per guest.
Vigilius Mountain Resort, Italy
Enjoy a long, lazy, high altitude picnic lunch 1,500m above sea level amid the flower-filled meadows, pristine air and serenity of the Vigiljoch Mountain in Italy's South Tyrol. Only reached by cable car, the 41-room Vigilius Mountain Resort was designed by Italian-architect Matteo Thun to maximise on the fabulous views of the Unesco World Heritage-listed peaks of the Dolomites in the distance. Once everything is packed away, there's the spa and countless hiking trails to explore.
Vigilius Mountain Resort, Pawigl 43, Monte San Vigilio/Vigiljoch, Lana, Italy (00 39 0473 556 600; designhotels.com). Until 31 July, a double room with a picnic costs €375 per night with breakfast, based on a two-night stay.
Register for free to continue reading
Registration is a free and easy way to support our truly independent journalism
By registering, you will also enjoy limited access to Premium articles, exclusive newsletters, commenting, and virtual events with our leading journalists
Already have an account? sign in
Register for free to continue reading
Registration is a free and easy way to support our truly independent journalism
By registering, you will also enjoy limited access to Premium articles, exclusive newsletters, commenting, and virtual events with our leading journalists
Already have an account? sign in
Join our new commenting forum
Join thought-provoking conversations, follow other Independent readers and see their replies