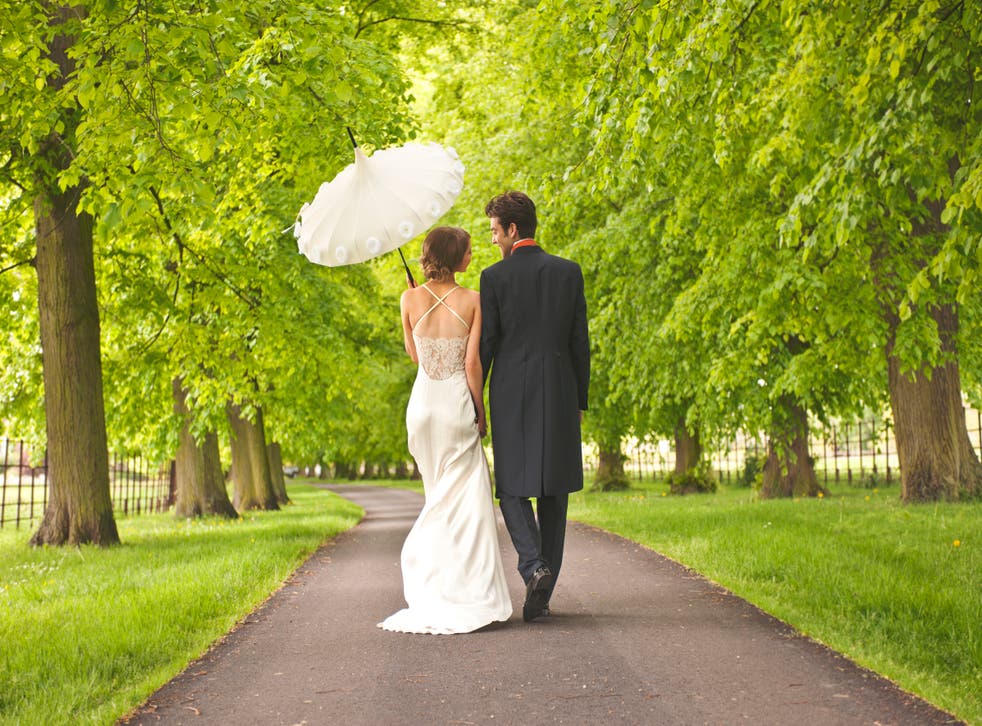 10 of Britain's best hotels for weddings
From informal tea parties to banquets in stately homes, find the perfect venue for your big day
Wednesday 20 April 2016 16:49 Comments
Accustomed to hosting large crowds, hotels are ideal for wedding ceremonies and receptions – and for hotels themselves, weddings are great business. The important bit is choosing somewhere that meets all your needs – big or small, formal or rustic, historic or modern. From townhouse to country house, old coaching inn to stately home to Scottish castle, the Good Hotel Guide lists hundreds of venues. Here is a selection of its recommendations.
BINGHAM HOTEL, RICHMOND-UPON-THAMES, SURREY
If Katherine Bradley and Edith Cooper were alive today, they could solemnise their "close marriage" at this boutique hotel beside the river – formerly two Georgian houses. The poets, aunt and niece and controversially lovers, lived here from 1899, wrote as Michael Field, and entertained such friends as Robert Browning and WB Yeats.
Wedding packages cost from £160 per head. The Secret Garden package (from £180 a head) includes a five-course menu and a night in the honeymoon suite.
Doubles from £165, B&B (020 8940 0902, thebingham.co.uk)
GRAVETYE MANOR, EAST GRINSTEAD, SUSSEX
Ironmaster Richard Infield built this Elizabethan manor for his bride Katharine Compton – their initials are entwined over the doorway. Parties of up to 60 can have exclusive use of the hotel, for the ceremony in the sitting room and wedding breakfast in the oak-panelled dining room. The gardens, in a landscape of lakes and woodland, were designed by William Robinson, who lived here from 1884.
Packages range from £5,500 to £16,000 including exclusive use of all 17 bedrooms, the hotel and its grounds excluding catering. Room hire for ceremonies starts at £800.
Doubles from £260, B&B (01342 810567, gravetyemanor.co.uk)
MIDDLETHORPE HALL, YORK, NORTH YORKSHIRE
Drawing inspiration from Wren's remodelled Hampton Court, this William Mary House is cared for by the National Trust. Small ceremonies for up to 12 guests are held in the upstairs sitting room, approached by the grand staircase, with drinks served in the library and wedding breakfast in a private dining room. Or you can take over the whole place with 20 acres of parkland, a rose and lavender garden, white garden, walled garden and lake. Hire a marquee. Have a drinks reception in the 18th-century dovecote, a wedding breakfast for up to 56 in the Barlow Room, 50 yards from the main house. There's a spa for a –pre-wedding pamper, a four-poster bedroom for the honeymoon night.
Intimate Wedding package from £850 to £1,000 excluding catering. Wedding Breakfast menu from £45.50pp.
Doubles from £143 B&B (01904 641241, middlethorpe.com)
HOTEL TERRAVINA, NETLEY MARSH, HAMPSHIRE
In the romantic surroundings of the New Forest, Gérard and Nina Basset's boutique hotel is perfect for smaller weddings. M Basset is an internationally acclaimed Master of Wine, so when guests toast the bride and groom it will be with something especially good. The private dining room is licensed for ceremonies, seats 36 guests, and has its own terrace. The hotel is available also for exclusive use. Southampton airport is close – but not too close.
Ceremony charge £400, room hire from £125, menus from £38pp.
Doubles from £160, B&B (023 8029 3784, hotelterravina.co.uk)
BRIDGEHOUSE, BEAMINSTER, DORSET
In Thomas Hardy's Wessex, here is a 16th-century former priest's house with medieval stone heart, Georgian panelling and walled garden. It was space for up to 50 guests for wedding ceremonies, while the restaurant seats 80. Or you can hold the ceremony at Mapperton Gardens or Forde Abbey before returning to the hotel. Beaminster is 'Emminster' in Hardy's Tess of the d'Urbervilles – not a recommendation for marriage, but don't dwell on that!
A wedding ceremony and three-course wedding breakfast inclusive of drinks for 50 guests costs around £4,000. Winter wedding packages start at £5,000.
Doubles from £180, B&B (01308 862200, bridge-house.co.uk)
NORTHCOTE MANOR, BURRINGTON, DEVON
Henry VIII once owned the manor of Northcote, on which this handsome 18th-century house stands. He was famously big on marriage, as the hotel is big on weddings. The house is beautifully situated in 25 acres with views of the River Taw. There are two ceremony rooms plus a Victorian-style summerhouse. They can cater for wedding parties of up to 120, and offer in-room pamper treatments for the big day.
Exclusive use starts at £3,500 to include 16 bedrooms on a bed & breakfast basis. Day guest packages start at £64.95 per person including reception drink, canapes, three-course wedding breakfast, half a bottle of house wine, toast drink and evening nibbles.
Doubles from £170, B&B (01769 560501, northcotemanor.co.uk)
LEWTRENCHARD, LEWDOWN, DORSET
The marriage of the Rev Sabine Baring Gould and his young bride Grace Taylor, a mill hand's daughter, was a happy one, producing 15 children. Gould is best known for penning Onward Christian Soldiers, but his apparently ancient stone-and-granite manor is his masterwork, completed in 1913. It has five rooms registered for wedding ceremonies. Choose the Gallery, with Jacobean architecture (max 54 guests), and bride and groom can descend the grand staircase. The Ballroom accommodates 100, the panelled Oak Room just 12. You might hire all 14 bedrooms (max 28 guests) and have a marquee on the lawn…
Gallery and Ballroom hire £750, Oak Room £400. Exclusive hire from £3,500, all excluding catering. Wedding Breakfast £35pp.
Doubles from £155 (01566 783222, lewtrenchard.co.uk)
LANGAR HALL, LANGAR, NOTTINGHAMSHIRE
A long, eventful history attaches to this apricot-washed house in the Vale of Belvoir, approached by a lime avenue. Owner Imogen Skirving, had the idea in a dream that she would open it to guests. The 'crowd of elegant people' she saw included Lord Byron, DH Lawrence and Samuel Butler (born at Langar in 1835). Well, she got Barbara Cartland, and very pretty the Cartland Suite is. An absolute one-off, the hotel specialises in small, informal weddings and partnerships for up to 50 guests, with the ceremony in Indian Room, Garden Room or Dining-Room.
Ceremonies from £1,500 to £10,000 for up to 50 guests, including room hire and catering.
Doubles from £100, B&B (01949 860559, langarhall.com)
AUGILL CASTLE, KIRKBY STEPHEN, CUMBRIA
Between Lakeland fells and the Yorkshire Dales, this castellated, gothic-style fantasy dates from 1841. It looks every inch the fairytale castle, with tower and turrets rising above the treetops, and 17th-century panelling within. There are no set wedding packages – choose anything from exclusive use of the castle for a house party, to tea with friends, maybe a marquee in the grounds. Up to 30 guests can stay over, with 46 seated for a banquet, 60 for an 'informal wandering feast'.
Just for the Day packages from £2,400 for up to 14 guests. Exclusive hire from £6,700 for one night or £12,600 for two nights, including catering.
Doubles from £160, B&B (01768 341937, stayinacastle.com)
KNOCKINAAM LODGE, PORTPATRICK, DUMFRIES AND GALLOWAY
A Victorian stone hunting lodge, overlooking the beach and sheltered by wooded hills, this hotel hosted Churchill and Eisenhower when they planned the D-Day landings. It can be booked for the exclusive use of wedding parties of up to 70, or accommodate the very smallest, individually tailored weddings. No packages – just discuss your dream day with the hotel's wedding planners.
Exclusive use of the hotel for two nights starts at £3,200.
Doubles from £190, B&B (01776 810471, knockinaamlodge.com)
Register for free to continue reading
Registration is a free and easy way to support our truly independent journalism
By registering, you will also enjoy limited access to Premium articles, exclusive newsletters, commenting, and virtual events with our leading journalists
Already have an account? sign in
Join our new commenting forum
Join thought-provoking conversations, follow other Independent readers and see their replies