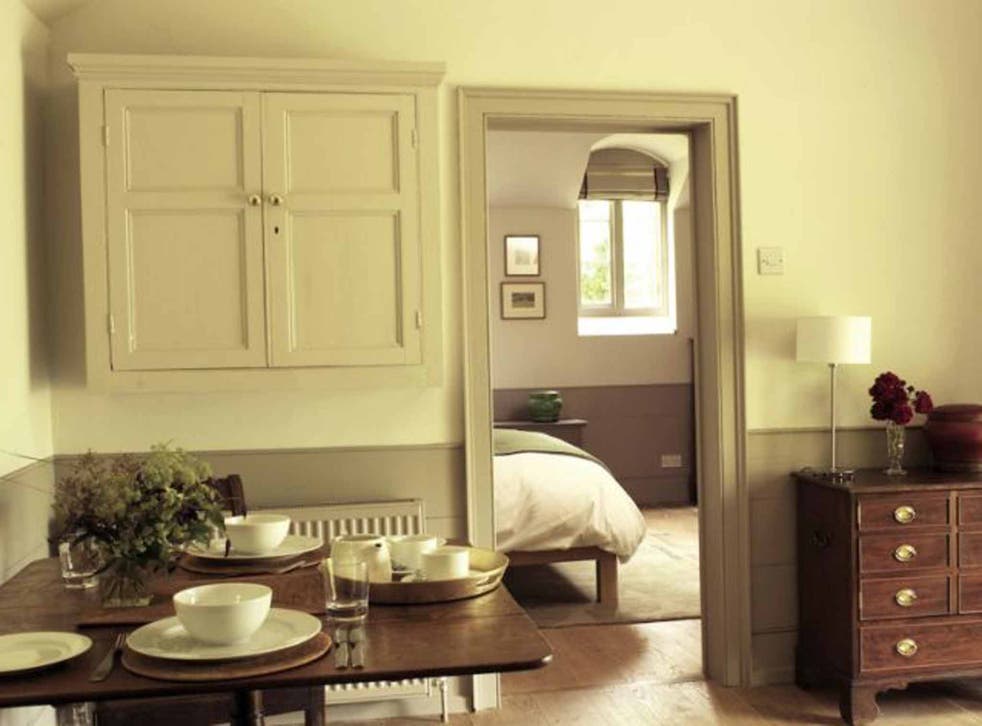 Jericho, Somerset: B&B and beyond
This converted farmhouse is perfect for exploring the local art scene ... if you can bring yourself to leave, says Juliet Kinsman
This is the West Country, where orchards dominate the Mendip Hills landscape, and punch-packing cider is on every menu. But Somerset's pleasures aren't only rural; it's now a hub of art and design and DFL – down from London – creatives. Cool-hunters started pointing their torches at this corner of the county about 16 years ago, when Soho House opened its country retreat near a village called Babington. So close to Babington House is this B&B, that our host tells me that if the satnav fails, to give him a call when we reach the gates of the members' club hotel and he'll come to guide us in.
Thankfully his detailed driving directions steered us down bumpy farm lanes, over humpback bridges and between overgrown hedgerows to find our handsome, vine-festooned one-suite stay.
The bed
The original centuries-old farmhouse was given an annexe as a workshop, which in the past couple of years became the guest suite, decorated in chic shades of grey. This spacious room speaks of relaxation, with a tray of herbal teas, decent coffee, and fresh milk in a hot flask. Lazy lie-ins are encouraged by a super-king, oak-framed bed with pure-cotton-covered puffy pillows and goosedown duvet.
There's a digital radio, but nothing as vulgar as a television; that's hidden in an antique cabinet next door, in the suite's cosy sitting room which opens on to the foliage-laced courtyard. Beams crisscross overhead, and in the very grown-up marble wet room you will find fluffy towels and Bram-ley products.
The breakfast
Glass jars of homemade granola and muesli, a huge dollop of creamy Greek yoghurt, and tangy fruit compotes are an overture to the main act: courgette pancakes with poached eggs and roasted tomatoes, which we had ordered the evening before.
It's all hyper-locally sourced and organic – the chickens you can see in the property's woodland provide the eggs, and the rust-coloured apple juice is pressed from fruit grown in the grounds. As the basket of bagels, homemade bread, and flaky Paris-perfect croissants was laid down I wondered if we should also count this as lunch.
The hosts
Frome and its surroundings have certainly changed since Stephen Morgan and Sarah Leyland moved here 25 years ago, and so has their once-abandoned house – there was no roof or even a road to reach this spot in the middle of nowhere.
Stephen went to art school and then trained as a potter in Yorkshire before becoming a product designer. The fact that he spent much of his career in Asia working with ceramics, furniture and textiles is also evidenced in the stylish interiors.
The weekend
As out-in-the-sticks as you may feel here, you're only a short drive in each direction from the easy-to-access art scene. Commercial gallerists Hauser & Wirth have their HQ in nearby Bruton, with their other spaces in Zurich, Mayfair and New York. Since opening this summer they have had 50,000 visitors to the specially commissioned large-scale exhibition of Phyllida Barlow's work. The gardens, designed by Piet Oudolf of Manhattan's High Line, are lure alone.
Follow the more traditional tourist trail to Bath, only 12 miles away. After exploring the Roman Baths, head to the Thermae Spa for a dip in the mineral-rich spring waters – the heated rooftop pool is busy but offers a unique lookout over the city.
Stretch your legs on the National Trust's stunning grounds at Stourhead, or go biking – the northern boundary is part of the Collier's Way cycle network, which you can follow all the way to Bristol.
In Mells, the closest village to Jericho, pop into St Andrew's Church to spy Alfred Munnings' bronze horse and the grave of Siegfried Sassoon.
The pitstop
Be sure to book a table at the Talbot Inn in Mells (01373 812254; talbotinn.com), either in the pub or the Grill Room – because both are fantastically popular, and with very good reason.
For wood-oven-fired artisan pizzas, the Walled Garden (01373 812 597; walledgardenatmells.co.uk) is charming.
Roth Bar & Grill at Hauser & Wirth (01749 814 700; bit.ly/RothBar) is a destination its own right for its witty artworks, among them a Henry Moore sketch and a neon sculpture by Jason Rhoades, plus quirky upcycled décor. And of course Babington House (01373 812266; babingtonhouse.co.uk) is on the doorstep.
The Essentials
Jericho, Mells Down, Frome, Somerset BA11 2RL (01373 813 242 stayatjericho.co.uk). B&B available from £110.
Register for free to continue reading
Registration is a free and easy way to support our truly independent journalism
By registering, you will also enjoy limited access to Premium articles, exclusive newsletters, commenting, and virtual events with our leading journalists
Already have an account? sign in
Register for free to continue reading
Registration is a free and easy way to support our truly independent journalism
By registering, you will also enjoy limited access to Premium articles, exclusive newsletters, commenting, and virtual events with our leading journalists
Already have an account? sign in
Join our new commenting forum
Join thought-provoking conversations, follow other Independent readers and see their replies