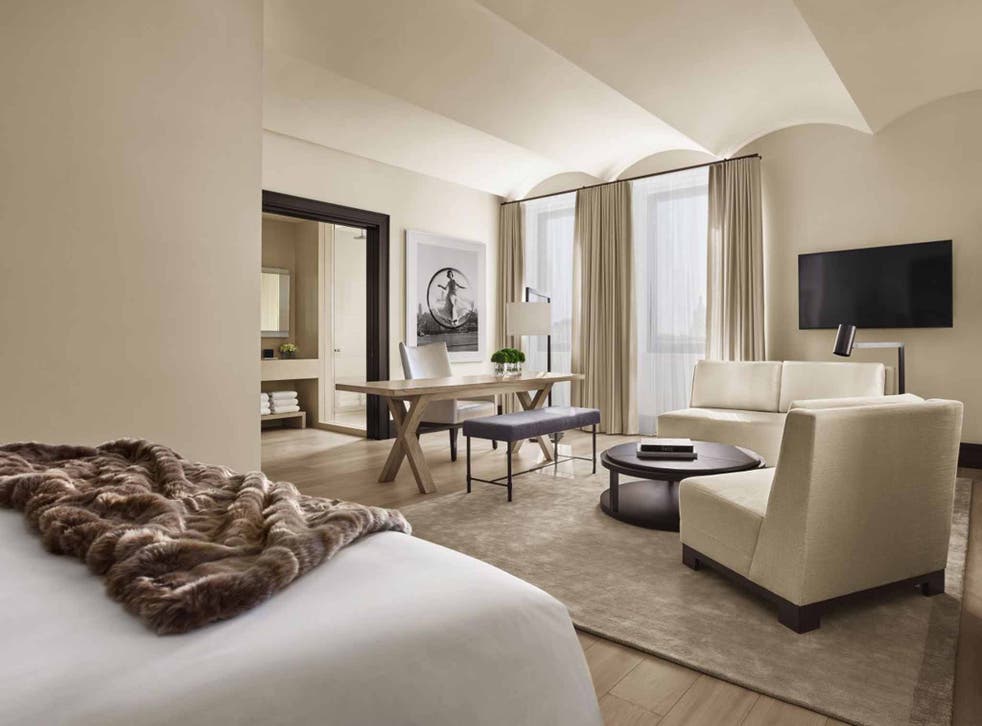 New York Edition: Ian Schrager, Studio 54 and the rise of boutique hotels
Hotelier? Developer? Club owner? Designer? Samuel Muston met Ian Schrager at his latest opening
Ian Schrager is sitting across a table from me waving a copy of The New York Times above his head. We are in his office in the Meatpacking District of Manhattan, two days after the opening of his latest hotel, the New York Edition, and the reason he is trailing the paper through the air like a sky sign-writer is an article on page 9.
"Love it," he says, intoning the words in his Goodfellas accent and giving the paper another wiggle. "I came in and saw it and then bought two more copies in Starbucks. And then I sent the driver to buy two more. I showed it to my wife. It gives a real impre-s-s-i-o-n," he says investing the word with all of his delightfully heavy Brooklyn burr.
It seems almost incredible that Schrager, the man who co-founded the epoch-making nightclub Studio 54 and pretty much single-handedly created the boutique hotel genre, would be so pleased by a little press, even if it is in The New York Times, the US's organ of note.
His life, after all, has been played out across countless column inches. The 1998 film 54, starring Ryan Phillippe, was based on his life and career – and what times they have been. He has lived a life in pursuit of amusement – not simply his own, but other people's. The pre-eminent creator of fun places of the past four decades, Schrager possesses an alchemical genius for making people enjoy themselves.
I see this for myself when I arrive at the New York Edition on opening night, just as he is leaving in fact, at about 11.45pm. I walk into a pullulating mass of people who are drinking, chatting, dancing and flirting. Champagne flows like a river in spring. David Schwimmer is here, as are Alexa Chung and Daisy Lowe, who earlier had dinner with Rosario Dawson and Grayson Perry. And over there – is that Leonardo DiCaprio? Oh, so it is.
The 41-floor, 273-room hotel on Madison Avenue feels like some vast Grecian pleasure palace, only with a pounding sound system and lashings of Gucci. The general consensus is that this is the best party since Schrager last threw a party.
When we meet I point out to him that many of the people there wouldn't even have been born when he made his name with Studio 54 in 1977, with his friend and business partner, Steve Rubell. "I got those same types of people, though, and had the same response to the work. I knew at 11.45pm what the night was going to be. There was a magic. It wasn't over but once it had passed a certain point, and I knew it was a success, I went home," he says.
He certainly has some experience with parties. You see that in full Technicolor when you flick through the new pictorial autobiography Schrager has produced with the publisher Rizzoli. The book, which runs to 407 pages and should come with a warning that it may cause lower-back problems if you pick it up, starts out with his nightclubs (he also opened the ill-fated Palladium in 1985) and runs through to the present day. It takes in the creation of the Morgans Hotel Group in 1984 (also in partnership with Rubell) and his work as a sometime property developer, culminating in his launch of a chain of "accessible luxury" hotels called Public (the first opened in Chicago in 2011, though it is currently up for sale), and his partnership with Marriott hotels and the creation of the Edition brand.
It is, by anyone's reckoning, a diverse CV – so much so that I can't help but wonder what he primarily sees himself as. Hotelier? Developer? Club owner? Designer? "I am not a designer. I cringe when I am called that. I would say I am a producer. I have an idea, and I try and meld the ingredients together – like when you are making a bouillabaisse".
His bouillabaisses have been unusually delectable over the years. It started with the club, of course, which was the night-time hangout of the likes of Debbie Harry, Truman Capote, Woody Allen and Bianca Jagger, who once famously rode a white horse on to its dance floor on her birthday. He says that for a long time he just wanted to forget about Studio 54 altogether, though now he feels a sort of grudging ambivalence. Which, to be fair, is what most of us would feel if our business partner had attracted the attention of the Internal Revenue Service, after saying the pair were making more than the Mafia.
They were charged, convicted and imprisoned for 15 months on tax evasion charges. "It is hard to be a role model for your children when you make such a devastating mistake. But it was part of my life and my work. And the club continues to resonate today". After prison, he alighted on what most would say is his true calling: hotels.
Even if you have never been near one of his establishments, you have probably felt the reverberating waves of his speedboat career. If you have ever walked into a highly designed hotel with pretty staff in expensive clothes, or sat at a pool listening to a DJ play music, or indeed lounged in a lobby drinking cocktails, then you have felt the Schrager touch. "It was Steve [Rubell] who coined the term 'boutique' hotels to differentiate us from the big 'department store' chains. Back then, the hotel market was a barren wasteland," he says, something he puts down to the real estate men's influence on hotel- keeping. "We changed the market."
Today, three decades after he opened the first "boutique hotel", he says the concept has been hollowed out. "What happened is what always happens: all the hotels have started looking like each other. But in different colours. People have been visually bombarded with 'good design' – the entire industry is doing it." So, what's left for hoteliers like him to work with? "Today it is all about simplifying things. Our process with Edition is to edit, to not go over the top, to be restrained in design. That way you create something that discriminating people will respond to."
One of the things he laments, he says, is that while his influence has been big, his footprint has not. This, in no small part, explains his partnership with Marriott and the creation of Edition. "I'd work on a hotel for two to three years, it would be disruptive, it would cause a firestorm; everyone would come, pick apart the ideas and then go off," he says. "Now, with Marriott, I can go bigger and do more."
The way he has done that is to create a muted luxury, a space between old-style, high-end luxury and the vast faceless chains – and on a large scale. You can read it in the hyper-tasteful design of the Miami Edition, a collaboration between Schrager and Yabu Pushelberg, and at the New York Edition, which was designed in concert with Rockwell. The reception can be seen in the bottom line: within the first two months of the Miami opening, in December 2014, it had doubled its budgeted profitability. Of this, 40 to 45 per cent of the revenue came from spending on food and drink, which also gives a clue to the other strategy he is employing: get the best, most famous chef you can in the hotel kitchen and a good barman. "In this country in the 19th century, the best restaurants were in hotels. It was how hotels were originally conceived: in Roman times it was bed and board. Now that got twisted. What I am doing is saying: when you go to a city and want to go to the best bar or restaurant in the city, wouldn't it be great if it was in the lobby? It is efficient," he says.
That model is now rolling out across the globe, like a well-dressed, high-design expeditionary force.
As well as the existing Editions in Istanbul, London, Miami, and now New York (skipping over an ill‑fated expedition to Waikiki Beach, Honolulu), many more are due to open in the next four years: Sanya, Shanghai and Wuhan in China; Bangkok; Gurgaon in India; Abu Dhabi; New York's Times Square; West Hollywood in California; and Bali.
He also has his sights set on Reykjavik. And there are plans to open two further Public hotels in New York, and possibly one in Florida as well.
I wonder if Schrager's discerning eye and laser-like attention to detail – which prompted his friend Anna Wintour, no dilettante herself, to call him a "perfectionist and a control freak" – can survive so many projects and so many openings? It can, he insists. "It is easy to make all of them different: because the cities are different, the buildings will be different."
Age, too (he is 69 this year) doesn't much worry him. It is, he says, rather useful. "There is a real advantage to getting older. You recognise that possibilities become finite. I see that there is only a certain amount of solutions for a space, so I don't agonise so much – that comes quicker now, it comes easier," he says.
"And," he adds, banging the table, "I still enjoy it. In the days of Studio 54, when I knew the night was going to be a success, I would go home with a girl. I don't love the party side of things. Nowadays, I go home to my wife. For me, it is about the creation – and the vindication of cool people enjoying what I do."
On the evidence of opening night, I'd say he doesn't have too much to worry about.
Getting there
Samuel Muston flew with Virgin Atlantic (0344 209 7777: virgin-atlantic.com) from Heathrow to New York JFK.
Staying there
The New York Edition, 5 Madison Avenue (001 212 413 4200; editionhotels.com/newyork). Doubles from $606 (£404).
More information
Ian Schrager Works, by Ian Schrager, is published by Rizzoli New York; £50
Register for free to continue reading
Registration is a free and easy way to support our truly independent journalism
By registering, you will also enjoy limited access to Premium articles, exclusive newsletters, commenting, and virtual events with our leading journalists
Already have an account? sign in
Register for free to continue reading
Registration is a free and easy way to support our truly independent journalism
By registering, you will also enjoy limited access to Premium articles, exclusive newsletters, commenting, and virtual events with our leading journalists
Already have an account? sign in
Join our new commenting forum
Join thought-provoking conversations, follow other Independent readers and see their replies