The Independent's journalism is supported by our readers. When you purchase through links on our site, we may earn commission.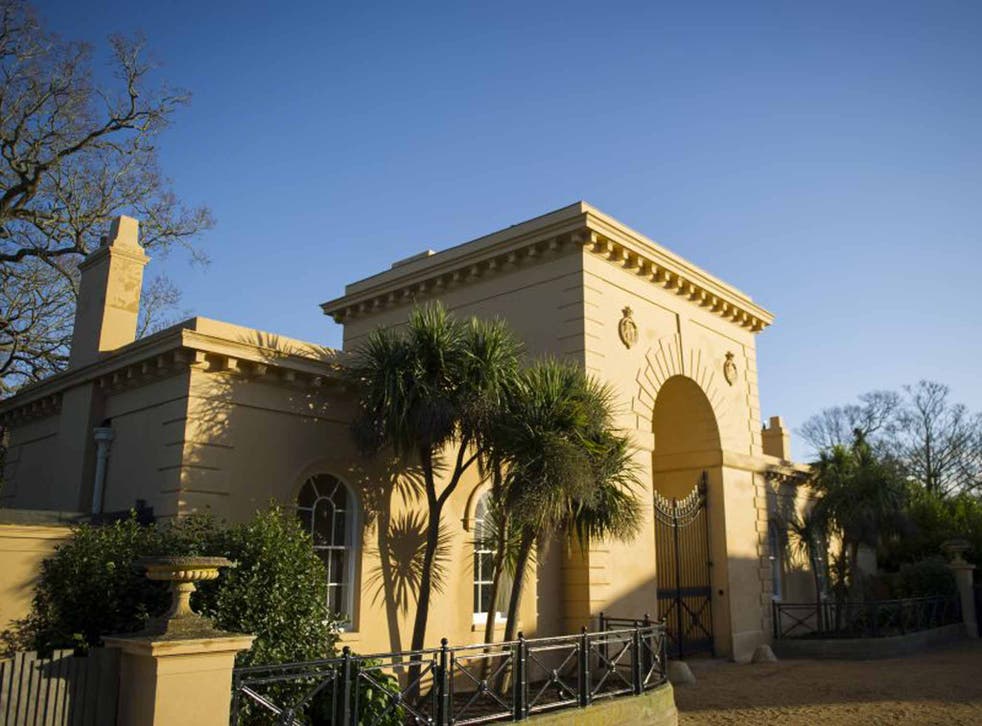 Osborne House, Isle of Wight: Gateway to the royal treatment
As the name suggests, you've got to be pretty special to pass through Sovereign's Gate. Or, if not special, then at least Prince Edward – the last person to use this stunning Victorian gatehouse.
You see, you're only allowed through this archway, which separates the grand Osborne estate from the road to the port of East Cowes, if you're a member of the Royal Family. If not, it stays padlocked shut. But that doesn't mean it lies unused – not any more at least. At the end of last year, Sovereign's Gate was restored to something like its original 19th-century glory, albeit with a power shower and wi-fi. It's now a holiday residence fit for – well, maybe not a king, but perhaps a baronet.
The gate itself was built at the same time as Osborne House, when engineer Thomas Cubitt was commissioned by a very hands-on Prince Albert to build a seaside retreat for Queen Victoria, inspired by the Italian Renaissance palazzi he'd seen on his travels. About 400 metres down a bending driveway from Osborne House, the gate – split into two cottages, each sleeping four – gleams with the same yellowy Tuscan hue as the main house.
Like the rest of the estate, the gate is owned by English Heritage, which refurbished the exterior and interior, opening up the space inside the tall arch to create an extra bathroom and a bedroom. The result – which opened at the beginning of this year – is a modern seaside rental hidden inside a grand Victorian piece of statement architecture. It's quite something. A sun-trap of a lawn (perfect for the croquet set provided) adds to the regal air.
Anyone can create a nice modern holiday rental, but what they can't all achieve is a location on an estate like this. Step out of the front door, stroll down the track and you can wander right into the grounds of Osborne. Then there's Victoria's private beach with its views over the Solent; the Swiss Cottage that Albert brought over, piece-by-piece, from the Continent to teach his children such useful things as gardening and warfare (what might have been if grandson Wilhelm had stuck to the potted plants rather than the miniature barracks …?) and, of course, the grandeur of Osborne House itself. We were told that once the grounds closed to the public, we were free to explore at will, so long as we gave security an advance call. A delight.
The rooms
From the outside, it's hard to envisage how there's space for two bedrooms, two bathrooms, a dining room, kitchen, and big living room inside your half of Sovereign's Gate, but somehow these are all duly slotted in.
All the rooms, except the twin and a bathroom, are on the ground floor (the bathroom is the second floor, the bedroom the third) and – rather than the slightly dark rooms you'd expect given the lack of windows – a skylight and clever use of smaller windows keeps things bright. If you have any guests with mobility issues, the two steep flights of stairs might be hard work.
Out and about
Osborne remains one of the Isle of Wight's most beloved attractions, and the grounds are vast enough that you could spend a couple of days exploring the place at your leisure. Your booking gets you free admission to Osborne House, as well as Carisbrooke Castle outside Newport (which also offers accommodation).
There is not a tremendous amount in East Cowes, but the chain ferry quickly gets you into the more bustling Cowes itself for £2.20 (free for foot passengers). It's also a location that allows you to get to anywhere else on the island within about 45 minutes, meaning that in my three days I also had time to explore Shanklin, Ventnor and walk out to the Needles Old Battery in the south-western headland.
The food and drink
On arrival, you'll get a hamper of treats – crumpets, wine, Duchy Originals butter, cheese, English Heritage champagne jam. Most of which come from the local Waitrose (about a mile away in East Cowes).
The kitchen is chock-full of brand new utensils, crockery and pans, so if – like us – you can't make it out for dinner due to children's bedtimes, it's more than easy to rustle up a feast. If not, Cowes has an array of restaurants, including decent fish and chips from Corries Cabin (01983 293733).
The essentials
Sovereign's Gate, Osborne, Isle of Wight PO32 6JX (0370 333 1181; english-heritage.org.uk). Rentals are available for three, four, and seven days, starting at £595.
Register for free to continue reading
Registration is a free and easy way to support our truly independent journalism
By registering, you will also enjoy limited access to Premium articles, exclusive newsletters, commenting, and virtual events with our leading journalists
Already have an account? sign in
Register for free to continue reading
Registration is a free and easy way to support our truly independent journalism
By registering, you will also enjoy limited access to Premium articles, exclusive newsletters, commenting, and virtual events with our leading journalists
Already have an account? sign in
Join our new commenting forum
Join thought-provoking conversations, follow other Independent readers and see their replies