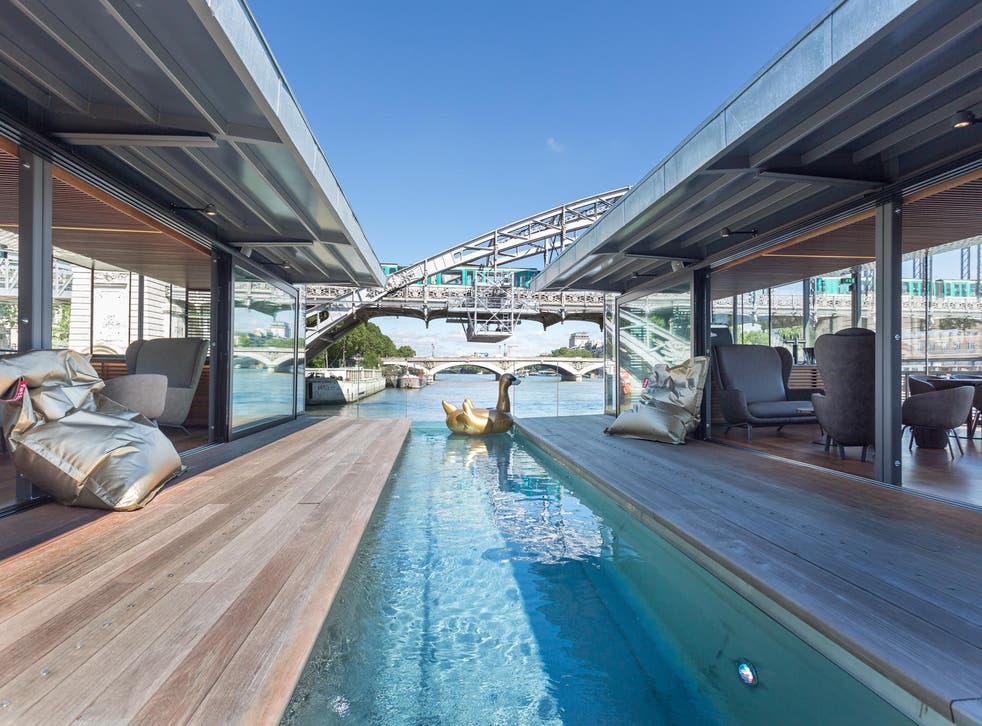 Hotel review: Off Paris Seine
The French capital's first floating hotel is making quite a splash
Two girls sunbathe on the deck; one holds a carefully-positioned book, the other nonchalantly drapes her foot over the swimming pool. An inflatable gold swan drifts past, while over at the pool's glass edge, a beefed-up bro spends several minutes composing the perfect selfie overlooking the river.
Moored on the Left Bank, at Quai d'Austerlitz, Off Paris Seine is clearly attempting to become the French capital's hottest new address – and so far it seems to be working. Opened in late June, it's Paris's first floating hotel; though more boxy than a boat, it has a touch of the catamaran about it, with two rows of rooms stacked over two levels, connected by a narrow, sky-lit communal space.
As well as being a hotel, Off is a bar, open to the public, with two glass-walled rooms (ideal for checking out the view over a sundowner), separated by the lap pool and deck; downstairs there's a separate smoking area with more tables. On the Saturday night we were there, the bar was packed with a sophisticated crowd sipping cocktails. There's no restaurant, but the bar serves surprisingly good (and generously-portioned) tapas, including little gem lettuce with a cheese sauce, and cod croquettes.
Location
The area around the hotel – the 13th and 5th arrondissements – is on the up. Gare d'Austerlitz, one of Paris's major stations, is having a serious revamp, while next to the hotel is La Cité de la Mode et du Design (the City of Fashion and Design). Also called Les Docks, this eye-catching former storehouse, with its serpentine green frontage, has been converted into gallery space (including a comic and cartoon museum), with several rooftop bars and restaurants.
On the other side of Off you'll find L'Asile, a makeshift bar and grill set within a few trailers, with waterfront seating. You're also short stroll away from Jardin des Plantes, with its manicured flower beds and zoo, while a half-hour walk along the Seine will bring you to tourist sights such as Notre Dame Cathedral.
Further afield, in the 2nd arrondissement, director David Lynch's club Silencio (silencio-club.com) serves wines and cocktails in surreal surroundings. Members only before midnight.
Comfort
There are 54 rooms, ranging from entry-level Left and Right Bank Rooms (the difference being views of the concrete quayside or across the river respectively) to the larger Horizon Suites and top level Designer Suites.
The décor across the lower categories is chic, minimalist and mostly monochrome, with touches of dark wood here and there. Fancy something a little brighter? Check into the Designer Sunset Suite, where orange is the only colour you'll find. The Designer Silver Suite, meanwhile, is decked out in mirrors and muted tones, with the exception of the bright yellow bath.
My boyfriend and I were on the lower floor in one of the Right Bank Rooms, which is, in estate agent speak (or, you might say, French), bijou. It felt more like a cruise ship cabin than a hotel, and the lack of space made rummaging through two suitcases a bit of a challenge. However, there are a few clever storage solutions, including an over-head shelf, which I might have used if I'd been staying longer than one night.
A little more information wouldn't have gone amiss – there was no printed material or tablet with details on the hotel, and no minibar menu, which left us wondering whether its contents were free (we asked, and they're not).
Despite its size, the room is light and bright, with a generous window from which to admire the river and the pleasure boats drifting past. A glass-fronted shower room lets you make the most of the view.
Essentials
Off Paris Seine, 20-22 Port d'Austerlitz, Paris, France (00 33 1 44 06 62 65; offparisseine.com). Doubles from €160, room only.
Wi-fi: free
Access: three wheelchair-accessible rooms
Rooms: ***
Service: ****
Value: ****
Nicola Trup travelled by Eurostar (eurostar.com), which offers tickets from London St Pancras to Paris from £29 one way.
Join our new commenting forum
Join thought-provoking conversations, follow other Independent readers and see their replies