The Independent's journalism is supported by our readers. When you purchase through links on our site, we may earn commission.
Prison hotels: Sleep in a cell or eat in an old exercise yard
The Big Six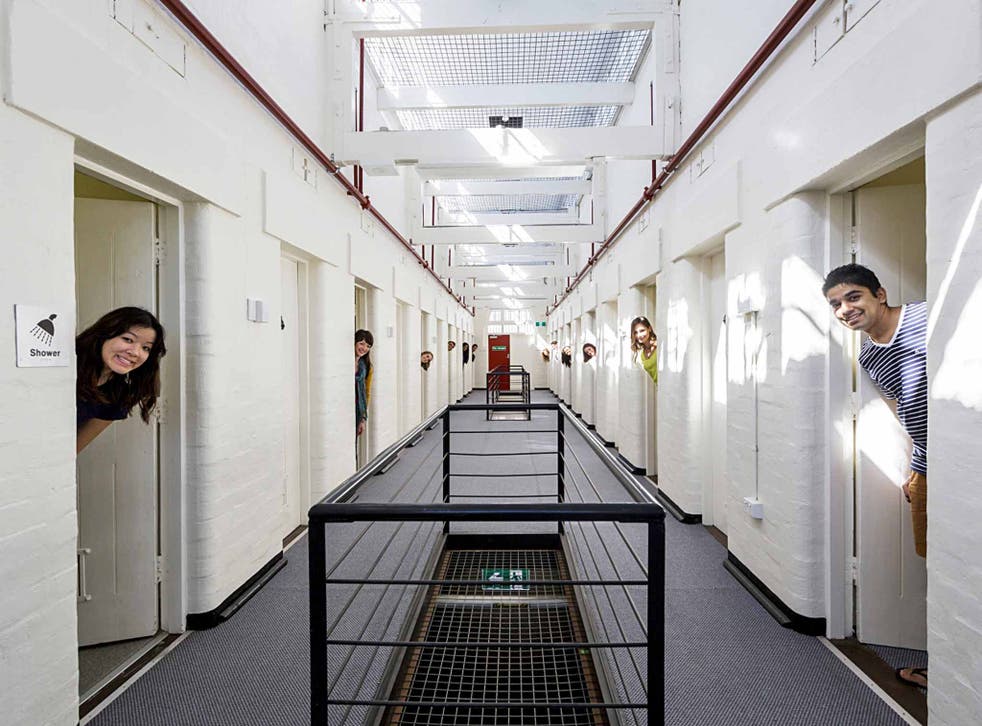 Fremantle Prison YHA, Australia
Spend the night in jail, guilt-free at the Fremantle Hostel, which opened last month. The World Heritage-listed prison in Western Australia was built in the 1850s and functioned as a prison from 1855 to 1991. It has since been transformed and visitors can choose to sleep in either the prison cells, or in the guards' cottages. There's also a purpose-built annexe with private en-suite rooms. Guests can relax on the lawn, once the prisoners' yard, and make dinner in the former cookhouse. The cells are basic, with bunk beds, colourful bedclothes and handy lockers.
6A The Terrace, Fremantle, Western Australia (00 61 8 9433 4305; yha.com.au). Dorms from A$28 (£14), twins from A$68 (£34), room only.
Liberty Hotel, US
Boston's Liberty Hotel no longer holds its guests captive. The building, constructed in 1851, has been converted into a luxury hotel. Rooms are significantly larger than the original prison cells, with floor-to-ceiling windows that look out over Boston, and are significantly more luxurious, decorated with soft furnishings, and dark wood. Suites come with separate living and dining areas and open-air terraces. One even includes its own library and dressing room.
215 Charles St, Boston, US (001 617 224 4000; libertyhotel.com). Doubles from $419 (£279) room only.
Langholmen, Sweden
Initially serving as a women's penal institution, Stockholm's Langholmen prison was in operation for 250 years. It closed in 1975 and its cells have been converted into a quirky hotel and hostel. The decor is stylishly spartan and single rooms are small – the size of the original cells – but some come with an extra bunk, so you can share with a cellmate. For a bit of extra space check into a double or family room.
Langholmsmuren 20, Stockholm, Sweden (00 46 8 720 85 00; langholmen.com). Dorm beds from SEK225 (£18) Doubles from SEK895 (£70), B&B.
Hostel Celica, Slovenia
Twenty of this building's former cells in the capital Ljubljana have been converted into unique bedrooms, decorated by Slovenian artists. No two rooms are the same and visitors are assigned one when they book – you can't choose. One bedroom is decorated with dark wood recovered from a burnt-out local building, another has an entirely glass floor, and one is decorated using only flea-market furniture. All have prison bars on the windows and doors.
Metelkova ulica 8, Ljubljana, Slovenia (00 386 1 230 97 00; hostelcelica.com). Dorm beds from €22, doubles from €30, B&B.
Ottawa Jail, Canada
Located in the 150-year-old former Carleton County Gaol, this hostel in the Canadian capital makes the most of its history. The bedrooms – previously cells – feature bare brick walls and heavy steel-bar doors, and the dorms come with basic bunks. The walls are adorned with photographs of the building's former life as a jail. The bar, aptly named Mugshots, is contained by a 30ft stone wall and wooden gates.
75 Nicholas Street, Ottawa, Canada (001 613 235 2595; bit.ly/OttStuff) Dorm beds from C$34 (£18). Doubles from C$90 (£47), B&B.
Malmaison, England
A medieval castle-turned-prison-turned-hotel, the Malmaison in Oxford is packed with history. There are 38 rooms that have been converted from cells, with three making up each bedroom. Interiors are all exposed brick walls, low ceilings, high steel-barred windows, and iron doors, while higher-end rooms come with roll-top baths and balconies. Guests can eat in the restaurant, set beneath original steel staircases, or outside in the jail's old exercise yard.
Oxford Castle, 3 New Road, Oxford OX1 1AY (0844 693 0659; malmaison.com). Doubles from £349, B&B.
Register for free to continue reading
Registration is a free and easy way to support our truly independent journalism
By registering, you will also enjoy limited access to Premium articles, exclusive newsletters, commenting, and virtual events with our leading journalists
Already have an account? sign in
Register for free to continue reading
Registration is a free and easy way to support our truly independent journalism
By registering, you will also enjoy limited access to Premium articles, exclusive newsletters, commenting, and virtual events with our leading journalists
Already have an account? sign in
Join our new commenting forum
Join thought-provoking conversations, follow other Independent readers and see their replies