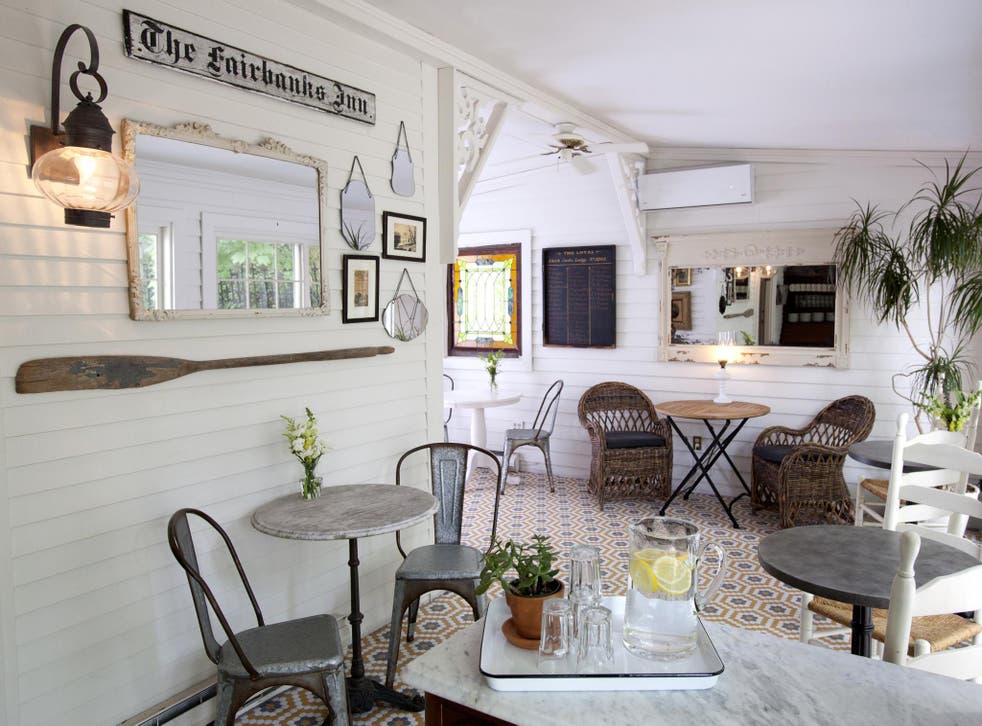 B&B review: Eben House, Provincetown, Cape Cod
Check in to a new breed of New England B&B – with no chintz in sight
Captain Eben Snow stares out, the slightest flicker of a smirk in the corners of his mouth. Perhaps it's amusement at the frilly parasol he's holding, which seems a little at odds with his 18th-century seaman's get-up. But then, I've also spotted him wearing bejewelled earrings and a full face of makeup, so maybe he's not quite as straight-laced as one might expect.
Captain Snow built this brick house on Bradford Street, Provincetown, in 1776, and now he and his family have been immortalised in the paintings that hang inside, each of which has a quirky twist – whether it's the addition of flamboyant jewellery or a copy of the Kama Sutra.
In the intervening centuries, the building was used a bank and a museum, before becoming a guesthouse in the 1980s – and in 2015 it was reborn as Eben House. The owners, both veterans of the high-end hospitality industry, have steered away from the chintz and frills that dominate New England B&Bs, and instead created a place to stay that's incredibly chic but – as the Captain will tell you – doesn't take itself too seriously.
The bed
Split across three houses (Captain Eben's original brick property plus two neighbouring wooden buildings), Eben House has seven rooms, ranging from Standard Queens and Standard Kings to the spacious suites – Captain's, Carriage and Terrace.
I stayed in the latter, which is a calming, minimalist space, but not in a stark, Nineties way. Walls, bed frame and bed linen are all bright white, while furniture and accessories are on the grey/beige colour palette. Everything is stylish, but also very comfy, from the generous bed to the cushion-covered couch. Beyond the portraits, which were painted by local artist Michael Gredler, decoration comes in the form of mirrors and statement light fixtures – think oversized filament bulbs, spotlights and kitsch chandeliers.
Outside there's a private roof terrace for warmer nights (there's also a larger one on top of the main building, plus a communal courtyard), but if you prefer to cosy up indoors there's a modern gas fire, surrounded by glass on three sides.
As well as the en-suite shower room, there's a beautiful Victorian-style roll-top bath in the bedroom, with bath salts and sea salt soap at the ready.
The breakfast
Breakfast is served in the conservatory, where the décor does a great job of reminding you where you are, in case you'd forgotten. Oars and lanterns decorate the classically New England whitewashed clapboard walls, while light floods the space through floor-to-ceiling windows.
The menu varies from day to day, but you're likely to find delicious bowls of yoghurt parfait, fruit, homemade jam and granola, freshly squeezed juice, breakfast burritos and some form of cake or pastry. Feeling lazy? Pre-order breakfast to your room.
The hosts
British-born David Bowd and his American husband, Kevin O'Shea, are no newcomers to the accommodation game. Having worked in hotel management and design respectively, for the likes of Ian Schrager and Andre Balazs, they set up their own company, Salt Hotels, and launched their first B&B in Provincetown in 2013. Their successful debut project (The Salt House Inn) was followed by Eben House, and they've since branched out with two more properties further down the East Coast – including the new-build Asbury Hotel, which opened earlier this summer in the faded-but-back-on-the-up New Jersey resort town of Asbury Park.
The couple have their main residence in P-Town so they can often be found around Eben House, though there's also a team of friendly and efficient staff, who take care of the day-to-day running of the place.
The weekend
Spend an afternoon cycling or walking the trails around Cape Cod National Seashore, where you can spot seals splashing around just off shore, or head out whale watching (whalewatch.com) for the chance to see humpbacks and other species including minkes, pilots and dolphins. You can also take tours by 4x4 through the towering sand dunes; Art's Dune Tours (artsdunetours.org) come recommended.
P-Town itself is a pretty holiday town of clapboard houses and great places to eat and drink (see below), as well as a buzzing nightlife in peak season. It's hugely popular with the LGBT community (it's often voted the US's best gay destination), so welcoming vibes and rainbow flags abound.
Many international travellers will pass through Boston en route to Cape Cod, but if not, it's just 90 minutes away by fast ferry, should you feel the call of the big city.
The pit-stop
The best drinking and dining options are distilled into 'The Best Map Ever', which Eben House gives out to all guests.
Joon Bar (joonbar.com) was buzzing at dinnertime, despite its position slightly away from the heart of the town, and my visit being off-season. Eben House's Kevin O'Shea designed the décor (as the stylish lighting and muted colours will attest), and the menu features delicious sharing plates such as grilled white asparagus, scallops with snow pea salad and cashews, and pizza-style flatbreads.
Other favourites included shrimp banh mi at The Canteen (thecanteenptown.com), doughnuts and coffee at Happy Camper (bit.ly/HappyCamperPtown) and great seafood in classic Cape Cod surrounds at Patio American Grill (ptownpatio.com).
The essentials
Eben House, 90 Bradford Street, Provincetown, Massachusetts, USA (001 508 487 0386; ebenhouse.com). Doubles from $195 (£147) including breakfast; parking is free.
The closest international airport to Provincetown is Boston, a 30-minute flight or three-hour drive away. Nicola Trup hired a car through Holiday Extras (0800 1313 777; holidayextras.co.uk), which offers rental from Boston airport or downtown starting at £244 for a week.
Join our new commenting forum
Join thought-provoking conversations, follow other Independent readers and see their replies