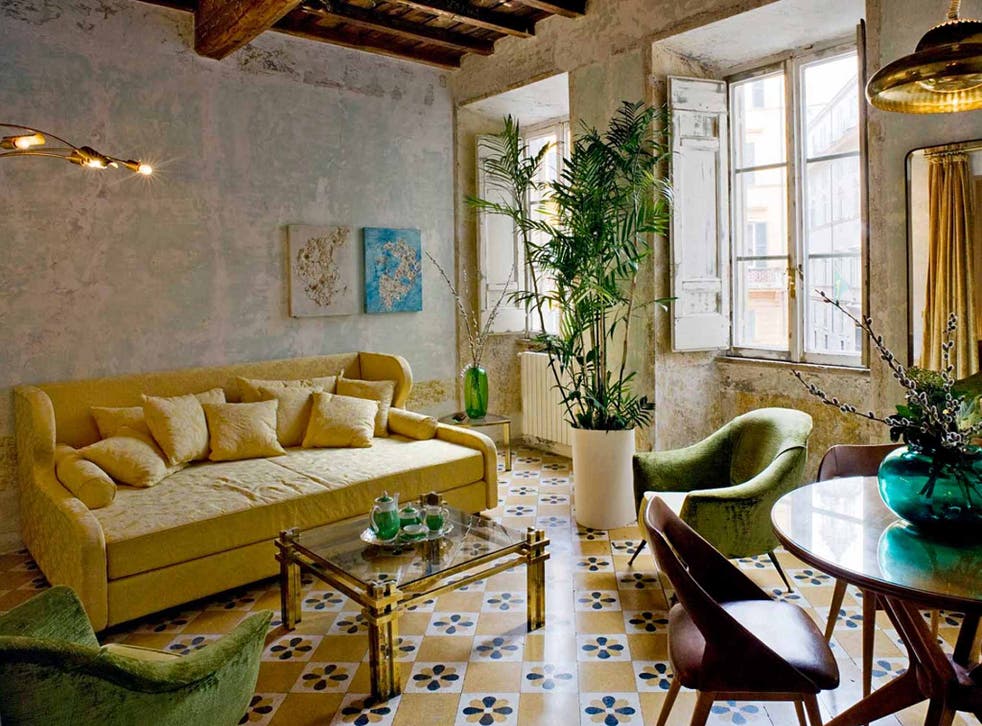 Rome accommodation: From a boutique bolthole and an artist's villa to an historic palazzo
For Keats fans, the only place to stay in the city is the house in which the Romantic poet lived out his final days
Chloe Hamilton
Friday 13 March 2015 11:31 Comments
G-Rough
Forget shabby chic; G-Rough, which opened on 1 March near Piazza Navona, describes itself as "rough luxe". Housed in a five-story palazzo-style building that dates back to the 16th century, it features stripped walls and timber beams. The decor is pared-back but luxurious, with retro furnishings and ornate tiles and ceilings. Suites have views over either the courtyard or the city, and some feature private terraces. For an extra bit of luxe with your rough, check into the penthouse with its separate living area, kitchenette, and large claw-foot bathtub.
Piazza di Pasquino 69 (00 39 041 5284644; g-rough.com). Doubles from £209, B&B.
CasaCau
This historic palazzo near the Trevi Fountain, which has been converted into five one-bedroom apartments, is full of hidden treasures. The mix of old and new means no two rooms are the same. They are decorated with modern art, vintage typewriters and mid-century furniture, in contrast to the modern Bose speakers and complimentary iPads available for guests to use. Kitchenettes and dining areas are open-plan and some of the larger bathrooms come with saunas.
Via in Arcione 94 (00 39 06 6929 0159; casacau.com). Self-catering apartments from €270 a night, minimum stay three nights.
Buonanotte Garibaldi
Originally an artist's villa, this 1960s building has been converted into a guesthouse, set in a pretty courtyard surrounded by orange trees. Art is everywhere – unsurprising considering the owner, an artist, displays and sells her work on site. There are only three guestrooms, all decorated with hand-painted silks and satins, while the communal living room is furnished with two sofas, colourful rugs, paintings, sculptures, and a piano – all a short walk from the Botanical Gardens, too.
Via Garibaldi 83 (00 39 06 5833 0733; buonanottegaribaldi.com). Doubles from €180, B&B.
RetRome
Choose from 10 rooms and apartments at a boutique bolthole in central Rome. The rooms combine modern amenities with eclectic antiques, set off by a selection of mid-century objects such as old-fashioned clocks and temperature gauges. The history lesson continues outside with the Colosseum just metres away. The loft-style apartments, located in the same building, can sleep up to six and come with kitchens, bathrooms, sofa beds and either balconies or private terraces.
Via Marco Aurelio 47 (00 39 06 9294 7899; retrome.net). Doubles from €75, room only.
Piazza di Spagna
For Keats fans, the only place to stay in the city is the house in which the Romantic poet lived out his final days. The third-floor apartment isn't actually the one Keats stayed in, but it is in the same building, and has been designed to resemble his rooms. There are high ceilings, chandeliers, antique wood furniture and ornate mirrors, while the tall windows look out on to nearby landmarks. The sitting room, for example, has views of the Spanish Steps, whose designer, Francesco de Sanctis, also designed this house.
Piazza di Spagna 26 (01628 825925; landmarktrust.org.uk). Doubles from £73, self-catering.
Casa Fabbrini Roma
A boutique, family-run B&B, this palazetto-style townhouse was built in the 16th century. Located in the Campus Martius area, surrounded by cobbled streets, the five-floor property has four bedrooms, each featuring touches such as colourful furnishings, recycled lampshades, wooden-beamed ceilings and wrought iron bed frames. Elsewhere, there is a kitchen and dining area, as well as a light and bright loft space with a mezzanine floor and two living rooms.
Vicolo delle Orsoline 13 (00 39 06 324 3706; casafabbrini.it). Doubles from $229 (£153), B&B.
Register for free to continue reading
Registration is a free and easy way to support our truly independent journalism
By registering, you will also enjoy limited access to Premium articles, exclusive newsletters, commenting, and virtual events with our leading journalists
Already have an account? sign in
Join our new commenting forum
Join thought-provoking conversations, follow other Independent readers and see their replies