Room Service: The Wild Rabbit, Cotswolds

Show all 2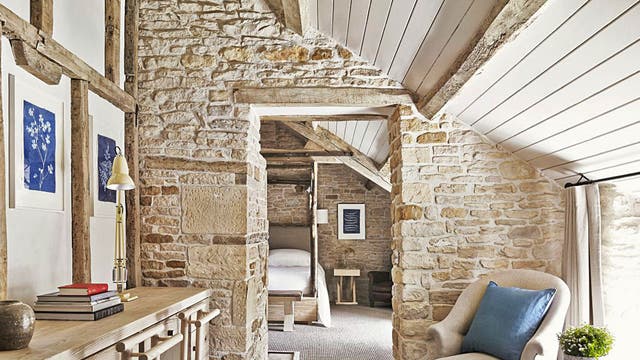 Room Service: The Wild Rabbit, Cotswolds
Raising the bar for the humble 'local'
Sophie Lam
Saturday 18 January 2014 01:00 Comments
I had high expectations when I arrived in Kingham. This Cotswolds hamlet was deemed to be "England's favourite village" by Country Life a decade ago; its Richard Curtis set-up of village green, church and limestone cottages (not to mention easy commute to London) also put it at the top of The Telegraph's list in 2010. Alex James's farm is on its outskirts and Lady Carole Bamford, wife of JCB chairman Sir Anthony, runs her temple to organic living up the road in Daylesford. She has also taken over one of two pubs in the village and this is where I'd come to stay.
The Tollgate Inn was the poor relation to neighbour The Kingham Plough, with its award-winning dining room and cosy bar. When Lady Bamford quietly took it over last summer, she gave the Plough something to worry about. A new name went up above the door, perhaps in deference to the children's rabbit fur gilets she sells at Daylesford Organic (£149, if you're interested). Two cartoonish topiary rabbits now usher you in – it turns out that this 17th-century cream-dream was once Conygree Gate Farm, its Latin name referring to the possibility that a rabbit warren once existed beneath the farmhouse.
Today, the cavities are stone wells, one preserved neatly under a glass covering in the dining room. Neat would be a word to describe the rest of the place too, for there's not a coaster out of place in this £1.4m vision of rustic-luxe perfection. An antique tollgate sign nods to the inn's recent history, but that's about as far as the nostalgia goes. A modern stone-and-glass annexe, housing the restaurant (below), is more American mountain lodge than Cotswolds cottage. However, Lady B has done well to keep the decor rustic: potted herbs on the tables, antique dressers displaying Scandi-style pottery, taxidermy hares and ceramic rabbits, mismatched wooden chairs and a brick bread oven all saving the overarching Cotswolds-stone palette from death-by-neutrality. At the heart of the restaurant is a big farmhouse table, where an (organic) spread is laid out at breakfast.
At night, the lights are low and the spotlight is on the hatch, where chefs churn out potted rabbit, ravioli of hare, pigs head croquette and pheasant en crépinette under a display of sparkling copper pans. A jamón-carving station is an interesting addition to the room.
And what of the pub? Unlike the restaurant, it was relatively quiet on my Saturday night visit, in spite of the two cosy nooks with open fires and deep, worn leather armchairs to sink into with a Hook Norton cask ale. Lady Bamford has said she wants this to be a proper local where muddy boots are welcome. But really, this is an affordable extension of Daylesford Organic – a place to play out the fantasy of country living in exquisitely good taste, so make sure those boots are Hunter and brush off the mud at the door.
Location
This is a made-to-measure Chipping Norton-set local, with Brooks, Murdochs, Freuds, Camerons and Clarksons all within easy reach; the town is around 10 minutes north east. Oxford is about 20 miles south east and easily accessible from the A40 and A44, while Stow-on-the-Wold, Bourton-on-the-Water, Burford and the Slaughters are all around 20 minutes' drive away.
Kingham's position on the First Great Western line to London (90 minutes) means that much of the village is populated by commuters. We overheard a young American family discussing their grand renovation plans in the bar, and saw moneyed locals acknowledging one another as they waited to be seated in the restaurant.
Comfort
There are eight bedrooms in the main house, endearingly named after woodland animals; and four newly built "garden rooms" behind the car park that are dog-friendly. I was in Mouse, the smallest of the double rooms above the restaurant, where the sweet smell of wood smoke wafted up through the sisal matting.
The king-size bed – topped with a rather unforgiving mattress – took up most of the space, but pitched ceilings with bleached beams and sandblasted walls enhanced the room's proportions. A pale oak console had been branded with a mouse motif by New York Times illustrator Hugo Guinness, whose work – block prints of Mini Coopers and bulldogs – also adorns the walls. There were home-baked biscuits, teas from Jeeves of Jericho in Oxford and a Nespresso machine, plus flasks to take your brew out on a walk. The bathroom was generous and done out in polished limestone and rough bricks, signed off with a selection of naturally made Bamford bath products.
Travel Essentials
The Wild Rabbit, Church Street, Kingham, Oxfordshire OX7 6YA (01608 658 389; thewildrabbit.co.uk).
Rooms ****
Value *****
Service ***
Double rooms start at £105, including breakfast.
Register for free to continue reading
Registration is a free and easy way to support our truly independent journalism
By registering, you will also enjoy limited access to Premium articles, exclusive newsletters, commenting, and virtual events with our leading journalists
Already have an account? sign in
Register for free to continue reading
Registration is a free and easy way to support our truly independent journalism
By registering, you will also enjoy limited access to Premium articles, exclusive newsletters, commenting, and virtual events with our leading journalists
Already have an account? sign in
Join our new commenting forum
Join thought-provoking conversations, follow other Independent readers and see their replies