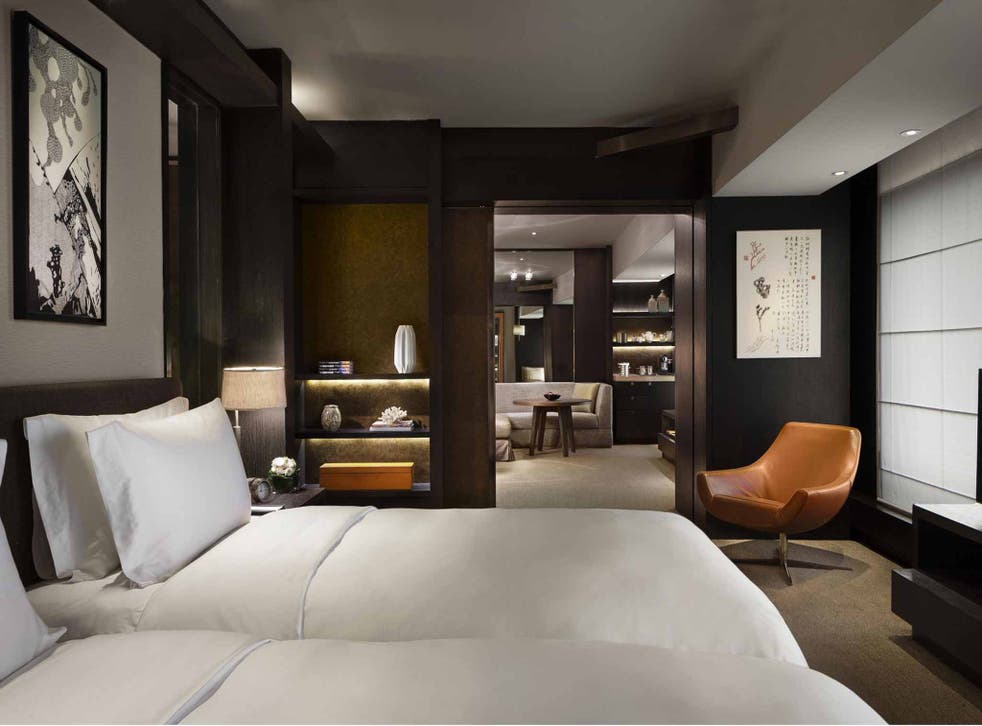 Rosewood Beijing - hotel review: A luxurious refuge from the sleepless city
The Rosewood achieves that elusive sense of being at once shut off from the hustle and bustle, and yet still part of it
Pulling into the tree-lined forecourt of the Rosewood Beijing is like turning off a main road and finding yourself in a Pathé newsreel. A sleek traffic jam composed almost entirely of Mercedes and BMWs and the odd Batman-like supercar is dispatched by valets in red crushed red velvet jackets and shiny black shoes, holding doors for women clutching bags that cost more than houses. It looks like a queue for a debutante ball, but this is just an ordinary Wednesday evening.
Founded in Dallas in 1979 by oil scion Caroline Rose Hunt, the almost excessively luxurious Rosewood Hotels and Resorts now has 18 hotels around the world – including one in London currently up for sale at £450m. Another 16 are set to open over the next three years. Opened in October 2014, the Beijing outpost is the first of four planned in China (the others will be in Hainan, Guangzhou and Sanya), and seems to be as popular with well-to-do Chinese guests as it is with Westerners.
The design is modern international, with lots of trad Chinese references, while the phrase "well-appointed" barely covers the facilities; a simple recitation of what's available is hard to do in a single breath. There is the stupendously large indoor pool glazed with tiny gold tiles, a Chinese spa which is accessed via a footbridge across a candle-strewn relaxation pool, a nightclub with DJs every night, a members' club open to those staying in certain rooms and all suites (guests are victualed by an Old World wine list here and a help-yourself buffet four times a day, all gratis).
Plus there are two bars and four restaurants – French brassiere Bistrot B, hot pot restaurant Red Bowl, a Huaying private dining set-up, and northern Chinese joint Country Kitchen, whose Peking duck deserves a laudatory poem. Skimped, they most certainly have not. It is a chic temple of diversions.
Location
The hotel is directly across from the Chinese state broadcaster, in the Chaoyang district. The 54-storey, OMA-designed China Central Television Building is a spectacular sight to look out on to, its eccentric shape giving rise to a local nickname: the Big Pants Building. The district is primarily business-centric, though there is no shortage of high-end shops.
Nominally, it is 40 minutes by car from the airport – the hotel offers a Jaguar XJL car service to and from, and the use of a VIP check-in area, for those able to pay – however, the figure is a tad misleading because the traffic in Beijing is so variable that it might take slightly less time or it might take an hour and a half.
A subway line stops directly below the hotel, but be warned, the Beijing subway makes the London Tube look like a Daimler. It gets seriously full. Ubers are cheap and plentiful and if you are lucky and it's not rush hour, Tiananmen Square, the Forbidden City and the Temple of Heaven are only 20-30 minutes away. Local taxis are available but the language barrier proved near insurmountable for me.
Comfort
The Rosewood achieves what all hotels in big cities stretch for – that elusive sense of being at once shut off from the hustle and bustle, and yet still part of it. It has a deep sense of place which begins when you pass through the main doors, which are guarded by enormous stone lions, and continues to the 283 guest rooms and suites.
The rooms are decorated with charming Chinese objets d'art but the coffee machine, mini-bar and leather chaises longues will be familiar to regular travellers – ditto the television, free wi-fi and blinds that you control from a panel by the bed.
Rooms are spacious; some of the biggest in the city, by all accounts. The smallest deluxe room is about 50sq m and the biggest suite, Beijing House, is 177sq m. Floor-to-ceiling windows and good-sized dressing areas and bathrooms add to the airy feeling. In the flinty, unsympathetic centre of Beijing, the Rosewood offers a well-upholstered oasis of calm.
Travel essentials
Rosewood Beijing, Jing Guang Centre, Hujialou, Beijing, China (00 86 10 6597 8888; rosewoodhotels.com)
Rooms: µµµµµ
Value: µµµµ
Service: µµµµµ
Double rooms from £190, room only
Register for free to continue reading
Registration is a free and easy way to support our truly independent journalism
By registering, you will also enjoy limited access to Premium articles, exclusive newsletters, commenting, and virtual events with our leading journalists
Already have an account? sign in
Register for free to continue reading
Registration is a free and easy way to support our truly independent journalism
By registering, you will also enjoy limited access to Premium articles, exclusive newsletters, commenting, and virtual events with our leading journalists
Already have an account? sign in
Join our new commenting forum
Join thought-provoking conversations, follow other Independent readers and see their replies