Skwachays Lodge, Vancouver: Room service
A first-rate First Nations experience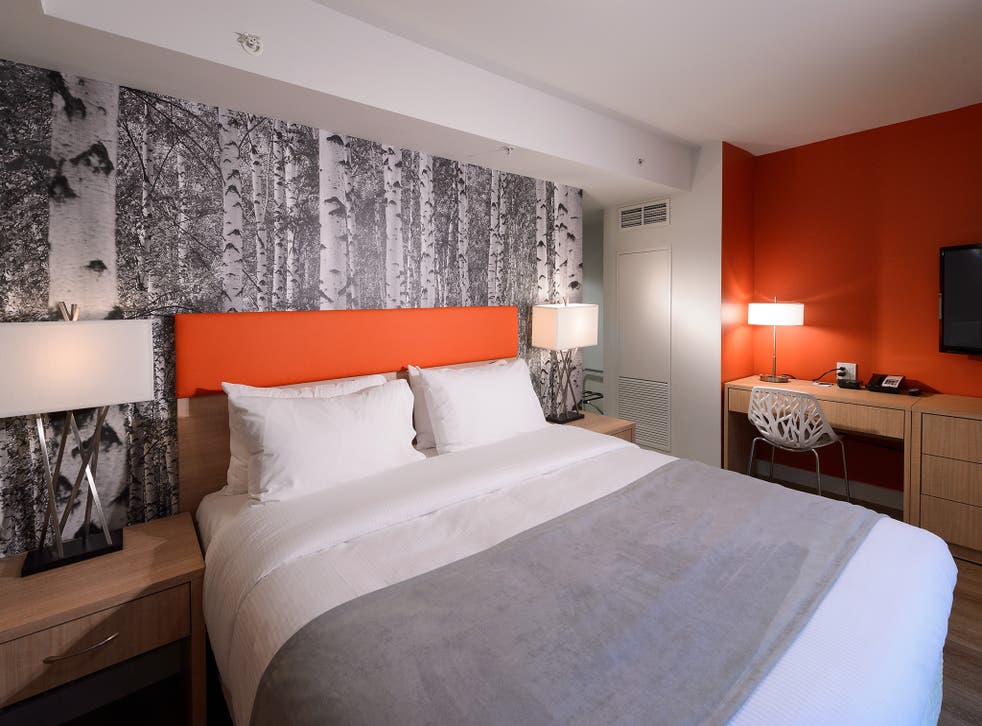 Part boutique hotel, part indigenous art gallery and part social enterprise, Vancouver's newly-opened Skwachays Lodge (pronounced skwatch-eyes) manages to balance all three with panache.
From the 40ft totem pole that soars above the hotel's century-old brick façade, to the discovery that the reception desk is inside a Fair Trade aboriginal gallery, this is quite a departure for Vancouver's hotel scene.
The building is run as a social enterprise by the Vancouver Native Housing Society charity, which puts profits from the hotel and gallery into subsidising 24 live-work art studios within the lodge. For guests, this isn't a worthy, no-frills experience, because Skwachays bats well above expectation in creating a unique, comfortable and welcoming place to stay. You may even bump into the artist who created your room in the lift.
Each of the 18 rooms and suites has been designed by a team of six aboriginal artists working in tandem with interior designers from Vancouver. The First Nations (the term for the various aboriginal people in Canada who are neither Inuit nor Metis) theme spreads from the gallery upwards and is considered rather than over-saturated. In-room coffee is from Spirit Bear, which donates a percentage of its profits to the Great Bear Conservancy and works with the Tsimshian Nation. Toiletries come from the aboriginal-owned Mother Earth Essentials.
As part of its mission to educate, the hotel offers the chance to delve deeper into Canadian First Nations traditions alongside those who understand it best. Book into the rooftop garden Sweat Lodge for an authentic experience (essentially a ceremonial sauna) hosted by a Sweat Lodge Keeper, or take part in a smudging ceremony in the blue sky-painted and tree adorned Smudge Room, which overlooks the totem pole. Herbs are burned for their aromatic smoke and healing properties in these ceremonies, which are traditionally believed to purify a person's spirit and soul as well as cleansing a room.
So far only a grab-and-go breakfast is on offer in the Kayachtn (pronounced ky-ah-chin) Welcome Room, a bright space with a large reclaimed wood communal table, a cosy fireplace, free Wi-Fi and wide-screen TV. However, an all-day menu including First Nations treats such as Indian candy and bannock bread is planned along with a selection of wines from the nearby Okanagan Valley and Canadian craft beers. Also on the horizon are workshops in the basement studios where visitors can learn traditional skills such as carving and weaving or watch artists at work.
Location
Around 10 minutes' walk to the Waterfront station (from which you can catch the Skytrain to the airport), the hotel sits next to the ornate Millennium gates that mark the crossroads between Vancouver's historic Gastown and Chinatown neighbourhoods. Attractions including the Dr Sun Yat Sen Gardens, Science World and the city's art gallery are all within an easy 15-minute stroll and Gastown's array of superb restaurants and bars are all close at hand. Although it's a neighbourhood on the cusp of gentrification, the change is gradual.
Comfort
Artists including Corrine Hunt (a member of the Raven Gwa'wina clan from Ts'akis, who co-designed the 2010 Vancouver Winter Olympic and Paralympic medals) have worked to create rooms that are essentially art installations – albeit ones with splendidly comfy Hypnos beds and high thread-count linens. From the custom-made furniture to the artworks, each of the 18 rooms and suites has a strong First Nations influence: eagles and ravens, bears, whales and the Sun and Moon all feature strongly. The Poem Suite features Tlingit artist Clifton Fred's pencil drawings and intimate poems, while the Longhouse suite has a triptych of Sabina Hill's frog motifs set in a white acrylic light-box as a headboard.
Some rooms have balconies which face on to the quiet residential courtyard, some are shower- only, however all rooms have a pleasingly large raft of extras including free Wi-Fi, free calls anywhere in North America, a fridge, microwave and coffee maker, plus the handy benefits of dishes, cutlery, drinking glasses and wine glasses so you can enjoy an in-room picnic.
Travel Essentials
Skwachays Lodge, 29/31 West Pender Street, Vancouver, British Columbia, Canada (001604 687 3589; skwachays.com)
Rooms: ****
Value: ****
Service: ***
Double rooms start at C$149 (£82), including breakfast.
Register for free to continue reading
Registration is a free and easy way to support our truly independent journalism
By registering, you will also enjoy limited access to Premium articles, exclusive newsletters, commenting, and virtual events with our leading journalists
Already have an account? sign in
Register for free to continue reading
Registration is a free and easy way to support our truly independent journalism
By registering, you will also enjoy limited access to Premium articles, exclusive newsletters, commenting, and virtual events with our leading journalists
Already have an account? sign in
Join our new commenting forum
Join thought-provoking conversations, follow other Independent readers and see their replies