Stay the Night: Baixa House, Lisbon

Show all 3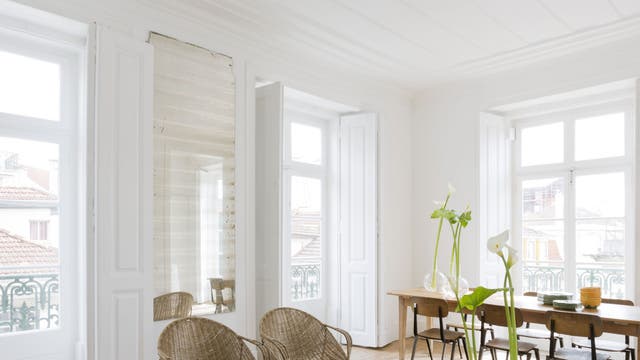 Stay the Night: Baixa House, Lisbon
A dozen apartments in a converted 18th-century building offer an insight to local life in the city, says Caroline Kamp
Caroline Kamp
Saturday 15 June 2013 16:57 Comments
Hotels offer many things, but in cities the rooms are notoriously compact. At Baixa House you stay in your own apartment with bedroom, bathroom, living room and kitchen. There's no fancy front of house, just a doorbell on a busy street in the centre of Lisbon's Baixa (literally "lower", downtown) district which takes you into the vast stairwell of this converted 18th-century building.
One of the team lets you in, hands over the keys and explains how the place operates. Every day, fresh bread is left outside your door; the fridge is filled with breakfast goodies and the apartment is cleaned.
By staying in an apartment you operate on your own time frame. Get up early or late? It doesn't matter when you don't have to fit into a hotel's breakfast schedule. It's also a calm respite from the buzz of Lisbon. You can pop back to your pad when you want to recharge and don't have to perch on the end of your bed.
The rooms
There are 12 apartments, which vary in size and can sleep one to six people. Each is decorated differently – the owner, Jesus Moraime, is a landscape architect and has themed each one around a garden. High ceilings, whitewashed walls and bare floors provide the backdrop for colourful furniture, textured cushions and patterned rugs. The decor is striking and a real draw, but it's not just here to look pretty. The apartments won an award for the use of traditional Portuguese furniture and materials, such as the local marble in the bathrooms. They've also used a mixture of indoor and outdoor chairs and tables which gives the apartments a laid-back feel.
We stayed in 1A Belem on the first floor. The higher up you go, the lighter and brighter the apartments are. There's no TV, but free Wi-Fi, a stereo with input for playing music through your phone/tablet and magazines left behind by people who stayed before you. The Time Out Lisbon guide was useful, as were the effusive notes in the visitors' book. It would be a good option for family travel, since there is plenty of space and evening babysitting can also be arranged.
Out and about
Head out on foot and climb up the winding streets, while avoiding being mown down by a tram, to Sao Jorge castle (00 351 218 800 620; castelodesaojorge.pt). It's a great way to get your bearings and to look out on the mighty Tagus river, the Golden Gate-style 25 April suspension bridge and the Cristo Rei statue which bears a striking resemblance to Christ the Redeemer in Rio.
With striking azulejo ceramic tiles plastered all over the outside of the city's majestically crumbling buildings, you might not feel the need to take a short taxi or bus ride out to the National Tile Museum (Rua Madre de Deus 4), but it's located in an old convent, with some extraordinary interior architecture and a great café, so it's well worth the trip.
For shopping, A Vida Portuguesa at 11 Rua Anchieta (00 351 213 465 073; avidaportuguesa.com) in the Chiado district is a must-visit independent shop, which supports and sells traditional Portuguese goods, such as soaps, stationery and sardines all beautifully packaged and displayed in ceiling-high glass cabinets.
The food and drink
The fridge is filled with juice, yoghurt, butter, jam and milk. Fresh bread arrives daily and is waiting outside the door of your apartment in the morning. Cakes appear in the afternoon. You can make proper coffee, in a pot on the stove – none of that instant sachet nonsense – and there's also tea. Being an apartment, there is the full compliment of tableware which is cleared away and washed up daily.
There are many options for eating out in Lisbon, and what's not to like about a country whose national delicacy is the custard tart? Try a pastel de nata with an espresso at a tiny coffee shop called simply Nata at 18 Calcada do Combro (natalisboa.com). For dinner, the team at the apartment suggested we try traditional, rustic Portuguese food at the quite hard-to-find, but very well-priced Taberna Ideal at 112-114 Rua da Esperanca (00 351 21 396 2744).
The essentials
Baixa House, 18 Rua dos Fanquerios, Lisbon, Portugal (00 351 91 9090 895; baixahouse.com). Minimum two‑night stay in a one-bedroom apartment starts at €290 (£248).
Register for free to continue reading
Registration is a free and easy way to support our truly independent journalism
By registering, you will also enjoy limited access to Premium articles, exclusive newsletters, commenting, and virtual events with our leading journalists
Already have an account? sign in
Join our new commenting forum
Join thought-provoking conversations, follow other Independent readers and see their replies