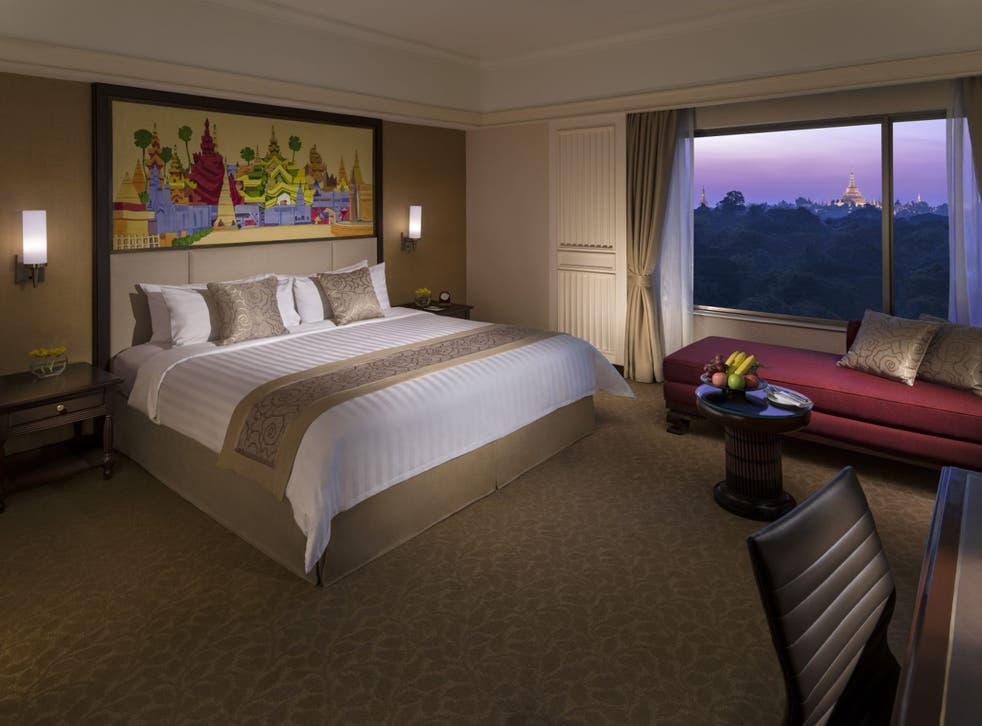 Sule Shangri-la, Burma: a capital address with global ambitions
In Rangoon, demand for accomodation is higher than the offering, but you can get a room with local art (and a view)
Harriet Obrien
Friday 30 October 2015 16:33 Comments
Real estate prices in Rangoon spiralled last year. In parts of the city, they are said to be on a par with Manhattan. Which means that even though there's an enormous demand for more accommodation in Rangoon, establishing a hotel here is no easy feat. Airbnb, meanwhile, has started operating in the city and is doing well, even though homestays are technically illegal.
It was at the height of real-estate dizziness last year that Sule Shangri-La opened. This isn't, however, a new property so much as a very timely rebranding. Shangri-La launched this 22-storey hotel as part of its functional Traders chain in 1996, the year Burma's ruling military kick-started major tourism with a designated Year of Tourism that was largely boycotted by the UK. The hotel's luxury makeover as part of the Shangri-La brand has given Rangoon a shiny, bold property with golden fittings, a marble lobby and crystal chandeliers.
Staff have been given careful training to meet slick, international expectations. After all this is a country where few have been able to travel abroad and consequently there is very limited experience of what is meant by five-star service. The result is a mix of intrinsic Burmese charm and engaging willingness: the concierge on my floor presented me with a tray of amenities, from sewing kit to clothes brush, that she encouraged me to marvel over.
Updated facilities range from a Cantonese restaurant to a wood-panelled bar, ostensibly in British style. Where the hotel really excels, though, is as a very happening hub. Walk through the door and you're in a terrifically buzzing place – if you want insight into the new Myanmar (as Burma is now officially called) you'll find it here. It's where the emerging middle class of the city now officially known as Yangon comes for coffee.
Other major chains are moving into the market. In May, Novotel opened on Pyay Road, between the city centre and the airport. Negotiations are taking place to transform the Burma Railway offices, around the corner from Sule Shangri-La, into a super-chic arm of the Peninsula hotel group. And, over at Kandawgyi Lake, a 375-room Sheraton is due to open in 2017.
Location
The setting is a key attribute. You're right at the heart of Rangoon here. Glittering, golden Sule pagoda (hence the hotel's name) is only a short walk away. A serene and sacred site hovering over a major junction and encircled by sooth-sayers' stalls, it's a great place to stroll around at sunset. Meanwhile, Scott Market is just around the corner. This covered market is frequented by jade buyers and tourists shopping for lacquer ware or mother-of-pearl goods. The city's downtown area stretches to the Rangoon River in a neat grid. It's a colourful neighbourhood of street traders and open-air restaurants.
Comfort
The 479 bedrooms are neatly furnished boxes of quiet colours and clean lines, as you'd find in almost any contemporary five-star of this size across the globe. But there's an individual twist in that the rooms feature works by local artists. This reflects the vibrant art scene in Rangoon – an explosion of expression after decades of censorship (you'll find galleries dotted around the city, some on the second floor of Scott Market). Wi-fi and breakfast in the coffee shop are included in cost of your room, which is fairly high by local standards, but you're unlikely to find anything of this calibre at a lower price in the rapidly changing city.
There is a tranquil outdoor swimming pool on the fifth-floor terrace, and a large gym behind it, but as yet there's no spa. In view of the developing competition perhaps they'd be wise to add one.
Travel Essentials
Sule Shangri-La, 223 Sule Pagoda Road,
Rangoon, Burma (00 95 1 242 828; shangri-la.com)
Doubles from US$240 (£160), with breakfast.
Harriet O'Brien travelled to Rangoon via Singapore on Singapore Airlines (0844 800 2380; singaporeair.com).
Register for free to continue reading
Registration is a free and easy way to support our truly independent journalism
By registering, you will also enjoy limited access to Premium articles, exclusive newsletters, commenting, and virtual events with our leading journalists
Already have an account? sign in
Join our new commenting forum
Join thought-provoking conversations, follow other Independent readers and see their replies