The Independent's journalism is supported by our readers. When you purchase through links on our site, we may earn commission.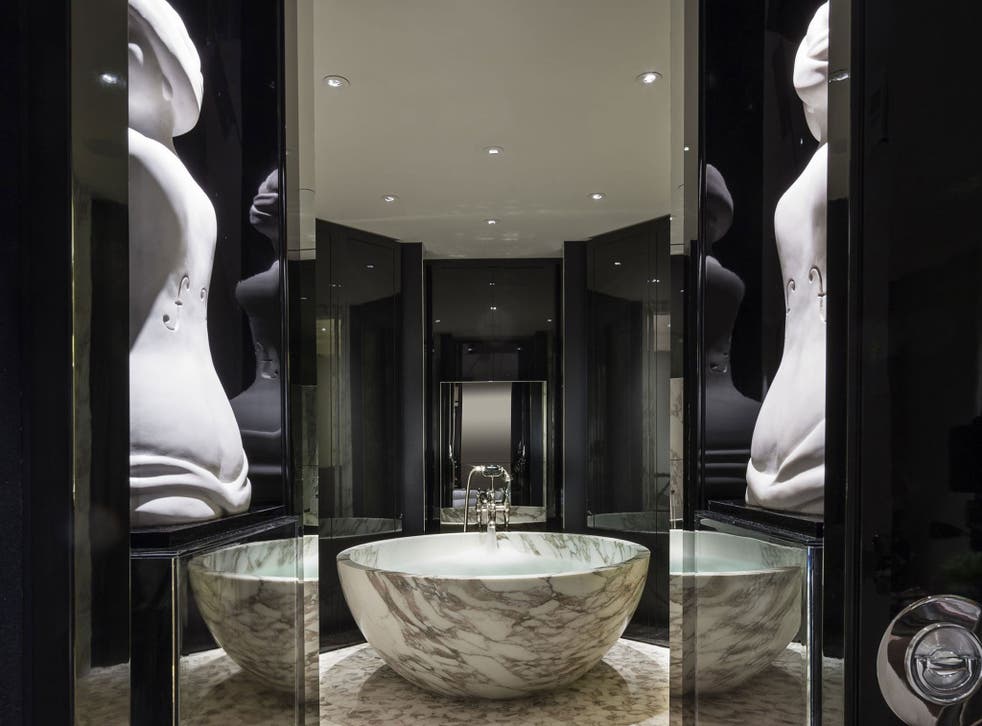 Super suites: If you have something to say ... say it big
The jewel in a hotel's crown was once its penthouse suite. Now, London is going larger and better, says Mark Jones
I steal into the Opus Suite at The Berkeley feeling, frankly, as if I have come to steal something. I tiptoe across the champagne-coloured rug, through the oak-panelled office and the bedroom, to an illuminated bamboo walk-in closet. I unpack. My single holdall and spare jeans look somewhat forlorn here in a space designed for Louis Vuitton-trunkloads of gear.
The suite was created by the Hong Kong-based, Cambridge-educated designer Andre Fu. His other projects include Singapore's Fullerton Bay, Hong Kong's The Upper House, and one of the world's biggest shoe shops. "The Suite," says Mr Fu, "is distinctively architectural and embellished with intricate and thoughtful details – yet the overall effect evokes sensuality and intimacy." As I explore the living room, trying to choose between the sofas and top-end television screens, another adjective comes to mind: big.
The Opus is one big suite. Yet there are bigger. And more expensive.
Big is big in the luxury suite world. Until recently, five-star hotels had the usual range (Junior, Junior Executive Double, Executive Luxury Double, Premier etc). Then there'd be a whopper, usually on the top floor. Depending on the constitutional history of the parent nation, this suite might be called The Royal, The Presidential, The Imperial – though not, as far as I'm aware, The Military Dictator About To Seek Dubious Legitimacy Through A Rigged Election suite.
Hotels, usually so bashful about prices, are happy to engage in an arms race when it comes to the superset of the super-super suites. The "most expensive" title has been held for the past few years by the $65,000, bullet-proof Royal Penthouse at Geneva's President Wilson hotel. See? For $65,000 you get a president and royalty.
In 2014, we just have the democratically named "super-suites". And this is not a story about who can create the lushest and most expensive one-off, but how hotels are reconfiguring their whole set-up to accommodate more s-suites.
Before we go into the matter more deeply, however, let's fret a little about verbal inflation.
Have you noticed that models don't exist anymore? Only supermodels. There are still yachts; but you only read about super-yachts. The wealthy have been bought out by the super-wealthy. So before we start calling every hotel room with a settee a "super-suite" let's try to establish if these places really are different and new; and if so, how?
Neither The Dorchester nor The Savoy uses the term. I asked six other luxury London hotels who do use "super" for its definition, but definition came there none. This is a shame, because London is indisputably leading the way in super-suites even if we can't put our finger on what one is.
When The Corinthia opened in 2011, it had no fewer than seven, shall we say, "outsize" suites. When it created the Opus, The Berkeley sacrificed six perfectly good and solidly revenue-generating normal rooms. This wasn't because it thought the Opus would be occupied 365 nights a year, nor even that the annual revenue generated would eclipse that of the everyday rooms. No, it opened Opus because this is Knightsbridge and it needed to make a statement.
So, perhaps that's not a bad starting point if we are to get super-suite into the dictionary: a hotel suite that makes a statement by virtue of size, cost and opulence.
It was the same when the Rosewood opened recently in Holborn: its inventory included nearly 2,000sq ft of Manor House Suite. The venerable Grosvenor House, now a J W Marriott flagship, is creating two super -suites alongside a new executive floor. When the Café Royal reopened, it created a suite of super- suites including the 2,215sq ft Dome (£9,000 a night, though it's said you could get it for half as much during the opening "offer" period).
Now, New York is catching on. The New York Palace has the $25,000-a-night Jewel Suite: a 5,000sq ft triplex. The fixtures and fittings sound fantastical, but they are more or less standard in super-suite land: private lift, 20ft chandelier, glossy black marble, huge private terrace and, according to The New York Times, "iridescent tiles lining the private rooftop hot tub [that] give the impression of sinking into a giant opal". (Maybe that last item isn't so standard).
Elsewhere in Manhattan, Mandarin Oriental has a mere 3,300sq ft suite at $28,000 a night, while the newly refurbished Loews Regency Hotel has six super-suites.
London's top six super suites

Show all 6
If it's about making a statement, then, what statement are they making? In the curious world of top-end hotels, it's simply this: telling your guests you won't be out-swanked by anyone.
As I continue to explore the Opus, I'm getting the message. Normally in a room you whisk around in two minutes looking for TV remote, free slippers, in-room magazine, iron, that kind of stuff. Here, you dwell. It's more like visiting an art gallery. You feel you have to invest quality time, not just in the room, but reading important arts and interior design magazines before you arrive so you know what a Christian Cadelli sculpture is and how Zimmer+Rohde achieved that mossy green sheen in the fabric wall panels.
Looking at the dining table, set for 10, I wonder if I'm supposed to ring up Marcus Wareing and get him to pop up to the Poggenpohl kitchen and rustle up dinner for me and my entourage. But there is no entourage. Maybe I could ask some mates (and Marcus) up for takeaway pizzas?
Maybe not. It's no good. I'm an imposter. I don't fit the profile of an Opus guest, which so far, says the hotel with characteristically tantalising discretion, has been a "mixed group of VIPs – a few captains of industry, a high-flying art dealer, a Hollywood star and one of the world's greatest sportsmen".
The above-mentioned folk need a private space for their merger talks, media interviews (super-suites can all be turned into super-connected TV studios) and client dinners. No one wants to see the host's spare pants lying in a corner; so you put an acre or two of marbled and panelled space between you and the actual business of staying overnight.
The Dorchester's Rosanna Fishbourne might not dub them super-suites, but she does think there's a new kind of super-guest. "They're people who need to move their whole life with them," she says. "They entertain a lot, so they need more space than the standard bedroom and bathroom. They have other rooms they can entertain in and keep their own rooms private."
Everything, she says, is "just a little bit 'more' ". The Dorchester's new boutique hotel, 45 Park Lane, is again typical of the breed: own entrance hall; Wolfgang Puck on hand to do you a burger in your own dining room; complimentary use of a Rolls-Royce Phantom; art by Sir Peter Blake.
Over at The Corinthia, general manager Matthew Dixon is preparing to set off for Jeddah. The last time he took a Saudi trip, to attend a wedding, it turned out to be quite a decent business venture. He came back with a two-month booking for the Royal Penthouse, at 5,000sq ft and £20,000 a night, London's grandest (super) suite. The final bill came to £2m. So, a little time spent getting to know the guest and to understand their needs is well worth the airfare.
It was Middle-Eastern guests, with their extended families, cooks, retainers and rooms full of shopping bags, that initially drove the super-suite phenomenon. Then hotels began to notice that other nationalities – Russians, American and even British – were travelling in family groups, too. Creating a single space with one (okay, two or three) doors made sense. And Matthew Dixon from The Corinthia advises us not to think Hollywood is just a bit of high-profile marketing fuzz. With more premieres in London than anywhere else in the world and Leicester Square a very short ride away for a long limo, he's wooing that audience with the eagerness of an aspiring starlet.
Johnny Depp has already made The Writer's Penthouse his home-from-home. I've been in it. It's sublime. I just don't know many writers who could afford it.
Mr Dixon doesn't talk about super-suites either. Their rooms might be making grandiose claims, but British hoteliers remain decidedly, well, understated.
So, where can I find a hotel where people aren't quite so humble in the midst of all this extravagance? Dubai, of course. At The Atlantis on the man-made Palm development, there are seven super-suites, including one that's underwater.
The hotel's Shareena Ali is in no doubt. "There is a clear distinction between our suites and super-suites, which is immediately noticeable," she says. And just what is that distinction? They are "the epitome of luxury, privacy and opulence".
She directs me towards the hotel's 3,031sq ft Royal Bridge Suite.
And yes, they are upping the ante: two terraces, two butlers, library with its own bar for when the reading gets a bit hard going, dining table for 16 – sorry, make that gold-leaf dining table for 16.
In the circumstances, the reference to "complimentary bathroom amenities" seems superfluous. For £16,500 a night I'd expect them to throw in the gold taps, too.
London's top six super suites
1) The Opus, Berkeley London: 853sq ft; from £10,000 per night (020 7235 6000; the-berkeley.co.uk).
2) Suite 610, South Place Hotel: 1,292sq ft; £1,200 per night (020 3503 0000; southplacehotel.com).
3) The Penthouse, 45 Park Lane: 1,755sq ft; from £8,995 per night (020 7493 4545; dorchestercollection.com).
4) Manor House Suite, The Rosewood: 1,991sq ft; from £4,950 per night (020 7781 8888; rosewoodhotels.com).
5) Royal Suite, The Savoy: 3,498sq ft; from £12,000 per night (020 7836 4343; fairmont.com/savoy-london).
6) The Royal Penthouse, The Corinthia: 5,000sq ft; from £20,000 per night (020 7930 8181; corinthia.com).
Register for free to continue reading
Registration is a free and easy way to support our truly independent journalism
By registering, you will also enjoy limited access to Premium articles, exclusive newsletters, commenting, and virtual events with our leading journalists
Already have an account? sign in
Register for free to continue reading
Registration is a free and easy way to support our truly independent journalism
By registering, you will also enjoy limited access to Premium articles, exclusive newsletters, commenting, and virtual events with our leading journalists
Already have an account? sign in
Join our new commenting forum
Join thought-provoking conversations, follow other Independent readers and see their replies