The Independent's journalism is supported by our readers. When you purchase through links on our site, we may earn commission.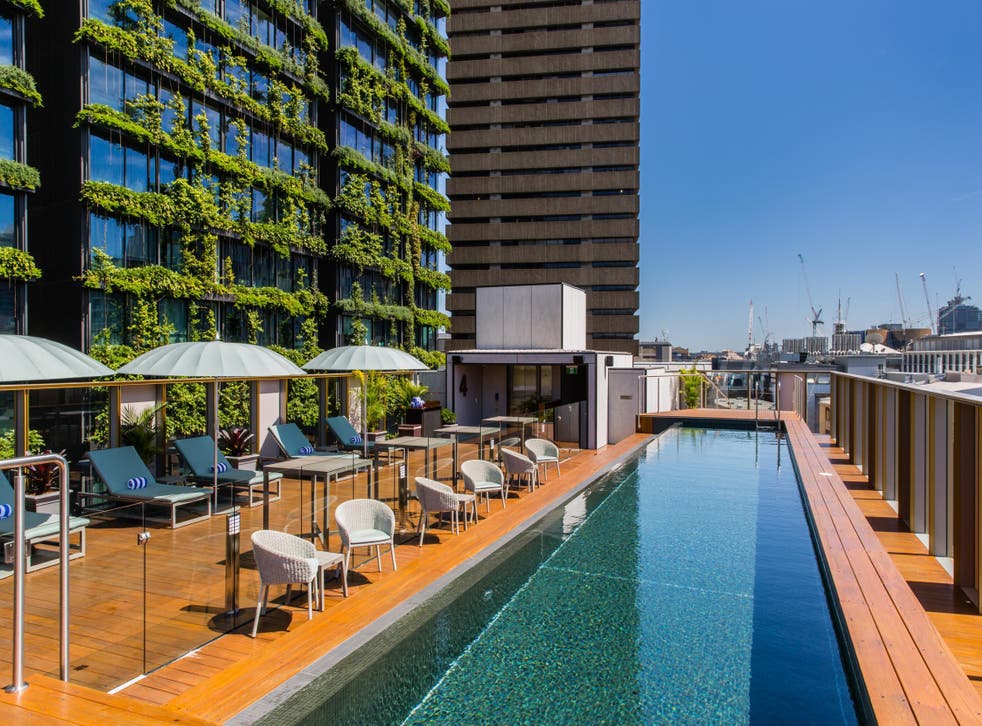 The Old Clare review: This hotel tells you a lot about gentrification in Sydney
Once the site of a well-worn bar and brewery, this boutique has been transformed into a swish hotel with all the modern trimmings
A stay at The Old Clare is as much a lesson in cultural history as it is a simple night at a hotel. You can learn about the vagaries of various historical periods right up to the present – and see the artefacts of those ages writ large as evidence of the way people have, and do live.
Skipping straight to the present, here we have a boutique hotel for 2017 which ticks all the boxes you want it to. It's modern, clean, comfortable and cool. The service from all the staff we spoke to was exceptional – people took time to chat and were all very friendly.
There's a mix of modern, minimal decor with industrial relics and trinkets. Dentist's chair in the lobby, anyone? It's a hotel people who live in Sydney know about and approve of. On the roof is a long pool and an al fresco bar.
The hotel is composed of two buildings – and this is where things, as we mentioned before, get interesting. The front building used to be the Old Clare Hotel (in Australia hotel often simply means a boozer). It was renowned as being a total dive bar and you can still see the music posters all over the walls, a nice touch. Its transformation into the hotel's present-day (and naturally swisher) Clare Bar is a case study in gentrification that is changing the nature of many global cities.
The back building is a former block of the sprawling Tooth Brewery, one of Australia's largest brewing houses but a name which few still know. Both buildings together, and their progress, paint a portrait of a city and a country that have both gone from rolled-up sleeves to three-piece suits. And this new hotel, in this shiny new Australia, is very pleasant indeed. It comes from the design-driven Unlisted Collection of hotels owned by Singapore's Loh Lik Peng (east London's Town Hall Hotel is a sister property).
Location
Again, this prime location offers you the chance to learn loads about different periods of urban development and of architects' fads. The Chippendale suburb used to be gritty, but like so much of Sydney new money and flats are rolling in – and you can see the skyscrapers rising and the cranes lugging.
Across the street from the Old Clare is the University of Technology Sydney with its striking Seventies concrete tower (aka the ugliest tower in Sydney). Beyond that is new public space The Goods Line, Sydney's answer to New York's High Line and a great place to stroll.
The entry gate of the old Tooth Brewery is preserved outside the hotel with a rampant horse crowning it – the symbol of Kent, the brewing county from which John Tooth emigrated to Australia. Norman Foster is transforming another Tooth building across the street into flats. And right next door to the Old Clare is One Central Park, a residential skyscraper and shopping mall which was designed by Jean Nouvel three years ago and has won many plaudits for its "green" exterior covered with plants.
There's a park outside this building filled with sculptures and it's perfect for lunch (many eateries and takeaway places are in the building's mall). Central Station is an easy 10-minute walk away from where airport trains run frequently (20 minutes, £9).
Comfort
The whole hotel is very welcoming and comfortable. Rooms have everything you need, from freestanding baths to sober dark-wood furniture, a grey wall palette and king-sized beds with plenty of wiggle room surrounding them.
Most rooms have windows facing down onto Kensington Street, where you can survey life going on apace. Le Creuset mugs and a range of free herbal teas are perfect for relaxing with after a long day in Sydney.
Essentials
The Old Clare Hotel, 1 Kensington Street, Chippendale, Sydney, New South Wales, Australia (00 61 02 8277 8277; theoldclarehotel.com.au). Doubles from £185, room only.
Wi-fi: Free
Access: One wheelchair-accessible room
Rooms: ****
Service: *****
Value: ***
Register for free to continue reading
Registration is a free and easy way to support our truly independent journalism
By registering, you will also enjoy limited access to Premium articles, exclusive newsletters, commenting, and virtual events with our leading journalists
Already have an account? sign in
Register for free to continue reading
Registration is a free and easy way to support our truly independent journalism
By registering, you will also enjoy limited access to Premium articles, exclusive newsletters, commenting, and virtual events with our leading journalists
Already have an account? sign in
Join our new commenting forum
Join thought-provoking conversations, follow other Independent readers and see their replies