The Independent's journalism is supported by our readers. When you purchase through links on our site, we may earn commission.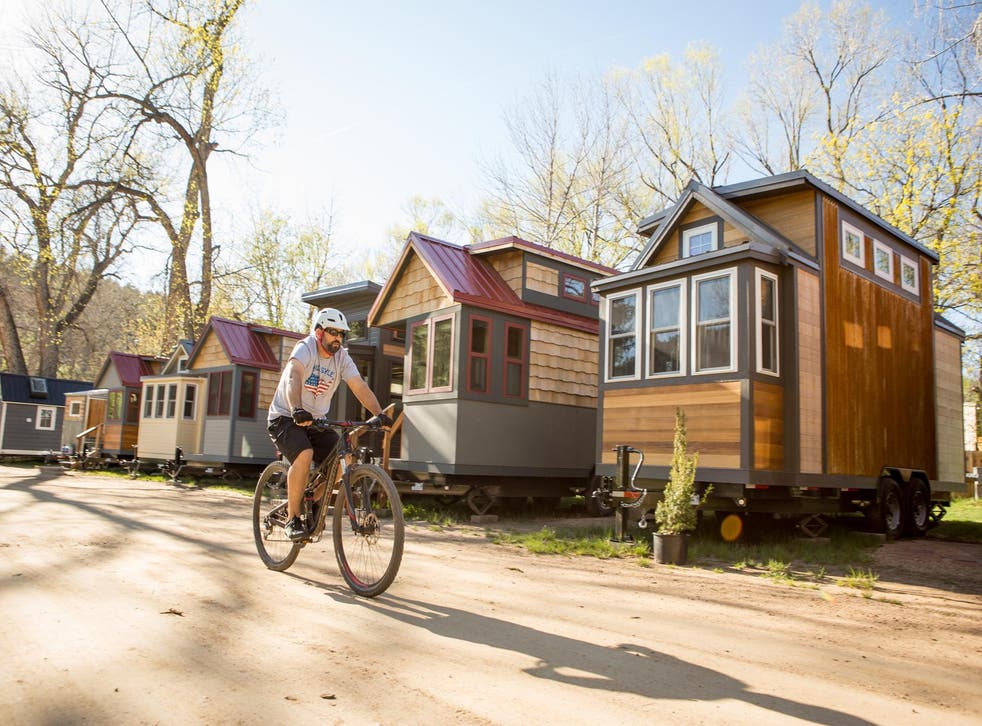 Micro-living in the US: The best tiny houses you can stay in
Bed down in a compact cabin, whether it's in the wilds of Colorado or the heart of Portland
Nicola Trup
Tuesday 04 October 2016 16:22 Comments
In the past few years, the tiny house – or micro-living – movement has been gaining pace. Particularly big in the US's Pacific Northwest, the concept involves rejecting the notion that bigger is better, and instead simplifying and downsizing... to something incredibly compact.
To be truly "tiny", a house should be smaller than 400 sq ft (intelligent use of space is key) – though many are much smaller, and some come on wheels.
If you're not ready to commit to the tiny house lifestyle, you can just try it out for a night or two instead. All the options below come with their own shower rooms and kitchenettes.
Caravan, Portland, Oregon
At Portland's first tiny house hotel, in Alberta Arts District, the six individually designed tiny houses are positioned around a fire pit. Groups of four can check into The Caboose, which fits a double bed above two bunks, and manages to squeeze in a sofa too. Couples, meanwhile, can cosy up in Rosebud, with its small double tucked into the eaves. Caravan is so popular its owners even offer tours.
5009 NE 11th Avenue, Portland, Oregon (001 503 288 5225; tinyhousehotel.com). Doubles from $164 (£129), room only
Wee Casa, Lyons, Colorado
Just a few miles from the Rocky Mountains, Wee Casa currently has 17 tiny homes to choose from, with five more on the way for next spring. Designs range from the shipping container/trailer-style Atlas to Wee Casa 3, which resembles a Wendy house. While some have foldaway "Murphy" beds, others come with mezzanine sleeping areas.
501 West Main Street, Lyons, Colorado (001 720 460 0239; weecasa.com). Doubles from $151 (£118), room only
Tiny Digs, Portland, Oregon
Opened just two weeks ago, Tiny Digs is a Portland upstart to rival Caravan, in the cool Kerns neighbourhood. Located on the site of an old car dealership, there are six options to choose from and another seven in the pipeline, each with its own outdoor deck. The houses all have a different theme; the names (Barn, Beach and Cabin, for example) tell you everything you need to know.
2646 NE Glisan Street, Portland, Oregon (001 844 395 8469; tinydigshotel.com). From $165 for four people, room only. Doubles from $165 (£129), room only
Getaway, New York
Having launched last year with three tiny houses within close reach of Boston, this spring the Getaway collection expanded to include four more – this time in upstate New York. More modern in style than most of the other tiny houses we've featured, the houses look more like boxes from the outside, while inside they're all blonde wood and minimalism. Locations are kept a secret until after booking, but they're all in the woods, within two hours' drive of major cities.
New York (001 617 914 0021; getaway.house). Doubles from $99 (£78), room only.
Mt Hood Tiny House Village, Welches, Oregon
Set within a larger RV (motorhome) park about an hour outside Portland is the five-strong Mt Hood Tiny House Village. Positioned around a central fire pit, they have each been given a personality, whether it's the "masculine" Atticus, crafted from cedar, or Scarlett, "the epitome of farmhouse charm". The park is close to Mt Hood National Forest, so you can embrace the great outdoors before retiring to your tiny home.
Mt Hood Village, 65000 E Hwy 26, Welches, Oregon (001 888 787 1696; mthoodtinyhouse.com). From $147 (£115) for three people, room only.
Register for free to continue reading
Registration is a free and easy way to support our truly independent journalism
By registering, you will also enjoy limited access to Premium articles, exclusive newsletters, commenting, and virtual events with our leading journalists
Already have an account? sign in
Join our new commenting forum
Join thought-provoking conversations, follow other Independent readers and see their replies