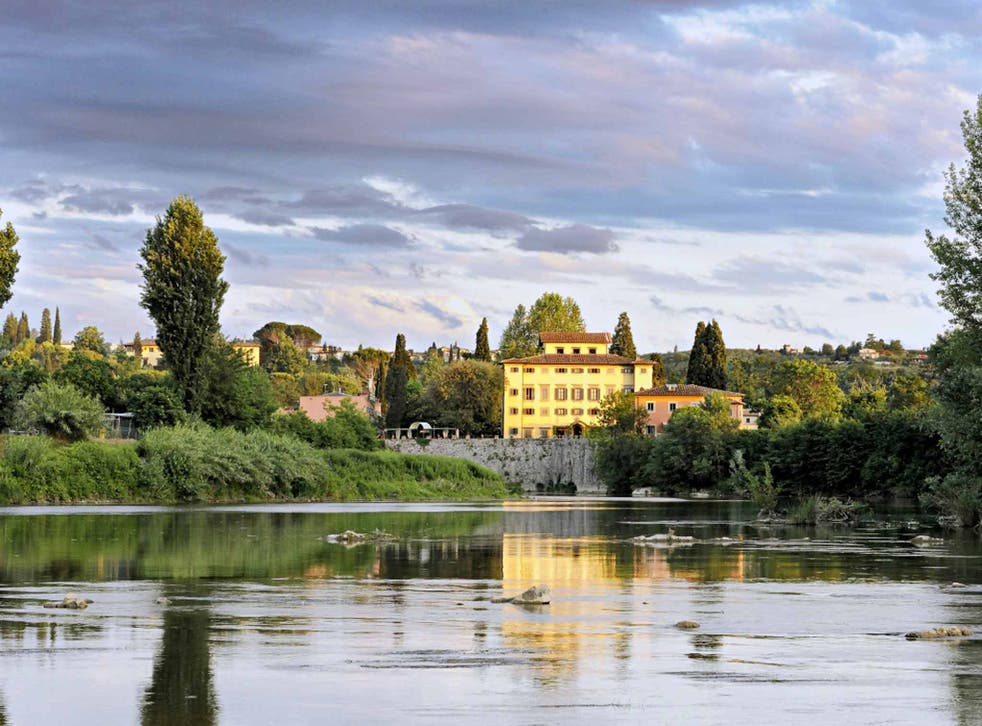 Villa La Massa, Florence: Live like the Medici or just loaf about
Room Service: hotel review
Villa la Massa is as classy a hotel as you could expect to find anywhere. Situated on the river Arno, a short drive upstream from Florence in classic Tuscan countryside, it offers the sort of discreet, understated excellence that many expensive hotels strive for but fail to achieve.
The building, a Medici villa, is the former home of a Florentine nobleman and was converted into a hotel in 1948. Guests who have stayed here include Gregory Peck, Winston Churchill, Liz Taylor and Richard Burton (inevitably), David Bowie, who got married here, and Madonna, who took the place over when she played a concert in the town.
The ambience is such that, as you sit on the terrace sipping your sundowner and gazing proprietorially over the river, it will make you feel like a billionaire. That you will almost need to be one need not disturb us.
The hotel was bought by the Villa d'Este group (which also operates the eponymous hotel on Lake Como) in 1998 and has since added a presidential suite. This has two bedrooms, a living room and vast bathroom and Jacuzzi, all leading out to a private garden and views straight on to the Arno and towards Settignano. It's the sort of place you can imagine the old Duchess of Windsor holing up in, although even she might blanch at the price, which is available on request (and you know what they say – if you need to ask, you can't afford it).
The staff are ludicrously helpful and solicitous. They managed to serve an immaculate dinner of tortelli in boar sauce followed by rack of lamb with more unforced charm than most could manage after a year in waiter's school, let alone when affecting a liking for two overexcited under-12s at the end of an exhausting summer season. The carpaccio of beef with truffles was outstanding.
The temptation to loaf about and tell yourself that the occasional languid dip is proper exercise is substantial, but there is a decent gym and a 22-acre garden (complete with lemon and olive trees) to cycle, walk or run round, with parallel bars en route, should you feel the need. If you choose not to exercise (and we were overcome with guilt after just four self-indulgent days), you only have yourself to blame.
We did manage a trip to a local winery, the outstandingly impressive Querciabella. It is owned by businessman Sebastiano Cossia Castiglioni, who is to organic – indeed, biodynamic – wine what Elon Musk is to Tesla and Stella McCartney is to ethical high-end fashion. His vines, now making something of a noise in wine-growing circles, are his way of "giving something back".
Location
Situated on the Arno, five miles east of Florence, it feels close but it's not within comfortable walking distance. There's a frequent minibus shuttle which takes guests to and from the Ponte Vecchio in the middle of town. If you're flying to Pisa, take a train or bus into Florence and ask the shuttle to pick you up from the station.
Comfort
There are 37 rooms, of which 10 are deluxe doubles, 13 junior suites and 14 suites. Each is decorated in the distinctive Tuscan Renaissance style, in sienna, orange, aquamarine. Bathrooms are big on marble, although you'll find most of your time spent gawping at the dark green cypress-laden Florentine hills outside. The rooms are seductively comfortable, with all the usual electronic distractions amid the heavy-curtained 16th-century splendour. Everything works perfectly, leaving this Anglo soppily open-mouthed at the Italian capacity for combining respect for history and conservation while making sure that only what works well is kept.
Travel essentials
Via della Massa 24, Candeli, Florence, Tuscany Italy (00 39 055 626 11; villalamassa.it).
Rooms ****
Value ***
Service ***
Doubles start at €510, B&B.
Special offers and packages that include wine and truffle trips (with a spot of Ferrari-driving thrown in), get-to-know-the-renaissance breaks and villas and gardens of Tuscany tours, are also often available.
The two-bedroom presidential suite starts at €2,920, with breakfast.
Register for free to continue reading
Registration is a free and easy way to support our truly independent journalism
By registering, you will also enjoy limited access to Premium articles, exclusive newsletters, commenting, and virtual events with our leading journalists
Already have an account? sign in
Register for free to continue reading
Registration is a free and easy way to support our truly independent journalism
By registering, you will also enjoy limited access to Premium articles, exclusive newsletters, commenting, and virtual events with our leading journalists
Already have an account? sign in
Join our new commenting forum
Join thought-provoking conversations, follow other Independent readers and see their replies