The Independent's journalism is supported by our readers. When you purchase through links on our site, we may earn commission.
Trendwatch
The top travel trends for 2023
Expect ferries, sleep pods and virtual reality hotels to loom large on this year's cutting-edge travel landscape, says Lucy Thackray
Tuesday 03 January 2023 13:09 GMT
Comments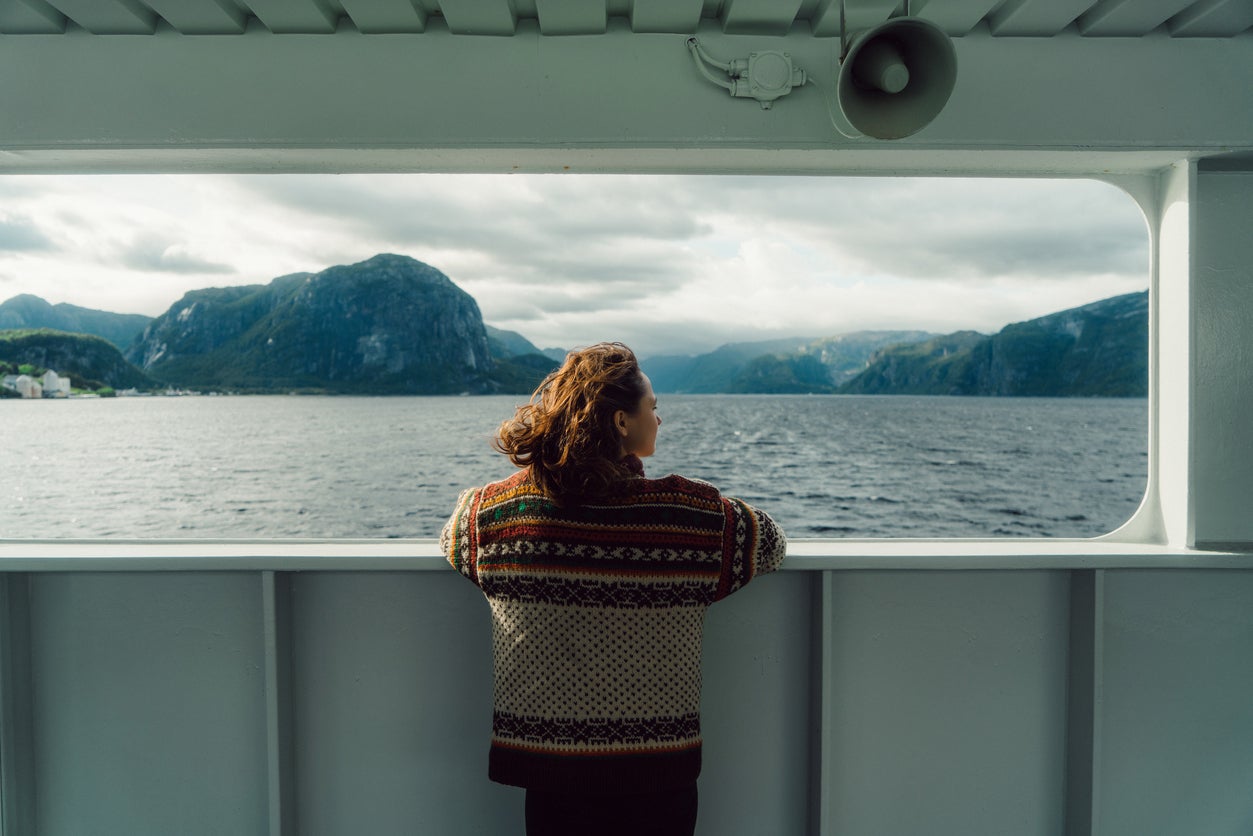 It's been a year of excitement around sleeper trains, community-empowering tours, next-level all inclusives and gut health retreats. But what does the blank slate of 2023 have in store for our travels? Here are some trends to watch out for.
Indigenous-led experiences
If last year was the year of people-empowering travel, 2023 is all about learning about the origins – the true origins – of a destination. A raft of tours and experiences led by Indigenous guides has cropped up from Australia to Guyana, directing tourist spend towards communities who have kept their culture and traditions alive for hundreds of years.
Intrepid Travel is set to offer more than 100 experiences of this kind heading into 2023: in Mexico's Yucatan region, its tour groups will meet and tour the farm of a Mayan family, followed by a hands-on cooking class and communal meal; in Utah travellers can learn about local plants, animals and the local landscape on treks with Native American guides. Other experiences are led by Costa Rica's Terraba River Indigenous Community, and the Sámi, Europe's only remaining indigenous group, in Lapland. In Guyana, a new six-day Highlands trek is led by tribespeople from the village of Pairuma. In Australia, try the state of Victoria to visit the Budj Bim Cultural Landscape or take the Grampians Road Trip, while in Canada, Audley has a new wolf-watching experience led by Tlatlasikwala First Nation guides in British Columbia.
Hibernation holidays
It's no secret that holidays are getting longer – along with the proliferation of three-week-plus tours now on offer, tour operators have found the average number of days has crept up as people plan mega-trips following the pandemic. It's prompted ABTA – The Travel Association – to single out "hibernation holidays", a style of trip most popular in the first few colder months of 2023, involving a longer spell hiding out away from the UK. A desire to escape rising costs, punishing winters and news-cycle dreariness may seem at odds with the cost of living crisis, but travellers are actively seeking out top-value destinations where their pound will stretch further and they can live a cheaper lifestyle in warmer weather for weeks or even months at a time. The trend also goes hand in hand with digital nomads having more flexibility to visit a destination for a period of weeks without being tied into formal annual leave.
Type 2 fun
Did you know there's more than one way to have fun? While the typical, type 1, hedonistic style is something uncomplicated and instantly enjoyable in the moment (sunbathing, swimming, ice cream, tasting wine), type 2 is a different beast altogether. It involves feeling challenged and potentially even suffering in the moment. "Type II fun can feel terrible while you're doing it, like climbing up a mountain on a cold winter's night or running a 100-mile race, but when it's over, your memory erases the miserable parts and you would do it again – for fun, of course," wrote Erin Strout in The Washington Post earlier this year. Challenge holidays have been on the up for some time, but data indicates that holidaymakers are choosing to have small doses of type 2 fun even on a more traditional holiday: for example, scrambling up a peak close to a villa holiday, trying ice swimming on a cosy Nordic break, or trekking a days-long trail to reach a bucket-list landmark. It's one of the reason adventure and activity breaks are on the rise in traditionally beachy, foodie Europe.
Jetlag-free jaunts
Tour operators such as Original Travel have spotted a repeat request for places on similar time zones to home, which require minimum recovery time. "After all the hoops travellers had to jump through during the pandemic, people are now just looking for holidays to be easy and straightforward. People are increasingly asking about destinations where the time difference is marginal and there's no jetlag to contend with," says Original's co-founder, Tom Barber. "This is particularly important for parents, who don't want the hassle of getting their children into a new routine on holiday and then again when they get home, but it's a way for all travellers to maximize time away." Original recommends Tanzania (three hours ahead of the UK), South Africa (two hours ahead) and Morocco (one hour ahead). Countries on the same time zone as the UK include Iceland, Portugal and the Canary Islands.
Biodiversity breaks
Nature as a focus in travel has been on the rise for years, from coral reconstruction projects at Maldives resorts to bees on the rooftops of boutique hotels. But now the interest in rewilding has turned to a wider mission to boost biodiversity in a bigger way. The World Travel and Tourism Council (WTTC) this year banded together with the UN and Sustainable Hospitality Alliance on an official goal to halt and reverse biodiversity loss by 2030. And you'll see biodiversity initiatives cropping up on your holidays: Ecosystem Restoration Camps plan diversity-improvement activities in destinations from Spain to Egypt. Or, to go even nerdier, book on to one of Exodus' new collection of Citizen Science trips to the likes of the Zambezi Valley and Amazon rainforest, where holidaymakers will collect freshwater samples from all over the globe to build an eBioAtlas, which aims to monitor every ecosystem on earth.
Travel in the Metaverse
Some of us will sigh when we hear the M word once again. It's not really travel, is it? But adventures through the Metaverse – a virtual reality world where you can attend festivals, go to "work" and mingle with others via self-created avatars – is undeniably on the rise, with hotel and travel brands getting involved too. After launching a raved-about property "IRL" in Manchester, new brand LEVEN is next taking its hotel concept to the Metaverse; CitizenM this year purchased land in gaming world The Sandbox; and Singapore tourism have recreated several of the city-state's biggest landmarks in virtual world Decentraland. Meanwhile, in a survey of thousands of people across 32 countries, Booking.com found that 43 per cent of people said their decisions were influenced by the Metaverse.
"Travelers will become bolder in their real-life trip choices, after being able to visit them in the Metaverse first… [it's] especially handy for those who might feel anxious about trying somewhere new, with 46 per cent more likely to travel to destinations that they wouldn't have previously considered." Expect taster tours and visits to festivals encouraging travel in the virtual world.
Sleep pods
Japan's capsule hotels used to seem like a distant, space-station fantasy this side of the globe, but sleep pods are becoming a travel trend in earnest this year. Generator Hostels is adding 50 Japanese-style capsule sleeping pods to two of its most popular "poshtels" next year – 31 extra beds at its Berlin location and 19 in Amsterdam – meaning you can bag a bed (and literally, just that) from €25 (£22) per night, leaving the rest of your city break budget for super-clubs, shopping, canal tours or musems. Generator Amsterdam's pods launch in January, with Berlin's following in mid-February. Still to come in 2024 are Air New Zealand's Skynest snoozing pods, which can be booked for four-hour periods on long-haul flights. And new company Pop & Rest, who cut their teeth creating nap pods for busy companies, are working on a London pod hotel for 2023 that would be open 24/7, enabling city visitors to rent a sleep pod for a short time between engagements.
Slow travel visibility
While the travel set is aware of the impact of flying to our destinations, our behaviours don't always add up with our intentions to leave a lighter footprint on the planet. Worryingly, Brian Young from G Adventures tells me: "The most interesting thing is that customers say it's important, but they're not willing to pay more for it. They assume the tour operator will think about sustainability and the impact of travel – they don't have to worry."
The truth is, we do have to think about our travel choices and try to put minimal strain on the climate at this crucial time. But travel operators are optimistic: one big trend they foresee for the year ahead is more visible slow travel options, such as train and ferry connections, with travel companies more likely to offer them and even promote carbon calculators to see how they might make your trip more sustainable. Intrepid Travel has partnered with Byway to show holidaymakers options for the long way around, from rail itineraries through Italy to train and ferry journeys through southern Spain and into Morocco. Meanwhile, Direct Ferries just launched a carbon calculator to show seafarers what a difference they're making by ferrying rather than flying between shores. On the flights front, expect to think harder about the impact of each flight, and perhaps look into spending more time travelling overland once at your destination.
Young says: "People will be looking at flight duration, and the number of flights they'll be taking when they travel. Do I need to be taking two flights to get to my destination or could I just take one? Could I take a train across the country when I'm there or will I have to fly?"
Since taking just one fewer flight a year could significantly decrease your carbon impact, every plane ride counts.
Join our commenting forum
Join thought-provoking conversations, follow other Independent readers and see their replies