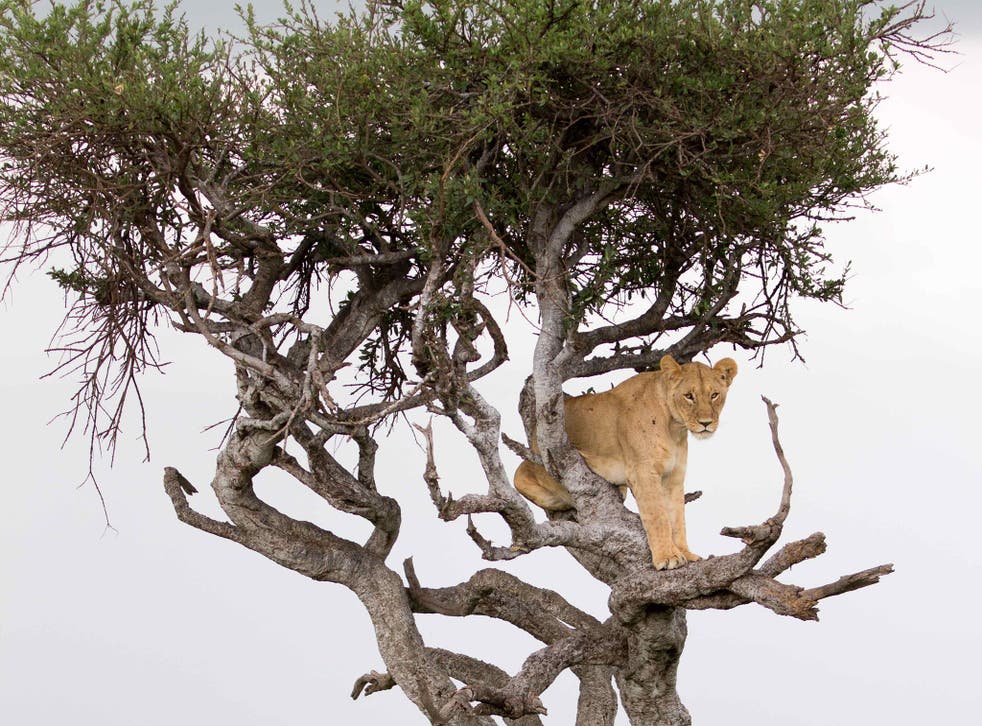 Learning the art of wildlife photography in the Maasai Mara
A Kenya safari offers a chance to see wildlife, but learning how to photograph it adds a new perspective
The pressure was on. Hand shaking and heart thumping, I peered through the lens and trilled off a succession of shots, hoping that my reactions and newfound skills would rise to the challenge. My target – a cheetah – outwitted me completely, vanishing in a blur of speckled gold.
Wildlife photography is a skill I have long admired but knew little about how to master – what exactly goes into capturing such powerful images, and was I, a complete novice, capable of achieving such magic? Intending to find out, I joined a specialist safari in Kenya's Maasai Mara National Reserve, which would teach me how to photograph predators under the watchful eye of award-winning wildlife photographer Paul Goldstein.
The brief was clear: be bold and be creative. "I've seen a million photographs of leopards up trees," said Paul. "That's just not good enough."
Paul is not a man you want to disappoint. He takes a somewhat unorthodox approach to both photography and guiding – think Gordon Ramsay armed with lenses instead of saucepans. He barks instructions and doesn't tolerate lateness, and his lengthy list of pet hates includes camouflage clothing ("Do you really think you're fooling the animals?"), photography vests ("You're not a war correspondent: why do you need 12 pockets?") and lie-ins ("For flakes and losers").
However, he is one of the best in the business and his expert guidance – whether it be in Kenya, Brazil, Svalbard or India, where he also leads photography expeditions – is highly sought-after.
It soon became clear that this was no ordinary safari. Firstly, we were to be based in the Olare Motorogi Conservancy, a parcel of land owned by Maasai cattle farmers that borders the unfenced and minibus-choked national reserve, a 45-minute flight west of Nairobi. It's home to just a handful of camps, and game drives here are reserved for privileged guests.
Secondly, we had to work hard. "Expect long days and early starts. Outstanding wildlife encounters are about moments but also field-craft, patience and skill," explained Paul as we spotted a tree-climbing lioness scanning the savannah. I got to work, experimenting with composition and exposure levels.
Back at camp, I joined my fellow budding photographers around the "bush TV" (a crackling log fire) at Kicheche Mara Camp. With Jupiter shining brightly overhead and the distant growls of lions echoing across the Acacia Valley, we listened to more vignettes from Paul, who first visited Kenya in 1984. "Cheetahs are a joy to photograph, full of energy and always doing something," he explained.
With a 4.30am wake-up call looming, it was early to bed. "Pack every battery and memory card you possess," chimed Paul, by way of a goodnight.
Shortly after the alarm call but long before the coral blush of the rising sun warmed the plains, we set off on a 50km journey across the reserve to Sand River, where half a million wildebeest and zebra were waiting to continue their annual pilgrimage from the Serengeti to the Mara.
We heard them before we saw them: an earthy, almost static rumble emanating from the infinite herds that smothered the grasslands. It seemed as good a time to practise the "slow pan" technique that Paul champions – one that conveys speed, movement and the drama that plays out here every day. The trick is to focus on a moving object with a fast shutter speed while moving your body in sync with your subject. The hard part is getting a specific aspect – in this case the animal's face – in razor-sharp focus. It's a trial-and-error process.
We got to work as a lone wildebeest stumbled down the embankment and gingerly dipped its hoof in the water. Others followed, a steady trickle that turned into a crossing of hundreds. Paul stared through his lens like a man possessed, but his ears were working just as intuitively as his index finger. "Why is your shutter speed so slow? Turn it up," he snapped.
My efforts were pitiful – a succession of shaky and overexposed shots that left me disheartened – but I soon got another chance as the herds rumbled past the 4x4. Scrolling through my shots later that day, one stood out immediately. A sprinting wildebeest, its legs and whispery tail blurring into the long grass against a backdrop of zebras, was staring straight into the camera. Paul looked over casually and did a double take. Lunging for my camera, he gawped at the image. "Superb!" he bellowed as I beamed with pride.
Our 14-hour game drive continued with an afternoon spent in the company of Malaika the cheetah (Swahili for "angel") and her four mischievous cubs. Another 4x4 joined us, the camouflage-clad inhabitants leaping to their feet to photograph the felines on their iPads. "Peasants," muttered Paul, under his breath.
They moved on after a few minutes, no doubt to tick off another sighting, but we stayed put watching – and snapping – the cheetahs sleep, play and preen each other. While our primary aim was to leave with a set of show-stopping images, what made this safari so special, and so different, were the prolonged periods spent in one place – hour after hour observing the same animals, studying their behaviour and biding our time for that one magical moment. Malaika and her cubs were clearly in need of a meal and hunting was at the top of their to-do list. We waited patiently, hopeful that they would feed before nightfall, but it was to be another hungry night.
The next morning we set off to rejoin them, thundering along dirt tracks and pausing only briefly to photograph a herd of 30 elephants basking in the sunrise. They chomped on the dew-sprinkled grass, so high it obscured the youngest of the herd.
Breakfast, however, wasn't so readily available for Malaika and her cubs. We ate ours – scotch eggs, pancakes and melon washed down with Kenyan coffee – while Malaika sunk low to the ground and slowly crept up on an unsuspecting herd of grazing impala. As she sprang into action – sprinting through the thickets and across open terrain as the impalas fled in a frenzy – so too did we.
Aware that only my own slow reactions could let me down, I photographed like a pro: swapping lenses and adjusting the settings in seconds to document the whole thrilling but heart-wrenching pursuit of a young fawn, eventually caught and served rare.
As the cats tucked in and we lowered our cameras respectfully, I reviewed my images: several credible shots that captured the circle of life in action. Paul patted me on the back. I had taken my first baby steps on the road to becoming a fully-fledged wildlife photographer. The proof was in the picture.
Travel Essentials
Getting there
Exodus (0845 863 9601; exodus.co.uk) offers a nine-day photography safari to Kenya with six nights at Kicheche Camp from £3,979pp. The price includes all flights, accommodation, most meals and coaching with photographer, Paul Goldstein. The next departure is 7 January.
British Airways (0344 493 0787; ba.com) and Kenya Airways (020 8283 1818; kenya-airways.com) fly to Nairobi daily from Heathrow from £703 return.
Onward connections to the Maasai Mara with SafariLink (00 254 206 000777; flysafarilink.com) cost from £206 return.
Photographing there
Specialist cameras and lenses can be rented from Lenses for Hire (0800 612 7261; lensesforhire.co.uk).
More information
Join our new commenting forum
Join thought-provoking conversations, follow other Independent readers and see their replies