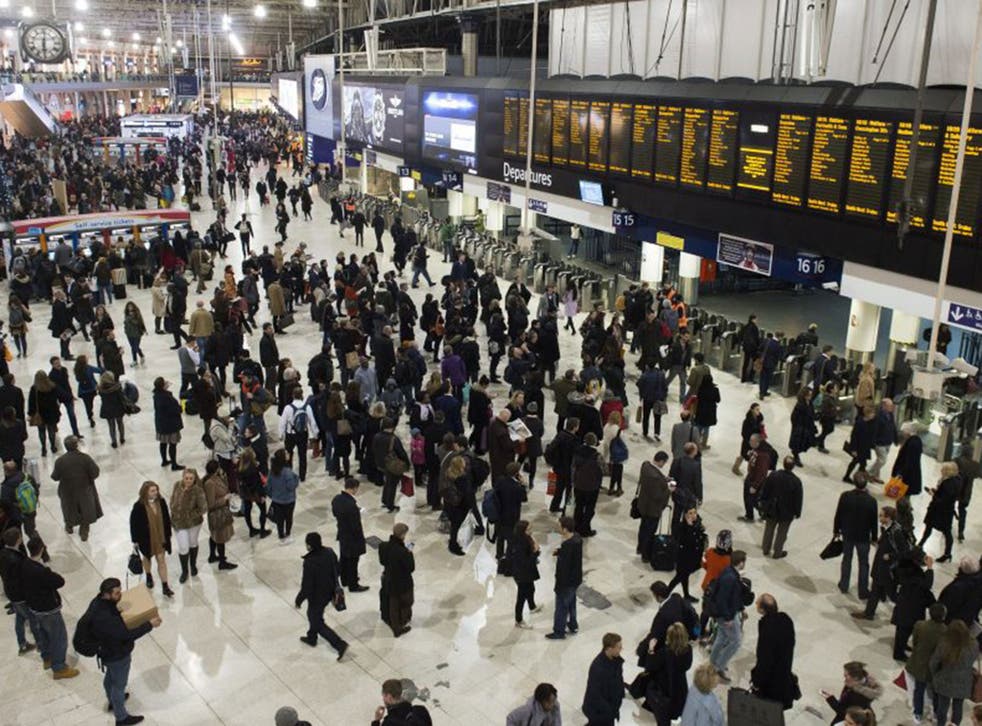 London Waterloo set to become first European transport terminal to reach 200 million annual passengers
The number of Tube users of the station is likely to exceed 100m by the end of 2015, with rail passengers at almost the same level
London's Waterloo station is on course to be Europe's first transport terminal to reach 200 million passengers in a year. Analysis by The Independent shows that the number of Tube users of the station is likely to exceed 100m by the end of 2015, with rail passengers at almost the same level.
Among Europe's other mega-terminals, the Gare du Nord in Paris is in second place with 180m. Third and fourth positions are taken by other London stations, Victoria (175m) and King's Cross/St Pancras (170m) respectively. By comparison, Europe's busiest airport, Heathrow, will handle 75m passengers this year.
It is believed to be the first time that a common methodology has been applied to compare European transport terminals. While most Continental authorities combine rail, underground and rapid suburban services, the UK's Office of Rail and Road issues figures only for passengers entering and exiting rail stations. These have been combined with Transport for London figures for the Tube, and - in the case of King's Cross/St Pancras - Eurostar passengers.
Last year 94.5m Tube passengers used Waterloo. The annual rate of increase for the Underground over the past five years has been 3.6 per cent. But a year ago work to increase capacity on the Northern line by 20 per cent was completed. As one of the Tube lines serving Waterloo, this is estimated to have nudged the station's increase to 6 per cent, taking the total to 100.2m.
The latest figures from the Office of Rail and Road show 99.2m rail passengers using Waterloo in the year to March. While the annual rate of increase for train users is lower, because of the constraints on the lines to south-west London and Hampshire, it is likely to be at least 1 per cent - which would leave the passenger numbers just a few thousand short of 100m.
UK news in pictures

Show all 50
The rail expert Mark Smith, founder of the Seat61.com website, said "UK train travel has more than doubled since 1995, and the rise is continuing. We have the fastest-growing railway in Europe, and I dare say the London termini will become even busier."
Commenting on the latest TfL figures, the RMT General Secretary, Mick Cash, said: "Anyone who uses transport services in London will know full well that they are at breaking point and frequently dangerously overcrowded as our creaking infrastructure struggles to cope."
But the rail writer Christian Wolmar said: "London dominates rail travel because of its extensive commuting network. It is resilient but needs major investment such as Crossrail 2."
Most of the other terminals in the European top 10 are in cities with only a single main station: Hamburg and Frankfurt (both 165m), Zurich (155m) and Rome (150m). But ninth and 10th places are both stations in cities with multiple termini: London Liverpool Street (140m) and Paris Gare de Lyon (125m).
Compared with Japanese stations, these numbers are tiny. Shinjuku, on the west side of Tokyo, handles around 1.3 billion passengers a year. That is the same as the busiest seven terminals in Europe combined.
Top ten of the busiest transport terminals in Europe
200m London Waterloo
180m Paris Gare du Nord
175m London Victoria
170m London King's Cross/St Pancras
165m Hamburg Hauptbahnhof
165m Frankfurt Hauptbahnhof
155m Zurich Hauptbahnhof
150m Rome Termini
140m London Liverpool Street
125m Paris Gare de Lyon
Join our new commenting forum
Join thought-provoking conversations, follow other Independent readers and see their replies