A two-wheeled revelation in Israel

Show all 2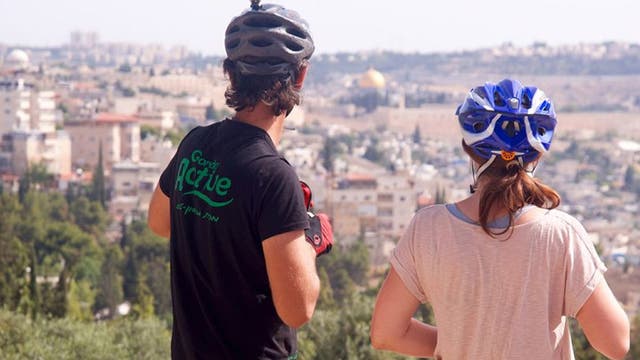 A two-wheeled revelation in Israel
From vibrant Tel Aviv to the Negev Desert, Israel's network of bike tracks is growing, says Mark Stratton
Mark Stratton
Tuesday 06 August 2013 23:07 Comments
Gaza shimmered as a mirage in the winds of the Holy Land. I was overlooking the troubled Palestinian enclave from a ridge of withered eucalyptus that lent the north-western Negev Desert a fragile veneer of fertility. The mountain-bike trail had brought me to within a few kilometres of its border, from where I could see Gaza City sloping towards the Mediterranean.
Pedalling to the Israeli-Gaza border near Be'eri isn't as reckless or ill-planned as it sounds. It's easily reached by a popular and well-signed bike trail, which forms part of Israel's mushrooming cycle network of swashbuckling off-road adventures of the fat-tyre variety, combined with improving urban cycleways.
Within five years, it will be possible to cycle the entire length of Israel along a proposed 1,000km national bike trail; meanwhile, Vélib-inspired city bike-hire schemes are being rolled out in cities such as Tel Aviv.
It was in Israel's commercial and diplomatic capital that I began a six-day trip around the country's selected cycling hotspots. "The best way to see Tel Aviv is by bike, as you have access to all its highlights but you won't spend 40 per cent of your day stuck in traffic," said Chaim Rockman, who at 68 years old is Israel's longest-pedalling cycle guide.
Tel Aviv's sun-kissed Mediterranean promenade is a joy to cycle. Its coast-hugging cycleway merges brash party-loving Tel Aviv to the biblically ancient Jaffa Port; Tel Aviv was created as a suburb of Jaffa in 1909. We pedalled along Tel Aviv's seafront cycle lane, passing crowded city beaches fronted by hotels, outdoor seafood restaurants, gelaterias and nightclubs. Body-conscious Tel Avivians paraded ripped pecs and biceps and wholesome tans alongside us – they are seemingly able to jog, cycle, rollerblade and surf all day, then socialise all night.
By contrast, the atmosphere on reaching 9,500-year-old Jaffa, some 5km along the cycleway, was serene and respectful. Jaffa's honey-coloured citadel juts out onto a promontory defended by formidable Byzantine walls overtopped by church spires and minarets. We had to dismount to explore its narrow, twisty lanes, although in general, Israelis don't seem fussed if you cycle on the pavements.
Normally when cycling I'd expect to take a touring map. But instead Chaim led our exodus next morning into the arid wilderness of Judea with a bible in his pannier.
Mountain-biking around the pine and eucalyptus scrubland of the Judean foothills took us into the mythology-soaked Eretz ha Tanach (Land of the Bible). Chaim would periodically (and mercifully in 35C heat) stop under shady carob or olive trees and attach biblical meaning to the landscape surrounding us.
"The slope you just rode down was where the Philistines put forward their champion Goliath to face the Israelites," he told us, delivering one Lycra-clad sermon near Bet Guvrin-Maresha National Park … "and this dry gully is where David gathered the five flat pebbles to fell Goliath."
That afternoon, Chaim handed over guiding to his son, Amir, for several days of more adrenalin-fuelled biking in the Negev Desert. This region covers half of Israel, yet is home to only 10 per cent of the population.
After much brake-screeching and bouncing along the sandy, roughhouse track to the Gaza border, we transferred to Mitzpe Ramon. This small Negev town was a 1950s development town as Israel set about expanding Jewish settlements such as Eilat. The town has subsequently emerged as a centre for mountain biking because of its crow's-nest location on the edge of the Ramon crater: an enormous 500m-deep desert bowl hollowed out by millions of years of erosion.
It's also furnace-hot, so we biked off along the crater's craggy edge early to take in the sunrise, which appeared to enflame the bands of wavy, warped strata rippling the canyon's calamine-tinted walls. We returned with righteous hunger for our hotel's abundant breakfast buffet of soft cheeses, olives, humus, flat breads, plump peaches and shakshouka (eggs poached in tomatoes and onions).
Plenty of character-filled accommodation options welcome cyclists across the Negev. Outside Mitzpe Ramon, we stopped at desert winery Carmey Avdat. Located in a secluded gully near an ancient 3rd-century Nabatean fortress on a flat-topped mesa, its winemaker Eyal Izrael offers four rustically chic cabins with cobblestone floors and stone bathtubs amid the vineyard oasis. "Byzantine settlers produced wine in this very valley 1,500 years ago," he explained during an extensive tasting of fresh, light-bodied cabernet sauvignon and merlot.
Yet my biggest surprise awaited in Jerusalem. Previous visits had convinced me that its historic old city's narrow lanes of crowded souks choked by unwieldy parties of tourists couldn't be cycled. Amir's solution, however, was cunning. After dark, he guided us on a high-octane nocturnal cycle through Jerusalem's dimly lit old city. By then, it was empty. It felt somewhat akin to urban free-running – immensely irreverent and fun. I glimpsed golden glints of the Dome of the Rock shrine on several occasions as we hared around like BMX bandits.
Cycling also opened up New Jerusalem's spreadeagled suburbs, which were built during the 19th century as growing numbers of migrants spilt beyond the old city walls. Because of the heat and hills, I'd never explored these suburbs before. "Visitors always concentrate on old Jerusalem and miss out on these wonderful neighbourhoods," said Amir.
We cycled part of a new 40km cycleway that will encircle Jerusalem when completed, and explored the historical and architectural treasures of different neighbourhoods. These included the wealthy and formerly elite Arab district of Talbiya, where dwellings are enriched with 1920s and 1930s neo-classical and modernist ostentation featuring golden lion statues, ablak red-and-white brickwork and Armenian inlaid tiles.
It was yet another two-wheeled revelation in a land that changed with every pedal revolution.
Travel essentials
Getting there
The writer travelled with El Al (020-7121 1400; elal.co.uk) which flies from Luton and Heathrow to Tel Aviv from £361 per person. Alternatives are available on British Airways (0844 493 0787; ba.com) from Heathrow and easyJet (0843 104 5000; easyJet.com) from Luton.
Cycling there
Gordon Active (00 972 3 765 9000; gordonactive.com) offers day-long cycling tours on a private basis from US$123pp (£82) or in a group from US$45pp (£30).
Staying there
The Carlton, Tel Aviv (00 972 3 520 1818; carlton.co.il). Doubles from US$300 (£200), room only.
Isrotel Ramon Inn, Mitzpe Ramon (00 972 8 638 7797; isrotel.co.uk). Doubles from US$170 (£113), including breakfast.
Dan Boutique, Jerusalem (00 972 3 7408966; danhotels.com). Doubles from US$228 (£152), including breakfast.
Carmey Avdat Winery (00 972 8 653 5177; carmeyavdat.com). Doubles from IS560 (£103), including breakfast.
Red tape and more information
The current Foreign Office (fco.gov.uk) advice warns against all travel to the Sheba'a Farms and Ghajjar area along the border with Lebanon, as well as to Gaza where air strikes and rocket attacks are a risk, and encourages extra vigilance when travelling anywhere in the West Bank, particularly in the cities of Jenin, Nablus and Hebron. It also warns of protests in and around the Old City in Jerusalem, especially after Friday prayers.
Israel Tourism: thinkisrael.com
Register for free to continue reading
Registration is a free and easy way to support our truly independent journalism
By registering, you will also enjoy limited access to Premium articles, exclusive newsletters, commenting, and virtual events with our leading journalists
Already have an account? sign in
Join our new commenting forum
Join thought-provoking conversations, follow other Independent readers and see their replies