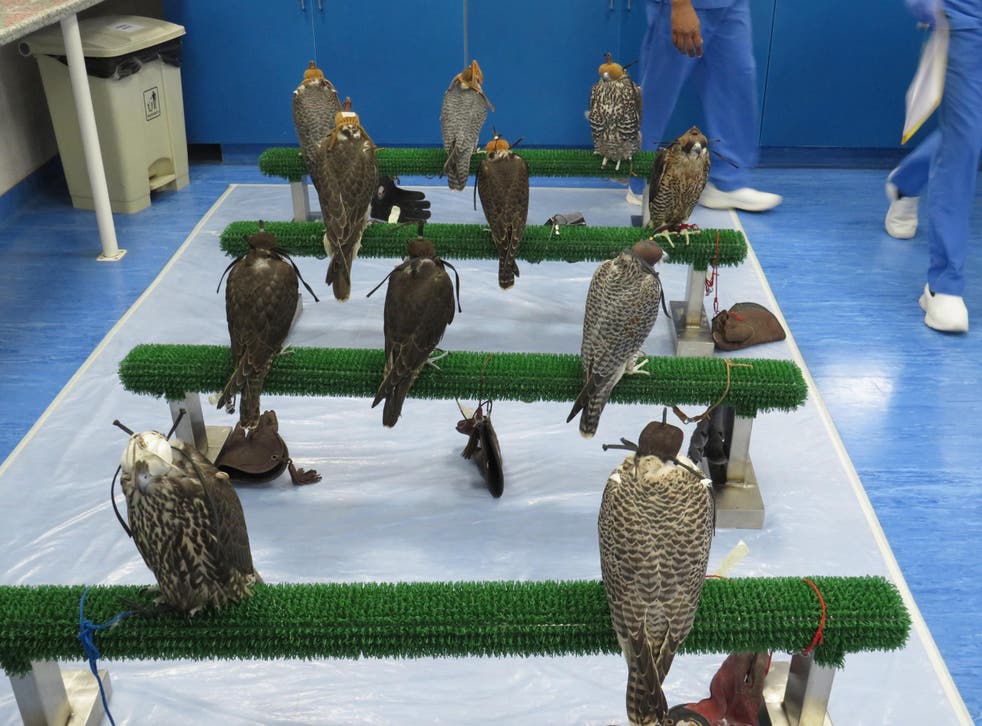 Sneak beak: Inside Abu Dhabi's falcon hospital
Fraught falcons can also recover in an on-site bird hotel
Tamara Hinson
Thursday 07 February 2019 16:44 Comments
Here's a tip for anyone worried about cankles: consider stopping by Abu Dhabi's Falcon Hospital, the world's largest falcon medical centre.
Step inside this saline-scented, bird-filled building and you'll find some seriously fat-ankled falcons. The reason? This is where wealthy Emiratis come to fine-tune their feathered friends, whether it's for heart surgery, feather replacement or a quick tune-up before one of the region's popular falcon beauty pageants, when these prized possessions are judged on various aspects, including ankle width. And fatter is definitely more fabulous in the falcon world.
Emiratis are passionate about falconry, and have used the birds as hunting aids for thousands of years. The late Sheikh Zayed was so keen to preserve this tradition that he abolished the need for hunting licences in an effort to encourage people to take up the hobby. Unlike licences, however, passports are essential.
Travel Photographer of the Year 2018

Show all 16
Hassan, one of the guides who leads the daily hospital tours, shows me a passport belonging to what is clearly a well-travelled falcon. Many are frequent flyers, and certain Middle Eastern airlines allow them to travel with their owners, perched on stands propped next to their seats. God forbid they'd be placed in the hold.
The best birds change hands for hundreds of thousands of pounds, after all. Peregrines and sakers are two of the most popular types of falcon used for hunting, although a growing number of breeders are creating souped-up hybrids, the ultra-fast gyr-peregrine being one example. Apparently, a top notch falcon will have a calm demeanour, inward-facing feet, wide ankles and a maximum speed of 400km/h.
Inside the hospital, it's all rather surreal. In the hot, stuffy waiting room, concerned-looking Emirati men wait nervously, their falcons perched nearby. Every so often they'll give the birds a quick spritz of water from the bottles dotted around. We walk into the huge operating theatre beyond, and it's a hive of activity. A vet is cradling one bird as it regains consciousness, and on a nearby table, another lies in what's best described (somewhat ironically, for a falcon) as a spread-eagled position, his tiny head wedged into an equally tiny oxygen mask.
Mohamed Nafeez Junaideen, a veterinary surgeon, is using scissors and a stanley knife to sharpen his patients' claws. "If the talons are too long, they'll become uncomfortable," he explains, adding that sharpening is often carried out prior to the hunting season. And judging by the results, razor-sharp talons are definitely in this winter.
It's hardly surprising that it's a popular procedure. Falcons can take down animals up to six times their body weight, and they do so by aiming at the neck or back. In addition to sharp talons, they need a fine set of feathers. A single broken or bent feather can drastically affect a bird's sense of balance. This is why feather replacement – a snip at 100 AED (£20) a feather – is another common procedure, although given it's just a temporary fix (the birds moult every year) veterinary bills can quickly rack up.
Veterinary technician Radhakrishnan Ranjith tells me that the most important tool of the trade for this particular job is superglue, and sure enough, lying next to patient 39712 is a bright yellow tube of UHU. "We cut the feather out of the muscle and we'll use glue to attach the new one," says Ranjith, adding that replacements must be the exact shape and size of the original.
Luckily, they've got a ready supply. When it's time for their annual moult, owners bring their birds to a special room in the hospital to shed their feathers in private, providing vets with a constant supply of feathers in all shapes and sizes. It's clear no expense is spared. We're shown the enormous post-op recovery room, complete with its small pond. "It's a falcon Jacuzzi," grins Hassan, before pointing to the building next door and explaining that it's a breeding centre for the mice and quails fed to the birds. Suddenly, NHS hospital food seems like fine dining. As we leave, Hassan adds that fraught falcons can book a room in an on-site bird hotel.
At the end of the tour, I'm given the opportunity to hold a falcon, but only after donning a leather glove to protect my skin from its ferocious talons. I'm encouraged to stroke its huge, feathery chest and it's the softest thing I've ever touched. "Look at it lovingly," someone yells as they snap a photo. Sadly, meaningful eye contact is out of the question – the falcons wear masks over their heads to keep them calm.
I feel slightly sorry for the bird I'm holding – the tan-coloured round leather mask, with its prominent stitching, makes it appear as though its head has been rammed into a baseball. But by the time I hand the falcon back, I've definitely developed a soft spot for this beautiful bird of prey. Until, that is, a vet offers the falcon a snack, and he wolfs down a quail's head in under a second.
"Listen to its jaws crunch through the bone," says Hassan gleefully. On second thoughts, you can keep that mask exactly where it is.
Travel essentials
Getting there
Etihad Airways flies from London Heathrow to Abu Dhabi from £399 return.
Staying there
Doubles at the Saadiyat Rotana Resort & Villas from £203, B&B.
More information
Register for free to continue reading
Registration is a free and easy way to support our truly independent journalism
By registering, you will also enjoy limited access to Premium articles, exclusive newsletters, commenting, and virtual events with our leading journalists
Already have an account? sign in
Join our new commenting forum
Join thought-provoking conversations, follow other Independent readers and see their replies