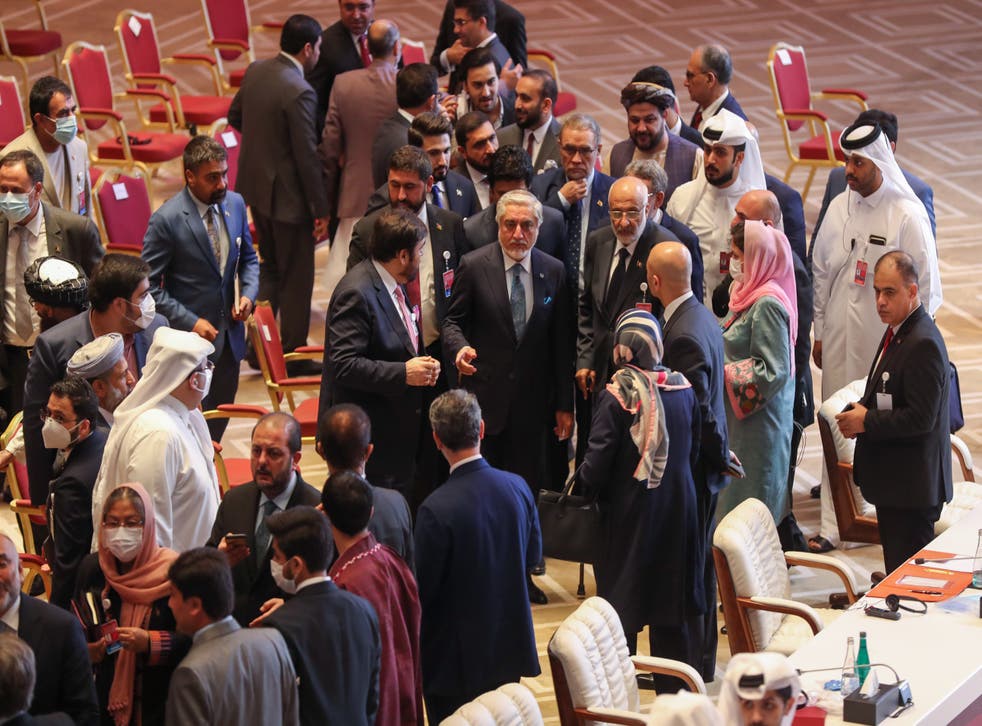 'Historic' peace talks between Taliban and Afghan government begin in Doha
'Negotiations may have problems but should move forward with patience,' Taliban leader says
Andy Gregory
Saturday 12 September 2020 17:57 Comments
"Historic" peace talks between the Afghan government and the Taliban are underway for the first time in Qatar, bringing uncertain hopes of bringing decades of violence and war to a close.
Negotiating a ceasefire in the conflict that has killed tens of thousands of civilians since the US invasion in 2001 will be at the top of the busy agenda, in addition to preserving women's rights, said the head of Afghanistan's peace council, Abdullah Abdullah.
Despite agreement being reached for talks as part of a peace deal struck with Washington back in February, at least 1,200 people have been killed and 15,000 wounded in attacks since that date.
The discussions were due to start weeks after the accord was signed, but were delayed by the Taliban's refusal to reduce attacks, political turmoil in Kabul, and disagreements over the swapping of some 5,000 Taliban prisoners and 1,000 detained government and military personnel.
The Taliban agreed on Thursday that they would attend the talks, following the government's release of the final six prisoners.
During an opening ceremony in Doha on Saturday, attended by US secretary of state Mike Pompeo, Mr Abdullah said both sides would be "peace heroes" if negotiations bring about a lasting peace that protects Afghanistan's independence and leads to a system based on Islamic principles that preserves the rights of all people.
Taliban leader Mullah Baradar Akhund called for Afghanistan to have an "Islamic system in which all tribes and ethnicities ... live their lives in love and brotherhood", adding: "Negotiations may have problems but should move forward with patience."
"We want to give [the people of Afghanistan] this assurance that with full honesty we continue the Afghan peace negotiation, and we try for peace and tranquility, we will pave the ground in Afghanistan," he said.
When the talks proper begin on Sunday, the Afghan government's priority will be to safeguard the rights of women and minorities who suffered under Taliban rule and to secure a "reduction in violence in a significant way ... and also getting to ... hopefully a permanent ceasefire", Mr Abdullah, the government's chief negotiator, told Reuters.
There are four women in Mr Abdullah's team, who have vowed to preserve women's rights to work, receive education and participate in political life, all denied to them when the Taliban ruled Afghanistan for five years.
No women are sitting across the table, a fact that one teacher in Kabul told Reuters "worried" her.
The Taliban has said it accepted a woman's right to work, go to school and participate in politics but would not accept a woman as president or chief justice - a position shared by deeply conservative members of Mr Abdullah's High Council for National Reconciliation.
The Afghan negotiation teams are also expected to discuss constitutional changes and power sharing during the talks. Subsequent rounds of negotiations could be held outside Doha. Germany is among the countries offering to host future negotiations.
Even seemingly mundane issues like the flag and the name of the country - the Islamic Republic of Afghanistan or the Islamic Emirate of Afghanistan, as the Taliban's administration was known when it ruled - could find their way onto the negotiation table and roil tempers.
At the opening ceremonies, there was some sign of Taliban changes in attitudes. While photography was banned as being against Islam during their rule, several jostled to to take photographs of their leader as he addressed the ceremony.
The Taliban were ousted in 2001 by a US-led coalition for harbouring Osama bin Laden, the architect of the 9/11 terrorist attack.
Speaking a day after the attacks' anniversary, Mr Pompeo - who dubbed the talks "truly historic" - said America welcomed the Taliban commitment not to host terrorist groups, including al-Qaida.
Washington's withdrawal of its troops from its longest-running war in Afghanistan is contingent on the Taliban honouring commitments to fight terrorist groups, and ensure that Afghanistan cannot again be used to attack America or its allies.
"The Taliban have work to do. We see progress, but they have work to do," said US peace envoy Zalmay Khalilzad. "We have a timetable which is that withdrawal should be completed if the conditions are met by the end of April."
Donald Trump has said that by November, about 4,000 soldiers will be in Afghanistan, down from 13,000 when the deal was signed in February.
The US president was voted in on a promise to "bring our soldiers home", but in ceding to generals' requests he has nearly doubled the number of an Obama-era cap on troops in Afghanistan in a bid to fight Islamic State and put pressure on the Taliban to force it to the peace table.
"Washington's goals are very simple: It wants intra-Afghan talks happening as soon as possible, because these give the White House political cover for an imminent withdrawal," said Michael Kugelman, deputy director of the Washington-based Wilson Centre's Asia programme.
"Trump likely wants a peace deal before the election, so that he can garner political benefits galore and pitch himself as a Nobel Peace Prize candidate. But presumably even he realises it's wildly unrealistic to expect a deal so soon.
"These types of negotiations tend to be measured in years, not weeks."
Additional reporting by agencies
Register for free to continue reading
Registration is a free and easy way to support our truly independent journalism
By registering, you will also enjoy limited access to Premium articles, exclusive newsletters, commenting, and virtual events with our leading journalists
Already have an account? sign in
Join our new commenting forum
Join thought-provoking conversations, follow other Independent readers and see their replies