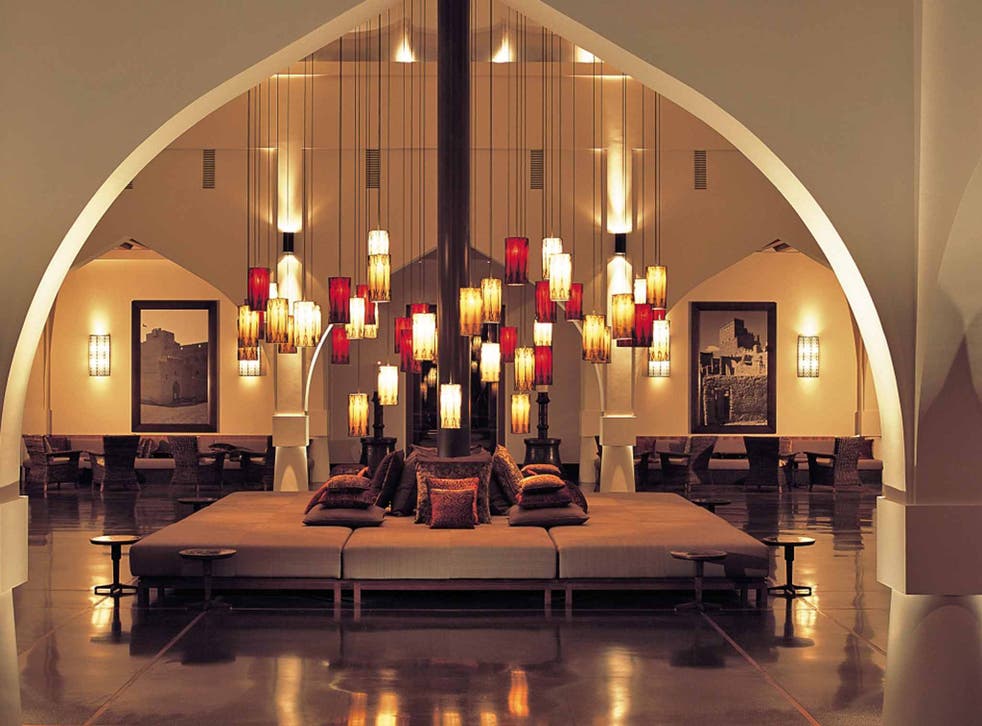 Muscat: Preened like a princess
The Hedonist: what to see and where to be seen
Marilyn Macdonald
Friday 17 October 2014 11:08 Comments
The oil-rich Gulf is brimming with cities competing for the top spot, each aiming to have the tallest buildings, the longest runways and most luxurious, well, everything. The sprawling city of Muscat – while not necessarily winning in the superlative stakes – gives neighbouring metropolises a run for their money as a tourist destination, with the understated charm of its secluded sandy beaches, plus Oman's rich culture and political stability.
After a long flight I land on a balmy Thursday evening, in time for the Gulf weekend, unsure as to what pleasures await in Oman, a country not known for its wild ways. A swift 15-minute car ride takes me to The Chedi (00 968 24 524400; ghmhotels.com), one of several luxury resorts here that cater to well-groomed, clued-up travellers. I'm here only to drop off my belongings before I hit the town, but on entering this beachfront palace of contemporary Arabian luxury I'm overcome by the urge not to leave. When it comes to blending Omani design with a modern edge and impeccable service, The Chedi nails it.
Luckily, I'm already booked for a night out with some local expatriates at Kargeen Caffe (00 968 9933 2323; kargeen.com), a charming candlelit garden-cum-restaurant. My friends, Kate and Ian, moved to Muscat eight months ago and already know the scene well, air-kissing a host of other diners. We puff on shisha and feast on small plates of the usual Middle Eastern fare with a finale of shuwa, a local goat delicacy. Meals go on for what seems like days here, and three hours later I'm on my way to a food-induced black-out. It's a surprisingly low-key first evening for this hedonist, but perhaps a good idea with the next day's early start.
It's impossible to miss the dramatic curtain of Oman's rugged Al Hajar mountains when driving through the sprawling city, but the jaw-dropping landscape is best seen by sea, as I discover early the next morning. We head out by boat, winding through the jagged cliffs and turquoise water. The sea is very much a part of life here and I can see why, as we glide past prancing dolphins to make camp on one of the dozens of secluded beaches, where some of Kate and Ian's friends join us for a little beach party.
Time flies when you have your own private stretch of white sand. Soon it's time to head back for a late afternoon walk around the corniche of Muttrah, the old centre of Muscat and main port during the days of Oman's maritime empire. After sunset, it's dinner at Mumtaz Mahal (00 968 2460 5907; mumtazmahal.ne) a must-eat recommendation from the locals. Set on a hill above Qurum National Park, Mumtaz does northern Indian food in plush fine-dining style. The live music scene in Muscat has pared down recently due to political restrictions, but the band is still kicking here. We dance off the stuffed paneer and tandoori lobster until the lights go on and it's time to head down the mountain.
The mixture of sun, ghee and late-night dancing leaves me a little worse for wear the next morning. The most I can do is move myself to the closest sun lounger along one of the three Chedi pools. I have no guilt spending my last afternoon being pampered in the Chedi's spa, which claims to be the largest in the Middle East.
It's time to head home, and for once I'm leaving tanned, rested and preened like an Arabian princess. "Undiscovered" being the coveted buzzword for destinations, Muscat most certainly falls into this category, quietly radiating among the flamboyant Middle Eastern cities fighting for the limelight.
A Hedonist's Guide to ... (Hg2) is a luxury city guide series for the more decadent traveller. For more information, see hg2.com
Register for free to continue reading
Registration is a free and easy way to support our truly independent journalism
By registering, you will also enjoy limited access to Premium articles, exclusive newsletters, commenting, and virtual events with our leading journalists
Already have an account? sign in
Join our new commenting forum
Join thought-provoking conversations, follow other Independent readers and see their replies