Oman: On the balcony of an ancient land

Show all 3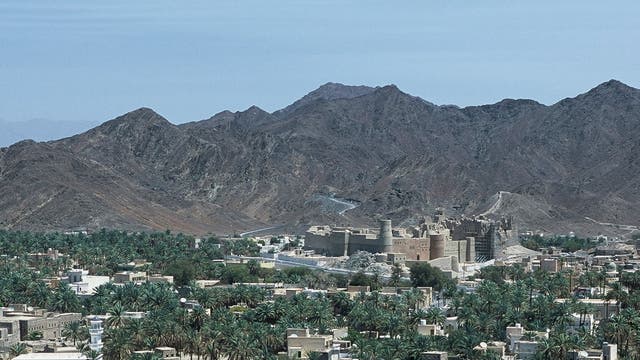 Oman: On the balcony of an ancient land
The most spectacular way to explore Oman's rugged Hajar mountains is to reach for the top, discovers Amar Grover
Amar Grover
Sunday 27 January 2013 01:00 Comments
As we were weaving through Oman's rugged Jebel Hajar, there came a point when our eight-year-old stopped counting the relentless hairpin bends and focused instead on our car's dashboard altimeter. Soon 1,500m gave way to 1,600m, then 1,700m. We began guessing the height of the col ahead and whether we'd break through 2,000m. At 2,020m we turned a bend at the pass, the so-called Sharaf al Alamayn – or "balcony of the two worlds" – and pulled into a lay-by. It's a great view encompassing both sides of the Hajar: east into the tortuous folds of Wadi Bani Awf, and west to elevated desert plains stretching into Saudi Arabia.
Just a few roads cut through the Hajar, a high mountain spine stretching nearly 600km from the Strait of Hormuz in the Gulf down to Sur, near the easternmost tip of the Arabian peninsula. This "balcony" route is the most spectacular way through mountains that were described by Wilfred Thesiger as being "scored by great gorges – streaks of purple on a background of pale yellow and misty blue". He had spied them in 1950 during one of his epic Arabian adventures. Even then, the veteran explorer was preoccupied by a cat-and-mouse game with the region's fanatical tribesmen that kept the alluring Hajar off-limits.
The only limitations today are the sturdiness of one's car, preferably a high-clearance 4x4, and the stamina of your legs. Ideally at Sharaf al Alamayn, you'll switch from one to the other, since the 13km trail to the out-of-sight village of Misfat al Abriyyin is among these mountains' finest hikes. It's one of several waymarked routes revived by Oman's Ministry of Tourism. Most follow ancient village trails. Even in peak season you're unlikely to see more than a handful of other walkers.
Leaving the boys with friends, we set off on the rocky track, which initially led to a telecommunications mast. Here the pencil-thin path dropped between boulders and veered to the edge of a great escarpment with vertiginous views of Wadi Bani Awf. The W10h, as the track is called, continued across a starkly beautiful landscape of undulating hills and ridges strewn with juniper, acacia and occasional clumps of barberry, while up ahead loomed Jebel Shams, or Mountain of the Sun, Oman's highest peak at 2,980m.
Just before a shallow yet distinct mountain bowl, the trail forked. Off to the right, the W8 wriggled to the escarpment's edge before plunging just over a vertical kilometre on the most precipitous of paths to the remote village of Balad Sayt. We continued west on the W9, descending gradually on a vast table of inclined strata with brief scrambles into a clutch of oleander-dotted wadis (valleys). A couple of medieval-looking hamlets – tiny cuboid houses of roughly cut stone – dotted the hillside. Most are used only by shepherds.
The first of Misfat's extensive gardens appeared at the base of a deep canyon. Descending the switchback path, we reached the falaj, ancient irrigation channels that funnelled spring water to the cool and shady oasis. A handful of small, round watchtowers bristled from little knolls. Soon we heard peals of laughter from children playing by the falaj and saw a deep water tank which, unusually, doubled as a bathing pool. Sporadic whiffs of frankincense and cumin veined this tight knot of lanes, and there was a pleasing time-forgotten air about the place.
Deprived of a chance to walk through the mountains, our young boys were not going to miss an opportunity to walk right into them. Opened in 2006, the Al Hoota Cave, near Al Hamra, stretches about 4km deep into the Hajar's base. There's a short train ride to its mouth (though you can also walk) from where raised walkways and stairs make an 850m trail through the cave's most spacious section. Together we marvelled at its stalactites and stalagmites, peculiar rock formations, little mouse-tailed bats hanging from nooks and crannies, and semi-transparent blind fish inhabiting a slender lake. The visitor centre's exhibition hall proved reasonably diverting, too, with displays of minerals and crystals and a sizeable meteorite on show.
It was time, now, to get our car right over the Hajar – and none of us were sorry to return to Sharaf al Alamayn. The asphalt ends abruptly here, but we relished the steep graded track enlivened with blind corners that weaved gingerly down the mountainside. We passed the turn-off for Hat village and paused a little further on in a stretch of wadi where the boys delighted in sliding down torrent-smoothed boulders beside a rock pool.
The one essential detour near here is along a short spur road from the so-called Snake Canyon up to Bilad Sayt, which we'd spied days earlier from the escarpment. Perched on a small bluff and hemmed in by severe hills and sheer cliffs, this is one of Oman's most picturesque villages, although most of its medieval homes have been rebuilt in the past two or three decades.
Lush terraced fields and clusters of date palms soften its austere location, while a part-restored keep, crowning the hill, hints at the region's fractious history. Then as the muezzin's call to prayer reverberated through the village, men and boys scurried to its mosque.
If you're heading on to the coast and Muscat, the road through Wadi Bani Awf is the most exhilarating – and the only direct option. Back in the depths of Snake Canyon, the dusty track navigates side ravines, cliffs and bleached riverbeds. In Bani Awf, which is prone to sporadic floods, a proper road is being constructed. Blacktop, it seems, will eventually stretch all the way to the mountain balcony high above Balad Sayt.
Emerging on to the narrow strip of plains between mountains and sea, we paused at Nakhal Fort, a beautifully preserved relic of Oman's martial era. It is set on the edge of a huge oasis and framed by the muscular Hajar. Records suggest there's been a fort here for at least a millennium, but most of what you see today dates from the 1800s.
Its courtyards, bastions and parapets make for happy exploring. Our boys scampered about like excited hares as we viewed a succession of simple living quarters composed mainly of cushion-lined walls and floor carpets. It's said the local wali, or governor, resided here until 1980, though the ruse of pouring burning date oil, or even honey, from cunningly hidden slits on to unsuspecting intruders seems of another age. As the sinking sun flushed Nakhal's pale walls, we lingered by an ancient cannon overlooking the oasis before heading on to the capital Muscat, barely an hour's drive away.
Travel essentials
Getting there
Indus Tours (020-8901 7320; industours.co.uk) can tailor a walking and driving itinerary via Dubai or Muscat. An eight-day Hajar Explorer itinerary, taking in Muscat, Nizwa, Al Hamra, Jibreen, Bahl, Al Sawadi and Rustaq costs from £1,730 per person, including flights from Heathrow, hotels, transfers and touring.
Muscat is served by Oman Air (08444 822 309; omanair.com) from Heathrow and by British Airways (0844 493 0787; ba.com) from Heathrow, with a stop in Abu Dhabi.
More information: omantourism.gov.om
Register for free to continue reading
Registration is a free and easy way to support our truly independent journalism
By registering, you will also enjoy limited access to Premium articles, exclusive newsletters, commenting, and virtual events with our leading journalists
Already have an account? sign in
Join our new commenting forum
Join thought-provoking conversations, follow other Independent readers and see their replies