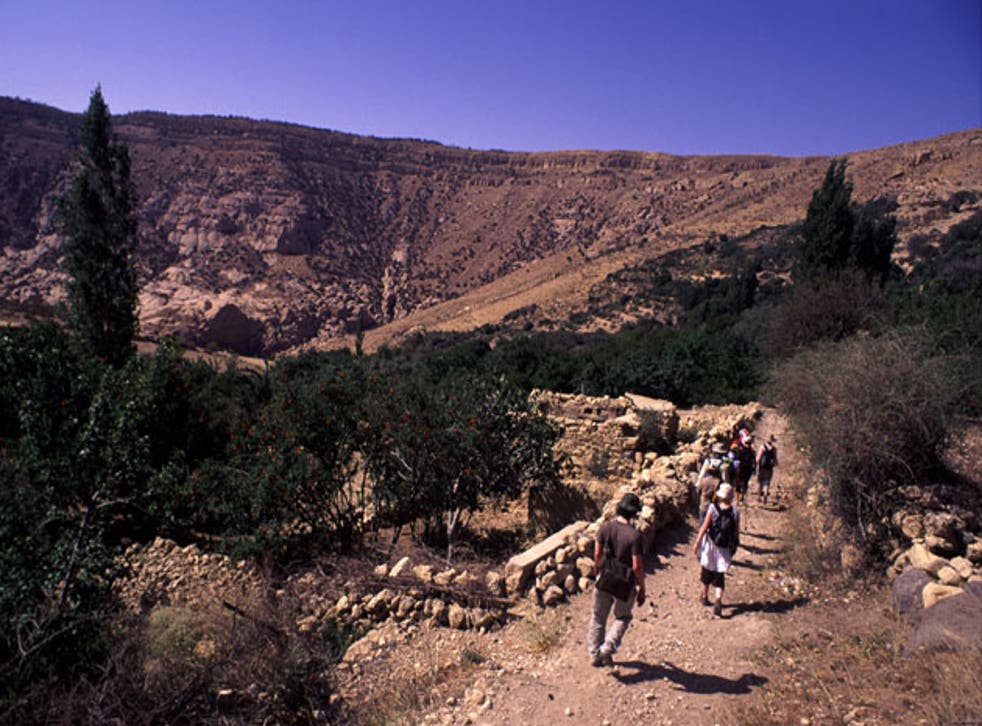 On the path of righteousness in Jordan
An eco-tourism initiative has sprung up on the trail followed by Abraham 4,000 years ago. Amar Grover steps out
In the highlands of northern Jordan, Ibrahim, my guide, leads me in the footsteps of Ibrahim the prophet. "Look up there," he says as we head through Wadi Orjan, amid lush terraces of fig, pomegranate, walnut and olive groves. "Ancient caves with little niches for oil lamps, even some crosses have been found up there ... it's where Christians hid, maybe from the Romans."
This was just one of the moments on my trip when history and faith collided. The very roots of Christianity, Islam and Judaism are here. Now, in Jordan, the Middle East's most relaxed destination, fresh life is being breathed into at least one chapter of that vast oeuvre.
The Al Ayoun Trail, at a little more than seven miles in length, is just one short section of a route called the Abraham Path, which stretches 1,200km (745 miles) from south-east Turkey to Israel. Devised by an American-based NGO called the Abraham Path Initiative, the trail is a "symbolic honouring" of Abraham's (or, for Muslims, Ibrahim's) epic journey to Canaan 4,000 years ago.
Just a few places that Abraham visited are cited by the scriptures with certainty; the dots in between have been joined in accordance with local traditions associated with the patriarch and his children, along with the judicious use of appealing landscapes and other historical sites – a so-called "line of beauty". The Al Ayoun stretch has been highlighted recently by the Jordanians, who are keen to promote sustainable tourism, encouraging low-impact visits that will aid conservation and benefit local people.
I began this part of the trail at Orjan's Soap House, an initiative opened in 2006 by Jordan's Royal Society for the Conservation of Nature (RSCN). Here, local women have established a small co-operative, making organic soaps perfumed with herbs including lavender, pomegranate and mint. Over cups of verbena-infused tea, I poked around the small shop, tempted by dried herbs, bath gels, and even olive-stone worry beads.
The trail continued into nearby Wadi Orjan, passing walls with extensive irrigation channels, aqueducts and traces of mills – all Ottoman-era remains. We climbed to Baoun village, and made for a local home for lunch. Sitting cross-legged in its spacious salon with Ibrahim, the men of the house and some of their friends, we tucked into a dozen dishes spread on a mat, a special feast laid on for us.
Bridle paths wind into the hills beyond Baoun towards Tel Mar Elyas, or Saint Elijah's Hill. This is possibly the birthplace of Elijah, and the foundations of a 7th-century church dedicated to him still have fragments of the original mosaic flooring. It's a site of baraka, or blessing, and Muslims and Christians still visit to tie small pieces of cloth to an oak tree for cures, or rain, or just for good old-fashioned hope.
The main motivator of Jordan's developing eco-tourism is the RSCN and its Wild Jordan offshoot, and I spent my first night at the society's tented camp on a hilltop in the Ajloun Forest Reserve. At 13sq km, this is a small reserve yet it is still rather beautiful, with commanding views across the undulating highlands. Carob, evergreen oak, and pistachio trees predominate, though I also noticed a few wild strawberry trees with peeling rust-red papery bark and small red berries – used locally as a remedy for upset stomachs.
By sunset, my stomach was in need of sustenance. I ate heartily on the roof terrace overlooking the forest, with views stretching to the Jordan Valley and the West Bank's twinkling lights. The heat of the day was tempered by an evening chill and I retired to one of the tented cabins built on stilts that have been set around a clearing.
The sounds of village life wafted up from the valleys – exuberant music, heady merriment and then, rather later and more theatrically, what sounded like gunfire.
"It was gunfire," confirmed Ibrahim next morning. I was visiting during wedding season, and although the traditional volleys (no shotgun weddings here) have been outlawed after several gruesome accidents, the habit has not been totally eliminated in the highlands.
In contrast to Ajloun, Dana Biosphere Reserve, at the southern end of the Dead Sea, is Jordan's largest reserve at 320sq km. Centred on the celebrated, almost biblical-looking, and part- restored village of Dana, this is the site of the RSCN's first major eco-tourist initiative and its guesthouse – spectacularly located overlooking Wadi Dana – is now firmly on the tourist trail even if it's just a pause for lunch.
Again, I'd come for the walking, and at Dana you're almost spoilt for choice. The Dana Village Trail initially skirts village terraces by shady irrigation channels. We met a father who promptly ordered his chubby young son to sing for us, while his shy, giggling daughters looked on, cooling their feet in the gurgling water. The path contoured around the edge of Wadi Dana through increasingly rugged terrain, across bald domes of sandstone, between boulders and ravines, and wriggled across the foot of limestone cliffs that loomed overhead.
About three hours later, we reached Rummana Campsite, a former Bedouin grazing ground with gorgeous views across strange eruptions of rock and the austere wastes of Wadi Araba. It's a simple place (spacious tents with good mattresses and communal facilities) and all the better for it. I headed up nearby Rummana Mountain, on another clear trail, for the sort of sublime views and inspiring solitude that Abraham must have enjoyed almost daily for months on his long journey. Here, 4,000 years on, that epoch remains tangible.
Compact Facts
How to get there
Royal Jordanian (08719 112112; rj.com) offers return flights from London to Amman from £413 in December. Groups of up to five walkers can take guided hikes along the Al Ayoun Trail, from Rasun village to Tel Mar Elyas, from JD35 (£29) per day. A stay in a local B&B costs JD18 per person per night, with lunch is JD7 and dinner costs JD9. Go to abrahampath.org. Entry to the Dana Biosphere Reserve costs JD7 for foreign tourists. B&B at the Rummana Campsite is JD24 per person, staying in a double tent. A guide is needed on some walks, for which there is an extra charge, based on group size and duration. For details, go to Royal Society for the Conservation of Nature (rscn.org.jo).
Join our new commenting forum
Join thought-provoking conversations, follow other Independent readers and see their replies