12 Travel Resolutions For 2012 - 7-12

Show all 6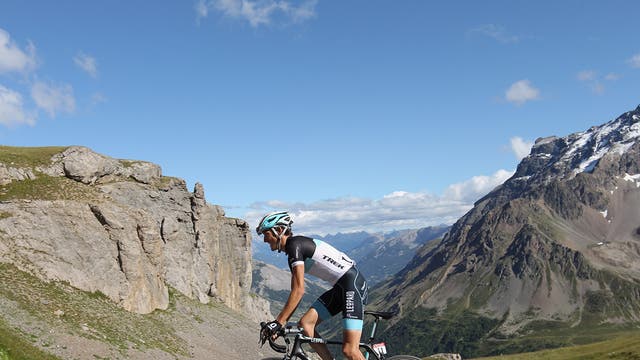 12 Travel Resolutions For 2012 - 7-12
Wherever you go this year, make sure you get the best from your holiday. Chris Leadbeater has dozens of ideas
Chris Leadbeater
Sunday 01 January 2012 01:00 Comments
Stop right here. We all know that January is a bleak enough time without the spectre of a New Year Resolutions list.
Denying yourself this particular enjoyable habit, doing away with that little luxury ... if the sound of rain beating against the window pane isn't enough to have you feeling downbeat, a regime of self-imposed restraint will surely do the trick. So this year why not adopt a different set of resolutions – ones that do away with miserable midwinter weather and cling to the bright, optimistic world of travel? Here the best of travel in 2012 is laid out in 12 simple steps – all of them more exciting than yet another unused gym membership. Let The Independent on Sunday be your guide.
Click here for Travel Resolutions 1-6
Here are resolutions 7-12 -
7. Get fit – and stay sporty
With the Olympics and football's European Championships in the offing, this will be the year of sporting endeavour. And those who want to participate rather than merely watch can hone their footballing skills in a warmer setting than Poland or Ukraine by opting for one of the training camps on offer at Buccament Bay in St Vincent (buccamentbay.com).
This Caribbean resort is staging coaching sessions throughout 2012, led by football players such as former Ireland internationals Steve Staunton (13-20 February) and Ronnie Whelan (8-15 April) and England's Gareth Southgate (28 October to 4 November). Tuition is aimed at adults, as well as children aged five and up. A week's break at the resort costs from £2,095 per person – with all-inclusive accommodation, transfers and flights – through Health And Fitness Travel (0845 544 1936; healthandfitnesstravel.com). If you prefer individual pursuits, the resort has a tennis academy. Pat Cash will be coaching in April, in the build-up to the 25th anniversary of his Wimbledon win.
England enter 2012 as the world's top-ranked Test cricket team and two of the players who were pivotal in ushering in this golden age are to share their expertise at the Forte Village Resort in Sardinia (fortevillageresort.com) later this year (from 14-21 April). Michael Vaughan and Matthew Hoggard – captain and bowler respectively in 2005 when England notched a first Ashes triumph over Australia in 18 years – will teach children aged five to 12 in two-hourly sessions over five days. A week's half-board for a family of four (children under 12) starts from £3,649 through Super Skills Travel (01858 545 918; superskillstravel.com), excluding flights. You can fly from Stansted to Cagliari on easyJet (0905 8210905; easyjet.com).
The route of the 2012 Tour de France (above) which runs from 30 June to 22 July has an extra emphasis on brutal climbs, including the race's first ascent of the 4,925ft Col du Grand Colombier in the Jura range (11 July). Amateurs can sign up for the "Three Alpine Stages" break operated by Sports Tours International (0161 703 8161; www.sportingtours.co.uk) – a four-day trip (10-14 July) that lets cyclists see the most dramatic part of the Tour, or ride it themselves. From £749 per person, with transfers from Geneva, breakfast and accommodation in Annecy, but excluding flights or rail travel.
Watch out for the bunker
In golf, the idea is usually to steer clear of the sand. But this may prove trickier than usual for players at Shangri-La's Villingili resort in the Maldives (shangri-la.com/maldives). In March this luxury hideaway will open the island nation's first nine-hole golf course. A week's half-board before the end of April, with flights, costs from £3,250 a head based on two sharing, via Carrier (0161 492 1358; carrier.co.uk).
8. Be kind to animals
The BBC's Frozen Planet series has aroused plenty of interest over the past two months – and 2012 will be a year to make good on our fascination with the Arctic.
Discover the World (01737 214251; discover-the-world. co.uk) runs a "Spitsbergen to East Greenland Cruise" that visits three great northern islands (Iceland is the third) and offers the possibility of encounters with polar bears, narwhal whales and Arctic foxes. Three of these 13-night voyages are planned during August and September and cost from £3,469 per person, full-board, excluding flights.
If you prefer spotting large mammals in warmer climes you can watch whales, notably from the Kuri Bay property that is due to open in the Kimberley region of Western Australia in April. This luxury retreat, accessible only by seaplane or helicopter, offers a perspective on the calving grounds of humpback whales. Wexas (020-7838 5892; wexas.com) has a "Kimberley Complete" itinerary that unveils this most remote of Australian regions. Prices for Kuri Bay are not yet confirmed, but this 13-day jaunt currently costs from £5,860 per person (based on two sharing), including flights.
Another isolated area will come into focus in May with the opening of the twin Odzala Camps in the Odzala-Kokoua National Park, north Congo. These tiny boltholes (Lango Camp and Ngaga Camp) have six rooms each, and are perfect bases for tracking gorillas amid thick rainforest. Rainbow Tours (020-7666 1250; rainbowtours.co.uk) can arrange a six-night holiday that features three nights at each camp. It costs from £4,695 per person (based on two sharing), including full-board accommodation, flights and expeditions.
Although Kenya is better known, it also has its out-on-a-limb patches. Kicheche Valley Camp, in the Naboisho Conservancy (in the Maasai Mara), had a soft launch in August, and is introducing a fly-camping option for 2012 that will take guests deeper into this wildlife-rich zone. Safari Consultants (01787 888 590; safariconsultants.co.uk) offers an all-inclusive week from £2,730 per person, including flights and transfers.
9. Take time to relax
Those seeking to cast off their recessionary concerns and bask in a little luxury will find new pockets of exclusivity in 2012 – notably Song Saa (songsaa.com), a retreat that will bring the five-star stylings of the Maldives to the Cambodian side of the Gulf of Thailand (an area where the accommodation, to date, has erred towards the rudimentary). Laid out over two islets in the Koh Rong archipelago, the resort offers 27 villas, a spa, gourmet food and a whiff of the jet set. A week's full-board stay costs from £3,736 per person with ABOUTAsia Travel (020-7193 8561; aboutasiatravel. com), excluding flights.
Elsewhere in South-east Asia, the Gaya Island Resort (pulaugayaresort.com) will perform a similar makeover for the west coast of Malaysian Borneo. Set on the island of Pulau Gaya, this hideaway is due to open in April amid protected mangroves and coral reefs – and will come equipped with 121 villas. An eight-night stay here costs from £1,489 per person, including breakfast, return flights from Heathrow with Malaysia Airlines and transfers. See Destinology (0800 210 0422; destinology.co.uk) for details.
On the far side of the Pacific, a more established type of luxury destination will be marking 2012. Long a fixture on Sunset Boulevard, the Los Angeles institution that is the Beverly Hills Hotel (left) will raise the flag on its centenary on 12 May (001 310 276 2251; beverlyhillshotel.com) .
Guests can check in from $583 (£372) per double, excluding breakfast, knowing that the hotel's corridors have been stalked by Marlene Dietrich, Humphrey Bogart, Katharine Hepburn, John Wayne, Elizabeth Taylor and Marilyn Monroe (although not all at the same time).
10. Care for the planet
There is one simple way to ensure that your carbon footprint does not expand this year: ignore the airport. But those who holiday in the UK in 2012 will be rewarded – Britain has red-letter days scrawled in its diary for the next 12 months.
The movies and books may be consigned to the past, but the cult of Harry Potter still has a way to run. On 31 March, The Making of Harry Potter – a tour that gives access to the film sets where the series was created – opens to the public at the Warner Bros Studios in Leavesden, Hertfordshire. This cinematic showcase (0845 084 0900; wbstudiotour.co.uk; adults £28, children £21) will bring the world of teenage wizards to life, with guests able to go inside "locations" such as the Great Hall at Hogwarts and Dumbledore's office.
Another fixture of the British written word hits a milestone date this year, with the bicentenary of Charles Dickens's birth on 7 February. (See pages 24-25 for our Dickens Quiz.) An array of events is planned (see dickens2012.org) including a Dickens and London exhibition at the Museum of London (020-7001 9844; museumoflondon.org.uk; until 10 June; £8).
Martin Randall Travel (020-8742 3355; martinrandall.com) is running a five-day Dickens bicentenary trip that features key scenes from his life and works (in London, Rochester, Broadstairs, above, and Portsmouth) with Professor Michael Slater, a Dickens specialist from the University of London. It departs on 31 March, starting at £1,880 a head, including hotels, transport and most meals.
London will witness a present-day celebration on the long weekend of 2-5 June, when the Queen's Diamond Jubilee extravaganza takes over the capital (the highlight likely to be a regal parade of boats on the Thames on 3 June). A corresponding four-night stay at the Cumberland Hotel, Marble Arch costs £704 for a double room (excluding breakfast), via Travelocity (0871 472 5116; travelocity.co.uk). Alternatively, if royal pageantry – or the Olympics – leaves you cold, McKinlay Kidd (0844 804 0020; seescotlanddifferently.co.uk) can offer a six-night self-drive trip around the Outer Hebrides. A break in early August, during the Olympics, costs from £595 a head, including breakfast and ferries.
11. Get out more
Some might say that fresh air and glorious scenery are all you need for a holiday. You can find both in Les Calanques, the untamed expanse which is finally due to be ordained as France's latest national park (and first since 1979) this year (parcs nationaux.fr). Rugged inlets cut into the limestone coast immediately south of Marseille, making this enclave ideal for active breaks. Headwater (01606 720 199; headwater.com) runs an eight-day "Cassis and Les Calanques" walking tour that traces a 40-mile southerly route, beginning in Aix-en-Provence. The jaunt heads out every week from March to June and September to October, priced at £1,179 per person based on two sharing, including flights and breakfast.
The Australian state of Melbourne (visitmelbourne.com) will also pull on its hiking boots. The new year means the advent of the Mornington Peninsula Coastal Walk, a 70-mile path along the lip of the promontory that juts out below Melbourne. Here is raw beauty galore, all wild shore and waves for surfing at Gunnamatta Beach. Trailfinders (020-7368 1200; trailfinders.com) offers a six-night Great Southern Touring Route through Victoria that can be tailored to visit the peninsula from £705 a head, with car hire, but excluding flights.
Then again, there is no need to rush to the Southern Hemisphere for al fresco thrills. Due to be officially opened in the spring, the Great Glen Canoe Trail will be Scotland's first formal canoe route, cutting through 60 miles from Fort William to Inverness, and taking in Loch Ness en route (greatglencanoetrail.info). Wilderness Scotland runs a five-day "Canoeing the Great Glen" guided trip (with four nights of wild camping). The first of four forays this year leaves on 20 May, priced £575 a head (0131 625 6635; wildernessscotland.com).
Raising the Titanic
The 100th anniversary of the sinking of the RMS Titanic on 15 April will be one of 2012's more maudlin moments, but the liner will be remembered in happier times in Northern Ireland when the Titanic Belfast museum launches on 31 March (02890 766 399; titanicbelfast.com; £13.50). The date is deliberate, marking the centenary of the day the doomed vessel was completed at the Harland and Wolff shipyard – the site where this sleek new institution now stands.
12. Give something back
Those keen to use their time off to help others will have plenty of opportunity in 2012. On home turf, active types can gain a taste of this summer's main event while raising cash for charity with a ride on the route of the Olympic cycling road race. This 90-mile loop through London and into Surrey can be tackled via Discover Adventure (01722 718 444; discoveradventure.com), which has two "London Ride of Champions" days – complete with guides, route marking, mechanical support and lunch – planned for 10 June and 2 September. A fundraising target of £150 is suggested in addition to a £59 registration fee.
Figures from the CIA World Factbook currently put Swaziland (above) in the bottom five nations on Earth for life expectancy (an average age of 48.66 years). But this tiny African country is the subject of four new breaks run by i-to-i Volunteering (0113 205 4609; i-to-i.com). Aimed at those on a gap year (but open to anyone aged 18 to 65), these include teaching English to orphans left helpless by the HIV epidemic (£1,540 for four weeks), and coaching kids at football (from £1,029 for a fortnight). Both projects are based in the impoverished Ezulwini Valley. The price covers dormitory accommodation and meals, but excludes flights.
Back where we started in Mozambique, Inspired Breaks (0844 473 4101; inspiredbreaks.co.uk) arranges trips such as the "Mozambique Whale Shark Conservation" holiday, where volunteers monitor these huge animals (as well as loggerhead turtles and manta rays) at Tofo beach on the southern coast. A two-week placement costs from £1,124, with meals and stay in a beach cottage, but excluding flights.
Register for free to continue reading
Registration is a free and easy way to support our truly independent journalism
By registering, you will also enjoy limited access to Premium articles, exclusive newsletters, commenting, and virtual events with our leading journalists
Already have an account? sign in
Join our new commenting forum
Join thought-provoking conversations, follow other Independent readers and see their replies