The Independent's journalism is supported by our readers. When you purchase through links on our site, we may earn commission.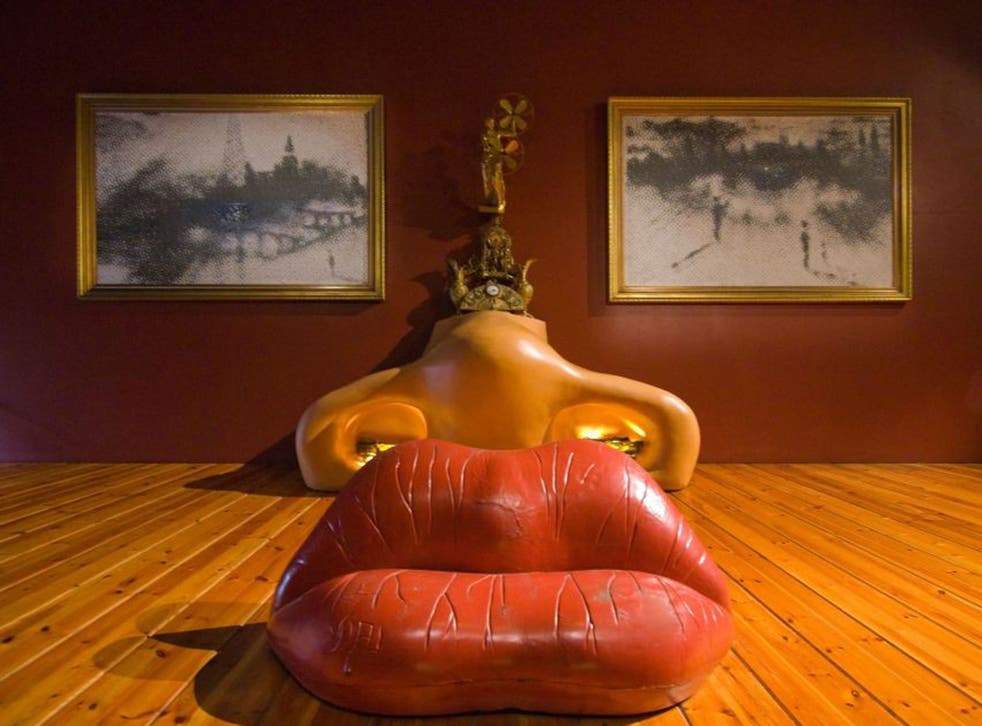 5 ways to... follow Dalí
From Catalonia via Paris to the shores of Florida
Thursday will be the 25th anniversary of the death (aged 84) of one of the keynote artists of the 20th century. Salvador Dalí was the high priest of Surrealism, creating a splendid array of art and redefining what could be achieved with paint and canvas in the process. There are several places to explore his oeuvre in depth – from Catalonia to the shores of Florida.
Visit Dalí Central
Tucked into the far north-east of Catalonia (and Spain), Figueres was Dalí's birthplace. Its role in his life is celebrated by the Teatro-Museu Dalí (00 34 972 677 500; salvador-dali.org; €12), a theatre remodelled as architectural fantasy, its pimpled pink walls topped with giant eggs. The collection runs from simple early pieces – The Girl From Figueres (1926) has its subject in front of the town's skyline – to Surrealist flashes – Leda Atomica (1949) depicts his wife Gala (his recurring muse) as Leda, the mythological Greek queen who was seduced by Zeus. The man himself is also here, entombed in the crypt. A three-night stay in March at the four-star Hotel Emporda (room only), with car hire and flights to Barcelona from Gatwick, starts at £172pp with Expedia (020 3564 3904; expedia.co.uk). You can also reach Figueres by direct train from Paris.
Seek him at the seaside
Pitched 22 miles east of Figueres, on the coast at Portlligat, the Casa-Museu (00 34 972 251 015; salvador-dali.org; €11; advanced booking required) was Dalí's main home from 1930 to 1982. Its nest of corridors, slopes and passages – crafted out of a fisherman's hut over four decades – is as outlandish as any of his paintings. It is also a happier dwelling than the Castell Gala Dalí (00 34 972 488 655; same website; €8), 20 miles south of Figueres in Púbol. Dalí lived here for two sad years after Gala died in 1982.
Stop off in Paris
The French capital also makes a claim on this Catalan cavalier in the Espace Dalí (00 33 1 42 64 40 10; daliparis.com; €11.50), a gallery hidden amid the steep lanes of Montmartre. It focuses on his sculpture, via versions of Space Elephant – an out-of-kilter pachyderm with long, spindly legs – and Alice In Wonderland, with its dreamlike take on an already eccentric tale, Alice captured in bronze with skipping rope. A three-night stay in March at the Hotel Josephine costs from £279pp, room only, including Eurostar trains from London St Pancras (08432 186 186; eurostar.com).
Hop to America
Dalí's reputation extends across the Atlantic to St Petersburg, the small resort city pinned to the west coast of Florida on Tampa Bay. Here, the impressive Salvador Dalí Museum (001 727 823 3767; thedali.org; $21/£14) shelters the collection of Reynolds and Eleanor Morse, friends of the artist who acquired some 100 of his best paintings over 40 years. These include The Hallucinogenic Toreador (1970), which cloaks Gala's dislike for bullfighting in oblique imagery. A week in March at the Loews Don Cesar Hotel, in the nearby sun zone of St Pete Beach, starts at £1,352pp room only, with car hire and flights to Orlando from Gatwick through Virgin Holidays (0844 557 4321; virginholidays.co.uk).
Spend a weekend in Scotland
You need not leave the UK to gaze at one of Dalí's most notable pieces. Kelvingrove Art Gallery in Glasgow (0141 276 9599; glasgowlife.org.uk/museums; free) can boast Christ of Saint John of the Cross (1951). This stark marvel takes a different approach to a staple of religious art – showing the crucifixion from above. The Spanish authorities have reputedly offered £80m for a piece that cost the museum £8,200 in 1952. Doubles at Glasgow City Hotel start at £55, room only (0141 227 2772; bestwestern.co.uk).
Dali dressing: How fashion got surreal

Show all 4
Register for free to continue reading
Registration is a free and easy way to support our truly independent journalism
By registering, you will also enjoy limited access to Premium articles, exclusive newsletters, commenting, and virtual events with our leading journalists
Already have an account? sign in
Register for free to continue reading
Registration is a free and easy way to support our truly independent journalism
By registering, you will also enjoy limited access to Premium articles, exclusive newsletters, commenting, and virtual events with our leading journalists
Already have an account? sign in
Join our new commenting forum
Join thought-provoking conversations, follow other Independent readers and see their replies