The Independent's journalism is supported by our readers. When you purchase through links on our site, we may earn commission.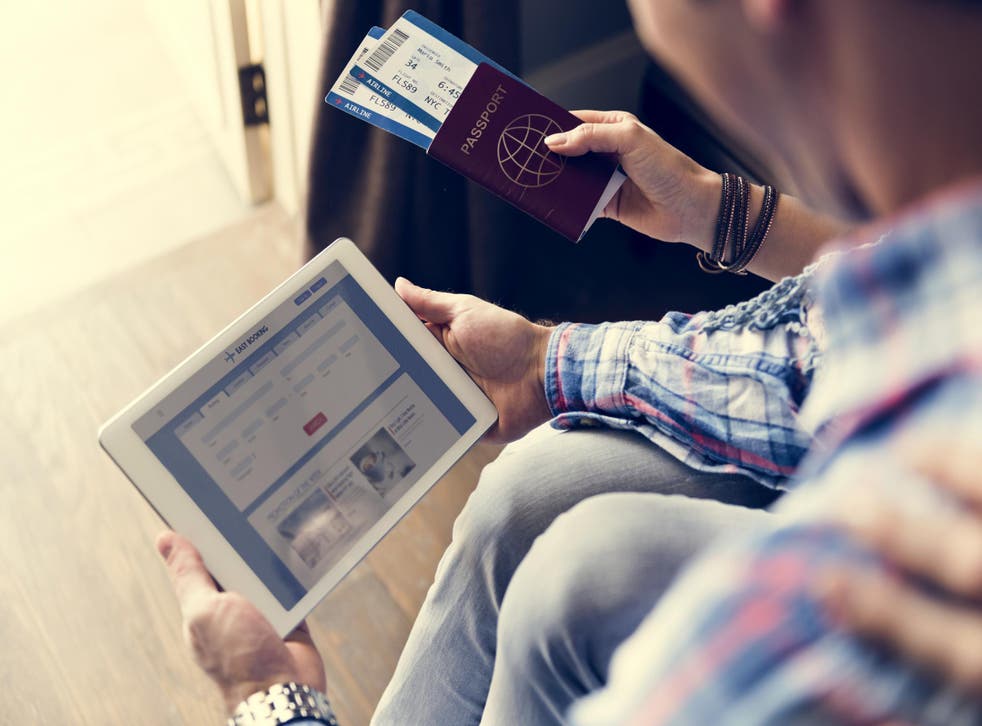 The 7 ways to spot a holiday scam, according to our expert
Thousands of prospective holidaymakers have lost millions of pounds to fraudsters. A genuine Simon Calder reveals seven signals that a cyber-criminal is trying to steal your money
Simon Calder
Monday 20 February 2017 13:12 Comments
Any travel purchase is an act of faith, because you usually pay a substantial sum of money upfront and don't take delivery until you turn up and, hopefully, get your holiday.
If you go to your local travel agent and buy a holiday, the overwhelming odds are that it will be a genuine and problem-free transaction. But if you are booking online, you are vulnerable to fraudsters. Be wary of these seven signs to ensure you are not going to be left thousands of pounds out of pocket, with no holiday.
1. Are prices way out of line?
A favourite hunting ground for fraudsters in search of unwitting victims is to offer ultra-cheap airline tickets. While many online agents will assert they have the best fare, prices for a particular flight are usually in a fairly narrow band. A check on Skyscanner.net can give you a good idea of the ball-park figure. If an agent is selling well below the norm, you should be wary.
2. Do they make onerous demands?
Scamsters aren't simply interested in stealing your money. They also want your identity. A genuine business will not ask for a scan of your passport or driving licence, unless there are good and specific reasons that you can verify (e.g. a local law insisting on identity checks).
3. Are the address and phone number disconnected, geographically?
A genuine site should make it easy to find both the address and phone number. If the firm appears to be based in west Cornwall (code 01736) but has a dialling code in northern Scotland (01955), for example, you should ask why. If the number is foreign, be especially circumspect.
If a business says it is a member of Abta, the travel association, then use the very straightforward checking system to confirm its status – ring the landline shown to ensure that you are dealing with that company.
Many scam sites have no telephone number, but may have an address. If you search this address online, you will often find the real company that is based at the address the fraudsters claim to use. Find a number for that company, dial it and see what happens; a recently shut-down scam site, CycladesRentals.com, claimed to be based at an address in west London that was actually the premises of a Polish restaurant.
4. Is the marketing material dodgy?
Many scam websites are set up using extracts copied and pasted from genuine travel companies. If something strikes you as odd, try a bit of copying and pasting yourself – an odd phrase may take you to a genuine holiday company. In the CycladesRentals.com case, a phrase about health looked distinctly out of place; it turned out to have been stolen from a legitimate operator specialising in well-being holidays.
5. Could they be pretending to be the real owner?
Some fraudsters intercept emails to and from genuine companies. To ensure you are not dealing with a criminal, demand a landline rather than a mobile, check that the dialling code is commensurate with the location, and phone up the owner. You could ask, for example: "Just before I book can you give me a few more details about the area: how far is the beach, how good is the WiFi, what's the mobile-phone reception like?" If you are not satisfied with the answer, probe more deeply: ask for the name of the nearest restaurant, then find the number for this place and dial it to cross-check.
6. Are they demanding payment by bank transfer?
Plenty of genuine villa owners will ask for payment by bank transfer to keep handling costs down, and criminals know it. But be warned such a transaction is equivalent to handing over cash, and make all the checks you can before you press "confirm". Be especially suspicious if the destination bank account is in an improbable location. And if any "owner" asks you to liaise direct and pay by bank transfer rather than, say, going through the official Airbnb payment platform, you are probably dealing with a criminal.
7. Are they trying to hurry you?
Fraudsters invariably want to pressure you into parting with your hard-earned cash quickly, by warning that the property will be let to someone else unless you commit immediately. They may also claim there is a 10 or 20 per cent discount for rapid payment. You should be able to sense if they are getting agitated, and a good way to test their response is to suggest you communicate by post. A genuine owner will cut you some slack, and probably agree to receive your deposit as cash through the post. While that concept might sound ridiculously 20th century, it can offers safeguards you don't get online. I have phoned an accommodation owner in Greece and then posted the deposit in cash (by registered mail, of course) to a physical address in the village where the property was located. It is potentially a safer transaction than transferring money to a bank account in a distant land.
Register for free to continue reading
Registration is a free and easy way to support our truly independent journalism
By registering, you will also enjoy limited access to Premium articles, exclusive newsletters, commenting, and virtual events with our leading journalists
Already have an account? sign in
Join our new commenting forum
Join thought-provoking conversations, follow other Independent readers and see their replies